Market professionals are signaling coming buying activity by clients that have been building cash reserves. Their broad-based price protection actions put concerns to the upside, where they may more likely be short, in order to provide "other side of the trade" supply facilitations to client volume buy orders. Failure of equity markets to develop downside momentum in February may have convinced institutions and hedge funds to shift asset allocations.
The following table shows the extent of logical price range protections being bought by market-making firms for the top 1% of over 2500 stocks, ETFs and Indexes we follow daily. They are ranked by best odds for profitable outcomes in a standardized risk management discipline that maximizes potential return while limiting price drawdown exposures. Note that the list is headed by hedging in the Nasdaq 100 Index, NDX.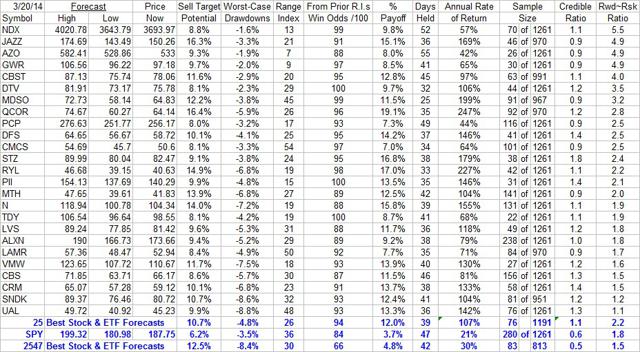 The current market-maker price range forecasts are in the table's first two columns, followed by Thursday's closing price. Their upside price change promise from that close to the top of the forecast range is shown in the Sell Target column. Next to that Reward prospect is the actual risk exposure of worst-case price drawdowns (from cost) experienced in the 3 months following all previous forecasts of the last 5 years that had upside to downside proportions like the current forecast.
That gain-to-pain balance is measured by the Range Index, which tells what percent of the whole forecast price range lies below the current market quote. That balance has been a consistently useful discriminator of future price performances on an issue-by-issue basis in our daily analyses over the past decade-plus.
We use the Range Index [RI] to stratify past price performances, as indicated in the Sample Size column which shows how many total days' forecasts are available to be observed in the past 5 years, and how many of those have had RIs like the present.
The various performance data are the outcome of a sell discipline requiring closeout of an acquired position at the first instance of its price reaching or exceeding the top of the forecast range, or no later than 3 months after the forecast date, regardless of price. The Win Odds tell how many times out of 100 positions produced a gain.
Summary blue lines of the table provide average data comparisons for the market-index proxy SPY, and the larger population of analyzed stocks, ETFs and Indexes.
The better stocks to buy
Pharmaceuticals, and medical technology stocks are prominent. Jazz Pharmaceuticals (NASDAQ:JAZZ), Cubist Pharmaceuticals (CBST), Questcor Pharmaceuticals (QCOR), and Medidata Solutions (NASDAQ:MDSO) are at or near the top of the list. These all have prior forecast outcomes at today's levels with profits in better than 9 out of every ten commitments, and upside forecasts of more than 3 times the actual worst case price drawdowns experienced. Alexion Pharmaceuticals (NASDAQ:ALXN) rounds out the group.
Varied entertainment stocks include Directv (DTV), Comcast (NASDAQ:CMCSA), Las Vegas Sands (NYSE:LVS), Polaris Industries (NYSE:PII), and CBS Corp. (NYSE:CBS).
Defensive issues include Autozone (NYSE:AZO), and Constellation Brands (NYSE:STZ), while the technology area includes NetSuite (NYSE:N), Teledyne (NYSE:TDY), SanDisk (SNDK), and VMware (NYSE:VMW).
Recovery plays can be found in Meritage Homes (NYSE:MTH), and Ryland Group (NYSE:RYL), along with United Continental Holdings (NYSE:UAL). Genesee & Wyoming (NYSE:GWR) is a disguised energy play, hauling crude oil to refineries from new fracking fields without developed pipelines.
These issues are starting points for the investor's more efficient use of his/her due diligence efforts resources, not a substitute for proper investment research. But they should help to focus attention to those investment candidates that may have a leg up on providing sound and substantial odds-on wealth-building performance.
The forecasts are the logical outcomes of self-protective actions by MMs, arguably the best-informed players in the very serious equity investment game, as determined by multi-year application of intelligent behavior analysis. We are merely the reporters, not the forecasters.
Disclosure: I have no positions in any stocks mentioned, and no plans to initiate any positions within the next 72 hours. I wrote this article myself, and it expresses my own opinions. I am not receiving compensation for it (other than from Seeking Alpha). I have no business relationship with any company whose stock is mentioned in this article.