Over the past few weeks and months, I have written extensively about the current difficulties that are affecting the offshore drilling industry. I would advise reading through some of my earlier articles in order to get a better handle on this. In short, cash flow difficulties at several exploration and production companies have forced many to re-evaluate their exploration and development budgets and, in some cases, postpone their exploration or development plans. These difficulties, which appear unlikely to extend beyond the second part of 2015, have had a very material impact on the stock prices of offshore drilling contractors. However, some of these companies are unlikely to be affected significantly by these difficulties and some may not even be affected at all. These companies, particularly those that pay dividends, may thus offer good buying opportunities at today's levels.
Seadrill Partners
Seadrill Partners LLC (NYSE:SDLP) is a master level partnership formed by Seadrill (NYSE:SDRL) as a tax advantaged vehicle with which to own and operate its rigs that secure long-term contracts. In fact, Seadrill Partners has the right to acquire any rig in Seadrill's fleet that secures a contract lasting for five years or longer. It is these long-term contracts that give the partnership its ability to ride through the current market weakness with minimal difficulty.
This is because of the way that the offshore drilling industry works. Exploration and production companies, which in many cases are very large oil and gas companies, enter into a contractual relationship with the owner of the rig to utilize a specified rig for a specified period of time at a specified price. The owner of the rig is guaranteed by the contract to receive this specified rate (called a dayrate) over the full term of the rig contract regardless of the conditions in the broader market. Because of this, the revenues and cash flows earned by these companies do not decline if the offshore rig market weakens.
To better understand why Seadrill Partners could be a good investment now that the unit price has been beaten down by the market, let's take a look at the company's fleet along with the contracts for each of its rigs.

Click to enlarge
Source: Seadrill Partners
As the chart above shows, Seadrill Partners does not have any rigs that have expiring contracts in 2014 that do not have replacement contracts to begin work on once the 2014-expiring ones run out. Thus, every single rig in Seadrill Partners' fleet will continue to generate revenue and cash flow straight through 2014. In fact, as the chart shows, Seadrill Partners has only one rig, West Vencedor, whose contract expires in 2015 without having a new contract lined up for the rig. Thus, the partnership is contractually guaranteed to receive nearly all of its current revenues and cash flows until well into 2016. This should allow the company to ride through the weak market without suffering at all, at least not fundamentally.
Seadrill Partners has, admittedly, not seen its unit price fall in the current market as much as many of its peers. At the time of writing, Seadrill Partners trades at $30.20, approximately 11.95% off of its highs set last year.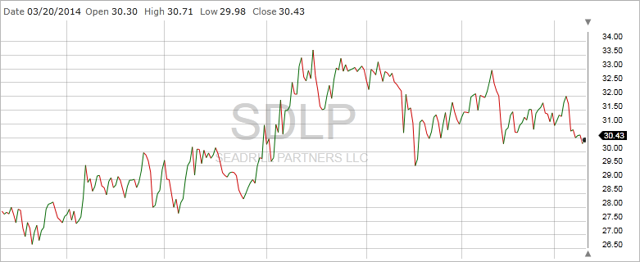 Click to enlarge
Source: Fidelity Investments
Seadrill Partners pays a forward dividend of $1.78 per year, giving the partnership units a 5.89% yield at the current price. This dividend is important because capital gains may be difficult to come by given the weakness in the overall industry.
North Atlantic Drilling
North Atlantic Drilling (NYSE:NADL) is another company formed by Seadrill to perform a specific purpose. In this case, that purpose is to own and manage Seadrill's large fleet of harsh environment-capable rigs. It has enjoyed considerable success at this and has very strong future potential because the world's offshore Arctic regions are likely to be a growth area for the industry going forward. However, in this article, we are mostly concerned with the company's ability to ride through the current market weakness and continue to pay its dividend. Its potential to do this is much the same as Seadrill Partners' but North Atlantic Drilling may be an even better way for an investor to ride through the market weakness because it has a much higher dividend.
North Atlantic Drilling's model is much the same as Seadrill Partners', with its revenues essentially being guaranteed by contracts with big oil companies. Therefore, I will not discuss the reasons why the company's financial situation will not be affected by the current market weakness in the absence of expiring contracts as all of my comments regarding Seadrill Partners also apply to North Atlantic Drilling. So, does North Atlantic Drilling have any expiring contracts in the near-term? Let's have a look.

Click to enlarge
Source: North Atlantic Drilling
As the company's most recent fleet status report shows, North Atlantic Drilling does not have any rig contracts expiring in 2014. This means that the company's revenues and cash flows are guaranteed to remain at their current levels throughout 2014, allowing for the usual fluctuations due to maintenance-related downtime. This should provide assurance that North Atlantic Drilling can maintain its dividend and cover its other financial commitments for this whole year, regardless of the conditions in the broader market. Eagle-eyed investors may notice that the company has one drillship that will be off contract for the whole of 2015. Should North Atlantic Drilling fail to secure a new contract for this rig before the end of the year, then the company will see its revenue drop by $621,000 per day. The company also has two of its semisubmersibles that will have their current contracts expire in the middle of 2015. North Atlantic Drilling will need to secure new contracts for these rigs as well or its revenues will be adversely impacted at that time. Fortunately, as I discussed in an earlier article (linked above), the demand for harsh environment rigs remains strong and so North Atlantic Drilling has a fairly good chance to secure new contracts for these rigs.
North Atlantic Drilling has seen its share price affected significantly by the downturn in the offshore drilling market. At the time of writing, shares of North Atlantic Drilling trade for $8.25. This price is approximately 10.81% lower than the stock's 52-week high.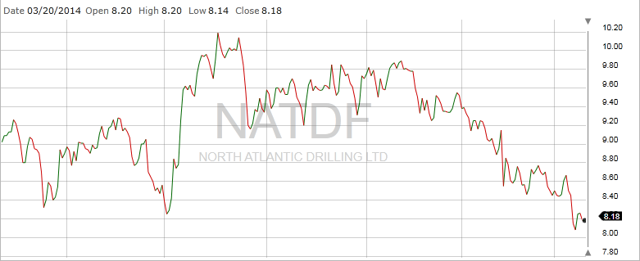 Click to enlarge
(Note: Chart is for NATDF because NADL has not been trading for one year).
Source: Fidelity Investments
North Atlantic Drilling pays a forward dividend of $0.92 per share annually. This gives the stock a forward dividend yield of 11.15%. This dividend is high enough to result in the stock delivering a respectable yield to investors even in the complete absence of any capital gains.
Seadrill
So far, this article has talked about taking advantage of the market weakness to make profits by buying shares in two of Seadrill's subsidiary companies, but what about Seadrill itself? In fact, the market weakness may have handed us a buying opportunity in Seadrill, for much the same reasons as the other two companies discussed here. Seadrill also may have better forward growth potential than either Seadrill Partners or North Atlantic Drilling and so it may have the potential for greater capital gains over the long-term in addition to the remarkably high dividend that investors will collect in the short-term.
Seadrill does have greater exposure to the current market weakness than either Seadrill Partners or North Atlantic Drilling. According to the company's fourth quarter 2013 earnings report, Seadrill has its ultra-deepwater fleet covered by contracts for 96% of the total amount of time in 2014. The company's jack-up fleet is not as much of a concern because the market for shallow-water jack-up rigs has not been affected by the market weakness in the way that the ultra-deepwater market has been. This means that Seadrill only needs to find contracts for 4% of its total rig time in 2014. This is much easier for the company to accomplish than if it had 10% or more of its time free (for example). The company does not have the same coverage in 2015, however, and so that year might be more difficult for Seadrill than for its subsidiary companies depending on how long the downturn lasts. The company is still positioned well compared to some of its industry peers though, boasting contracts covering 66% of the company's total time on its ultra-deepwater fleet. Even so, investors will want to keep an eye on Seadrill's contract awards to ensure that the company improves this coverage.
Seadrill's stock price has been greatly impacted by the downturn in the drilling market. At the time of writing, the stock trades hands at $34.04, representing a decline of 29.21% from its highs reached last year.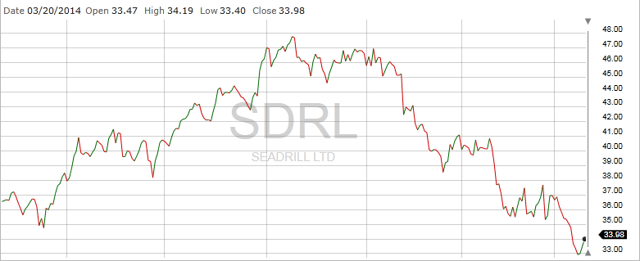 Click to enlarge
Source: Fidelity Investments
As I discussed in my analysis of Seadrill's earnings, the company just recently increased its dividend to $3.92 per share per year. This gives the stock an 11.51% yield at current levels. This high yield seems to indicate that a substantial amount of risk is already priced into the stock and given the company's fundamentals, it may be a risk worth taking.
Disclosure: I am long SDRL, NADL. I wrote this article myself, and it expresses my own opinions. I am not receiving compensation for it (other than from Seeking Alpha). I have no business relationship with any company whose stock is mentioned in this article.
Additional disclosure: My long position in North Atlantic Drilling consists of the shares trading on the OTC market in Norway, not the NYSE shares