As costs have increased and margins are expecting to decrease, oil and gas including Statoil ASA (NYSE:STO) are feeling the squeeze. As this period of weakness is underway, these companies are reassessing their assets and presenting the long-term investor some excellent opportunities.
Setting the Tone
Back in January, Royal Dutch Shell (NYSE:RDS.A)(NYSE:RDS.B) "set the tone" for the majors, warning that their fourth-quarter earnings would be "significantly lower" than 2012. Some of their reasons for this are:
profit margins on products from Shell's refineries continued to be under pressure in Asia, Europe and Australia.
maintenance expenses in gas-to-liquids plants in Qatar.
security issues in Nigeria causing pipelines to shutdown.
Even though Statoil did not issue a "profit warning" like Shell, the company did warn that changes must be made as costs are deteriorating margins.
"When profitability is falling and costs are rising this much in the oil industry as a whole and risk is increasing, the industry must take measures," Statoil Chief Executive Officer Helge Lund said in an interview in Stavanger, Norway, where the company based. For suppliers "change is hard, but the fact is that the alternative is much worse."
Macro View
Oil Price estimates
Adding to the issue listed above, the EIA has estimated that oil prices will remain volatile but stagnant over the next few years. In 2014, WTI crude oil is projected to average $93/bbl while in 2015 estimates are that WTI averages around $90/bbl. There will be many variables that create volatility over the next few years. As the chart below indicates, WTI could range from ~$120.00 to ~$80.00 per barrel.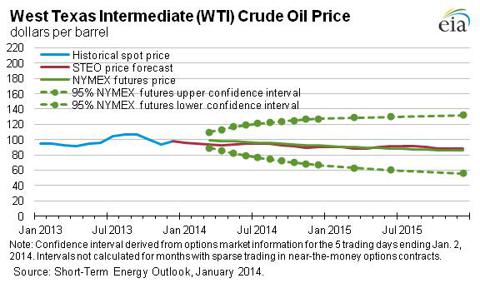 Natural Gas
Even though the price of oil is expected to remain relatively stagnant over the next few years, there is a different story for the price on Nat Gas. The EIA [pdf] believes the demand is growing for natural gas. In its Annual Energy Outlook 2013, the EIA notes that exports will be a driving factor in the increased demand for natural gas over the long term:
"Exports (will) continue to grow at a rate of about 17.7% per year from 2020 to 2040. Net exports in 2020 are less than 1 percent of total consumption; in 2040 they are 12 percent of consumption."
In the chart below, the EIA displays five different scenarios regarding the price increase of natural gas. These scenarios are based on a multitude of events. They range from a shortage of natural gas where the price increases very quickly, to a glut of resources where the price acceleration is much slower.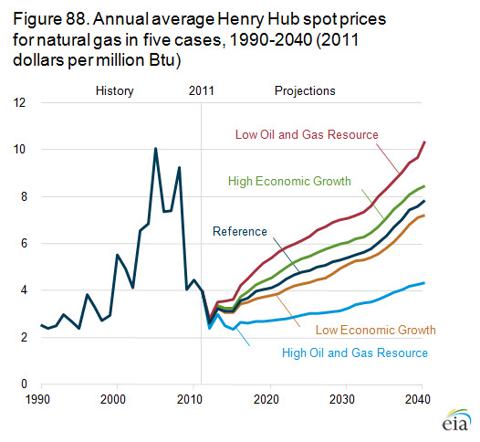 Global consumption Oil
As the price of oil is expected to average just over $90.00 in the next 2 years, global consumption is expected to continue to grow.
According to the EIA, global consumption grew by 1.2 million bbl/d in 2013. The organization expects global consumption to grow by a similar pace of 1.2 million bbl/d in 2014 and increase to 1.4 million bbl/d in 2015, exceeding 93 million bbl/d by the second half of 2015.
Government Reduction?
As the company is refocusing their capital spending in efforts alleviate weaker margins over the next year or so, this should prove to be beneficial for the long-term investor.
Currently, there is discussion about the Norwegian Government considering reducing their 67% stake to ~51%. According to Bloomberg, this would allow the issuance of more than $22 billion in new shares for use in a takeover.
Some companies that have come up in discussion regarding a takeover are: Anadarko Petroleum (NYSE:APC), which has a market capitalization of about $40 billion or Cairn Energy (OTCPK:CRNCY).
Dividend
Currently Statoil pays a dividend of 0.87 which equates to a yield of 3.20%.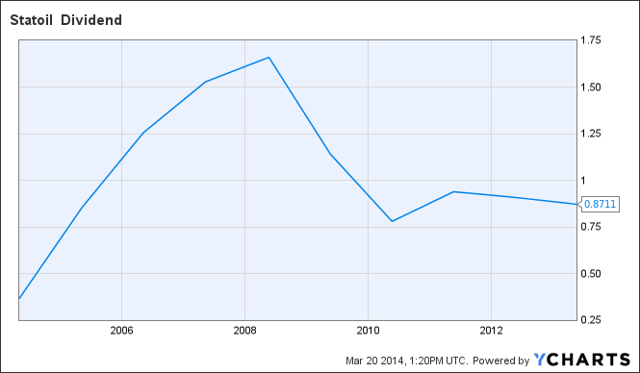 STO Dividend data by YCharts
Future cash flows are expected to be slightly lower than anticipated with the price of oil being slightly depressed, but with global consumption on the rise, the demand will continue to be there.
Valuations
In the section below, I will use a couple of different methods to find a valuation of the stock price. In this section, I will use the EV/ EBITDA to assess if the stock is over or undervalued compared to the industry average, the Discounted Cash Flow valuation model and forward P/E ratios to estimate the current value of each share.
EV/EBITDA = Enterprise Value / Earnings before interest, Taxes, Depreciation and Amortization
In the next section, I will use the EBITDA to calculate the EV/EBITDA. The adjusted EBITDA takes into account foreign exchange and share-based payment expenses. The EV/EBITDA ratio is one of the most commonly used valuation metrics, as EBITDA is commonly used as a proxy for cash flow available to the firm. Integrated oil and gas stocks typically have an EV/EBITDA ratio that trades in the 4.0x to 5.0x trading range.
Enterprise Value or EV = Market Capitalization + Total Debt - Cash and Cash Equivalents.
EV - $88.531 billion (U.S.D.) billion + $31.98 billion - $13.55 billion U.S.D. = $106.96 billion
EV = $106.96 billion
EBITDA = 38.57 billion
EV/EBITDA = 2.77
As the Integrated oil and gas sector often trades in the 4.62 trading range, an EV/EBITDA ratio of 2.77 indicates at current levels the stock is trading just over fair value compared to other companies in its sector.
Discounted Cash Flow
I believe using the Discounted Cash Flow valuation model for Statoil to be fair because DCF analysis can help one see where the company's value is coming from and one can generate an opinion based on that.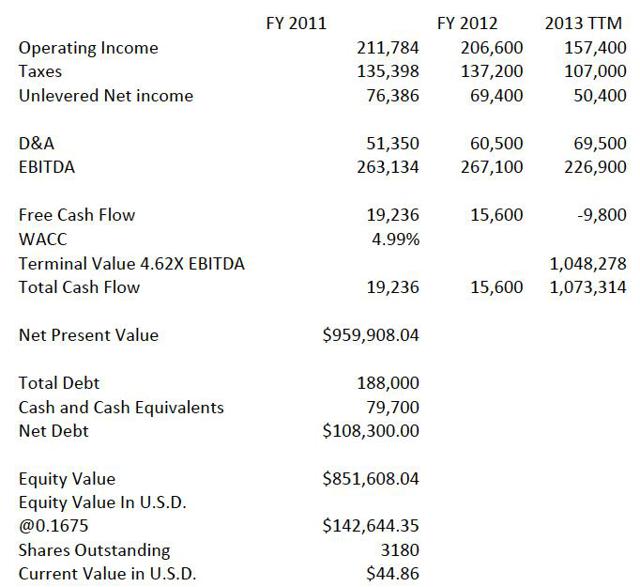 Even though there are variations in calculating this formula, this model is based on a terminal value of 1.048B NOK which was translated into U.S.D. through an exchange of ~0.1675 NOK to U.S.D. and a WACC of 4.99%. The terminal value 1.048B NOK is based off of the company trading at 4.62x EBITDA which is the EV/EBITDA value for the industry. At this point in the market based off of an exchange at ~0.1675 and using the valuations above, I have calculated Statoil's current value to be ~$44.86 per share.
As of March 20th, Statoil's stock was trading at $27.20. Using the Discount Cash Flow Formula, this indicates the stock undervalued by 64.92%.
Exchange Rate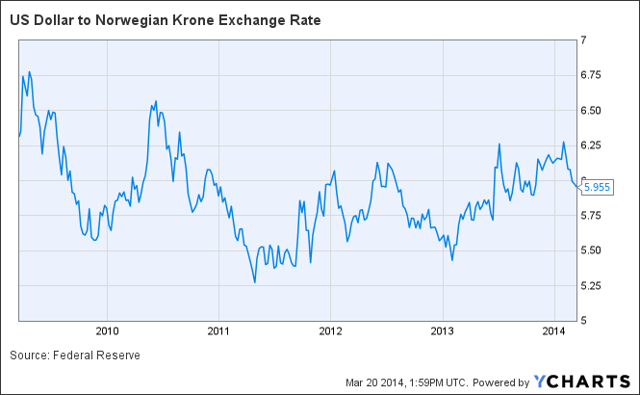 US Dollar to Norwegian Krone Exchange Rate data by YCharts
As these formulas are based on a conversion rate of 0.1675 NOK to $1 U.S.D. this valuation is highly susceptible to currency markets.
Strategy
I believe if you added a small position here, accumulated over time, and collected the 3.20% yield and wait for the industry to "pick up," this would reap rewards for the long-term investor.
Conclusion
As the company is reassessing its assets and concentrating on its most profitable ones, this should prove to be a positive catalyst for margins moving forward. With the Norwegian Government considering reducing their stake in the company to ~51% this will also provide a catalyst as this would set up the company to purchase a company with higher margin assets. Based on the commodity cycle there is limited growth forecast for Statoil over the next few years but if the company is able to proceed with a takeover and the market agrees with management's decision this could provide significant upside. As this story progresses this could should bring some volatility, nevertheless, Statoil provides a solid 3.2% dividend and according to the DCF calculation has an attractive valuation in the low to mid $40s.
Disclosure: I have no positions in any stocks mentioned, and no plans to initiate any positions within the next 72 hours. I wrote this article myself, and it expresses my own opinions. I am not receiving compensation for it (other than from Seeking Alpha). I have no business relationship with any company whose stock is mentioned in this article.