Introduction
In this article I'll have a closer look at Silver Wheaton (NYSE:SLW) which has just announced its results for 2013. I will provide my view on the company's financial results and its balance sheet, where after I will briefly discuss the outlook for the company. This will result in the conclusion at the end of this article.
All images in this article were sourced from the company's press release.
My view on the financial results
During 2013, Silver Wheaton sold 30 million silver-equivalent ounces consisting of 22.8 million ounces of pure silver and approximately 117,000 ounces of gold. This is approximately a 10% increase compared to the 27.3M AgEq oz in 2012. Unfortunately the silver and gold price dipped in 2013, which resulted in a revenue decrease of 17% (despite the 10% production increase) to $707M. Unfortunately the cost of sales also increased, which caused the earnings from operations to decrease by approximately 33%. This resulted in a net profit of $375M or approximately $1.06/share.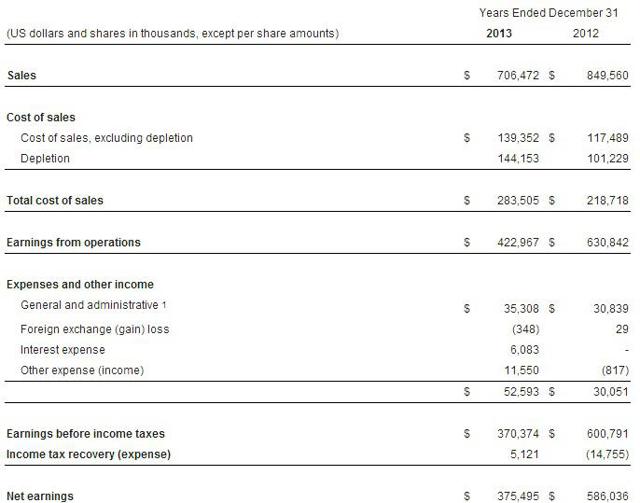 Click to enlarge
I always like to have a look at the cash flow statements of a company, as I firmly believe these offer a better indication of the quality of the underlying business. You can clearly see the operating cash flow was approximately $534M which is very decent. However, the company was free cash flow negative, as it spent approximately $2.02B on the acquisition of gold and silver interests. The shortfall was funded with the cash on the balance sheet and additional debt. Investors shouldn't be worried about this free cash flow negative situation, as the invested cash will (further down the road) add to the current production profile of the company.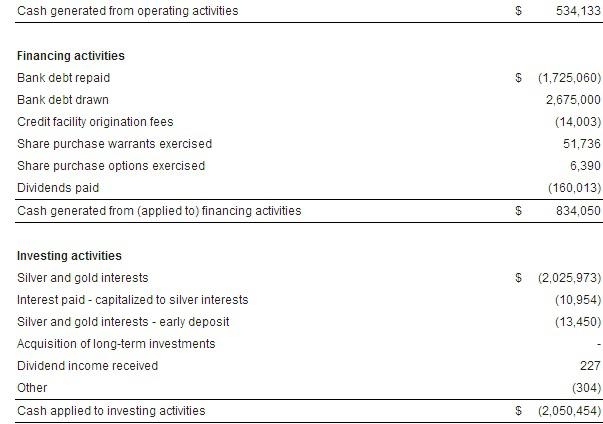 My view on the balance sheet
Moving over to the balance sheet, Silver Wheaton had a working capital of just $80M, down from $735M at the same moment the year before. The company obviously spent a lot of its cash on the acquisition of new streaming deals, and this might be one of the reasons why Silver Wheaton decided to initiate a dividend reinvestment plan, as that would lighten the cash drain caused by paying cash dividends. As the current ratio is a very healthy 4.80, I'm not worried about the short-term financial situation of Silver Wheaton at all, as a ratio higher than 1 indicates the company has sufficient current assets to cover its current liabilities.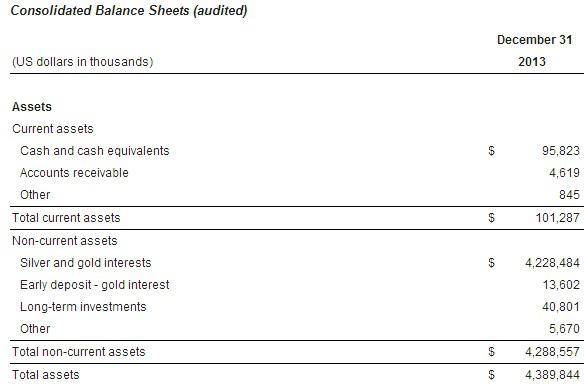 As of at the end of last year, Silver Wheaton's book value was approximately $9.42/share, which means the company is trading at a multiple of 2.55 times its book value. This is quite high but acceptable, given the expected growth profile of the company.
Outlook
The silver-equivalent production is expected to remain flat in 2014 (36 million silver-equivalent ounces versus 35.8 million in 2013), so we don't expect any remarkable changes in this year. However, when looking at the future, Silver Wheaton still expects to produce 48 million silver-equivalent ounces by 2018 which would be a production increase of approximately 33% compared to the current production rate, and this will obviously have a positive impact on the financial results.
Silver Wheaton has also announced a first dividend payment of $0.07 for the first quarter of this year, which is a decrease compared to the previous dividend. The company now also provides the opportunity to reinvest the dividend into new shares of the company, and we think this is a good move to preserve the current cash balance of the company.
Conclusion
No surprises in Silver Wheaton's financial results, which is a good thing. Despite the setback at Barrick Gold's Pascua Lama project, Silver Wheaton still aims to produce 48 million silver-equivalent ounces by 2018 which would result in a revenue of in excess of $1B using a silver price of $21/oz.
In a previous article I recommended to write a P20 January 2014 and as the share price was trading higher than $20 in January, those written puts expired worthless, for a 100% gain, and it also looks like the June P16 will expire worthless. At this moment I would be interested in writing a P20 September 2014 and a P18 January 2015 for a respective option premium of $0.70 and $0.75. This would result in an annualized yield of respectively 7% and 5%.
Disclosure: I have no positions in any stocks mentioned, and no plans to initiate any positions within the next 72 hours. I wrote this article myself, and it expresses my own opinions. I am not receiving compensation for it (other than from Seeking Alpha). I have no business relationship with any company whose stock is mentioned in this article. No position in SLW, but I wrote put options in the past and will continue to do so