Gas weighted stocks could enjoy a good summer. The Energy Information Agency released gas stocks in storage for the United States showing a decline of almost 50% from last year.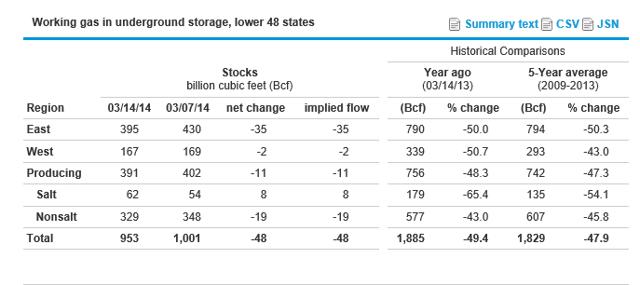 Source: EIA
That puts natural gas inventories at the lowest level in many years.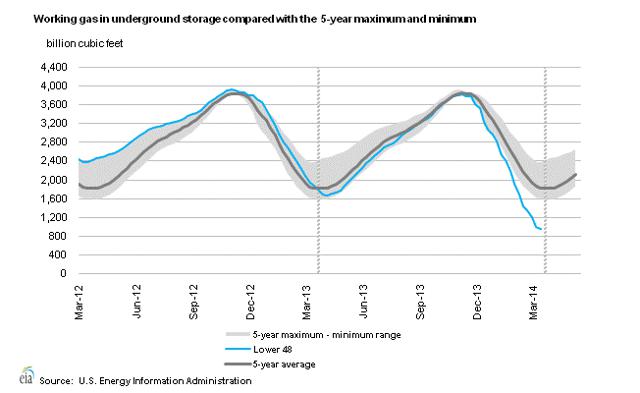 Source: EIA
SA Author Efficient Alpha published a recent article describing the gas storage situation as "dangerously low." Dangerously low for consumers perhaps, but a tailwind for natural gas producers to be sure.
SA Author Chris Damas was ahead of the curve with his excellent article on Bonterra Energy (OTC:BNEFF), a Canadian oil and natural gas producer with no hedges in place. Bonterra's weighting to natural gas is only 27% of production so that higher natural gas prices are more of a bonus than major leverage. I like Bonterra even though its production is only 27% natural gas. Bonterra has a 6.5% yield, modest debt and keeps its capital spending and dividend rate within its cash flows.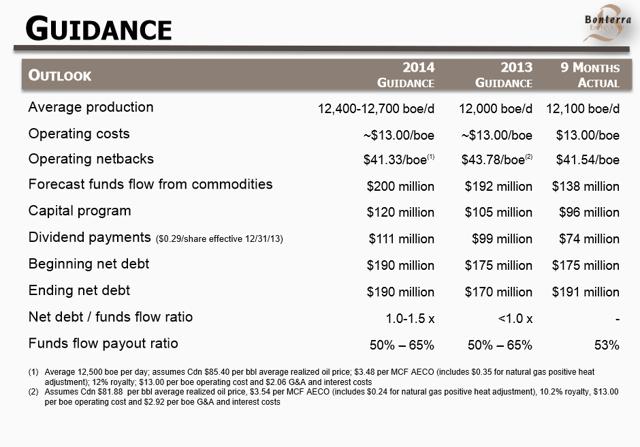 Source: Bonterra corporate presentation February 2014
At first blush Bonterra seems to have modest leverage to natural gas prices with a $1.00 per Mcf change adding only $7.6 million to cash flow or about 4%. But the effective natural gas price in Canada is also tied to the Canadian dollar exchange rate where every $0.01 drop in the Canadian dollar adds $2 million to Bonterra's cash flow. With higher interest rates in the United States a distinct possibility over the next few years, I would expect the Canadian dollar to come under further pressure and a $0.05 drop in the exchange rate together with $1.50 higher gas prices would increase Bonterra cash flows by more than 10%.

Source: Bonterra corporate presentation February 2014
Natural gas is a commodity where shortages or surpluses can cause price spikes with very little friction in either direction.
"Frackers" with high decline rates can bring on new production quickly and flood the market with supply, in part why natural gas prices have fallen from the $6 range in 2012 to around $2 per Mcf in 2012 with a bounce back to over $6 last November and a drop to just over $4 per Mcf more recently. That makes a pure natural gas play more of a trading vehicle than a stable long-term investment as I see it.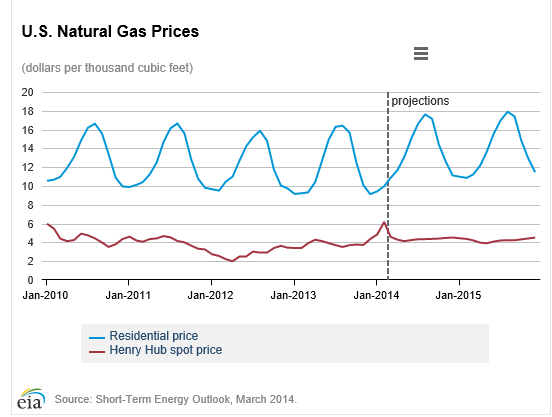 In my opinion, Bonterra is one of the best managed oil and gas companies operating in the Western Canadian Sedimentary Basin. A shareholder who invested $20,000 in Bonterra in 1998 would have stock today worth over $5 million after receiving more than $3 million in dividends along the way. For many, that might have meant a worry free retirement for an investment most could afford.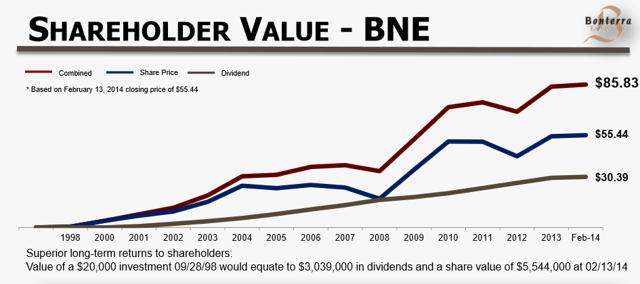 Source: Bonterra corporate presentation February 2014
In my view, the current stock market environment is overbought and it is a time for defensive plays. Bonterra stock is off about 6% since Chris Damas wrote his article, and about $47 a share presents an attractive buying opportunity. Bonterra fits the defensive mold pretty well and should enjoy yield support in any downturn while benefiting from tighter natural gas markets, a lower Canadian dollar and continued drilling success.
I am long Bonterra.
Disclosure: I am long BNEFF. I wrote this article myself, and it expresses my own opinions. I am not receiving compensation for it (other than from Seeking Alpha). I have no business relationship with any company whose stock is mentioned in this article.