AFLAC Inc. (NYSE:AFL) provides supplemental health and life insurance in Japan (78% of pretax operating profits) and U.S. products are marketed at work sites and help fill gaps in primary coverage.
Business Model
In 2013, Aflac Japan accounted for 75% of total revenues, compared to 77% in 2012. At Dec. 31 2013, Aflac Japan accounted for more than 86% of total company assets, down slightly from 87% a year earlier. The plan is to continue its Japanese operations through new product introductions to meet the market demand. In addition, as of year-end 2013, Aflac Japan ranked first in terms of individual insurance policies in force through 2010, 2011 and 2012. Additionally, with the strategic alliance with Japan Post, Aflac Japan will remain the exclusive provider of cancer insurance distributed through post offices nationwide across the country, and we expect a boost to cancer sales in 2014.
Dividend And Share Repurchases
Looking at the financials, the company has a strong balance sheet - good cash that allows it to reward current shareholders through dividend and share repurchases. Dividend-payment history affirms its commitment to maximize shareholder wealth. It raised its dividend for more than 30 years. It hiked its quarterly dividend by 5.7% in October 2013. The dividend yield of 2.3% is ahead of the industry average of 0.83%. Furthermore, the company sanctioned a new share repurchase program for 40 million shares in November 2013, and now has about 56.9 million shares available for buyback. Also, it inflated the target for 2013 to $800 million and expanded it by another $800 million in 2014.
Credit Rating
Fitch Ratings upgraded its credit outlook to stable, with a Senior Unsecured Debt rating of A- and a long-term issuer default rating (IDR) of A based on Aflac's present strong capital. In June 2013, Moody's affirmed Aflac's senior debt to A3 with a stable outlook.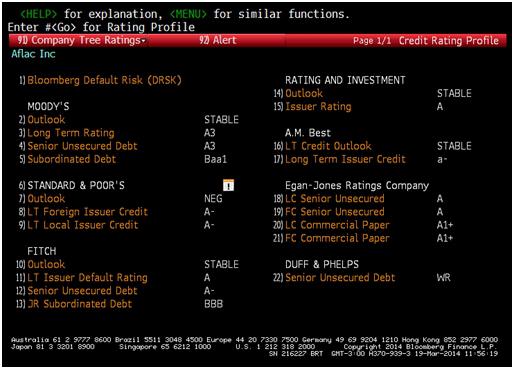 Source: Bloomberg
Analyst Recommendation
The firm is currently Zacks Rank # 3 - Hold, and it also has a longer-term recommendation of "Neutral." For investors looking for a better Zacks Rank, Amerisafe, Inc (NASDAQ:AMSF) and Unum Group (NYSE:UNM) could be the options.
Relative Valuation
In terms of valuation, the stock sells at a trailing P/E of 9.6x, trading at a discount compared to an average of 13.5x for the industry. To use another metric, its price-to-book ratio of 2.1x indicates a premium versus the industry average of 1.48x and the price-to-sales ratio of 1.3x is above the industry average of 0.92x.
Earnings per share (EPS) increased by 17% in the most recent quarter compared to the same quarter a year ago (from $1.24 to $1.45). In the next graph we can see that it has demonstrated a positive trend in the last five years and we include the stock price because EPS often lead the stock price movement.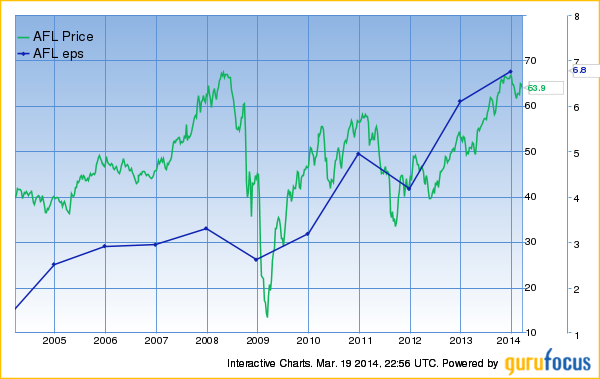 Finally, I always like to see one of the most important financial ratios applying to stockholders, the best measure of performance for a firm's management: the return on equity. The ratio has improved from the same quarter one year prior. This is a clear sign of strength within the company. The company has a current ratio of 21.6%, higher than the one registered by Unum Group and the industry average of 10.7%.
Final Comment
As outlined in this article, we see with good eyes Aflac's new products in the Japanese market. The firm's EPS as well as ROE growth are demonstrating improvement of the company's strength. Therefore, I feel bullish about this company's future profitability.
According to Yahoo Finance, the estimated one-year target share price is $71, so if you buy shares at the current market price ($64.3), your return from price appreciation would be 10.4%. In addition, you have to consider any cash flow received by the asset. So for holding the stock one year, you'll be paid a dividend of 37 cents per share each quarter, totaling $1.48 at the end of the year. If we divide this number by current price per share, we obtain the dividend yield, which is the other component of the return on investment for a stock, and in this case is 2.3%. So the total return for investing in Aflac is 12.7% and considering the company's history, the dividend may be increased the first year you own it, and your yield will move even higher.
I would recommend investors consider adding the stock for their long-term portfolios. Hedge fund gurus have also been active in the company in Q4 2013. Gurus like Paul Tudor Jones, John Rogers, John Keeley and the New York-based investment firm Caxton Associates have also invested in it.
Disclosure: I have no positions in any stocks mentioned, and no plans to initiate any positions within the next 72 hours. I wrote this article myself, and it expresses my own opinions. I am not receiving compensation for it (other than from Seeking Alpha). I have no business relationship with any company whose stock is mentioned in this article.