REIT Overview:
Columbia Property Trust (NYSE:CXP) is the 7th largest office REIT in the US that invests in high-quality commercial office properties. As of 31st December 2013, the REIT had an investment grade rating with a $5.1 bn portfolio consisting of 59 operational buildings in 13 states and the District of Columbia. The company was initially known as Wells Real Estate Investment Trust and changed its name to Columbia Property Trust in March 2013. The REIT also internalized its operations during April 2012 distancing itself from its former advisor Wells Real Estate Funds.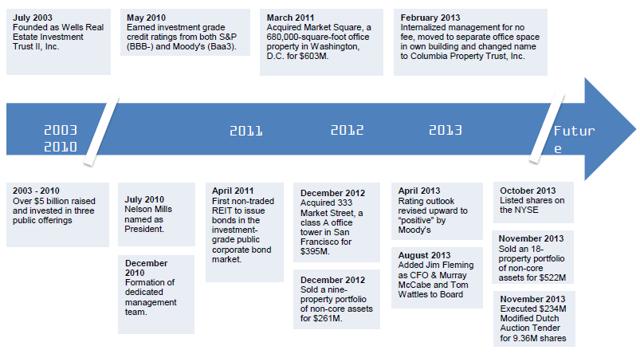 Source: CXP Company Filings and Presentation
Before addressing the investor concern over its strategy execution and the impending catalyst for the share price movement, let us dig into key factors that make CXP stand apart from its peers.
How CPX's portfolio compare with those of its peers?
Looking at the company presentation, CXP's management is not short of details when it comes to communicating with the investor over their growth strategy and advantage. They have been very detailed in explaining and laying out points supporting their investment strategy, quality of portfolio and value creation potential.

Source: CXP Company Filings and Presentation
Overall CXP's asset portfolio is top class due to the following reasons.
1. Well diversified mix across geographies, tenants and industry

Source: CXP Company Filings and Presentation
2. Meaningful size, strong occupancy, and manageable lease maturities: CXP has a blue chip tenant base with a credit rating of "A-" that includes General Electric, E&Y, Wells Fargo, Newell Rubbermaid, IBM, AT&T, Key Bank and PSE&G.

Source: Company Filings and Presentation
The long dated maturities of CXP at 6%, 12% and 13% during the periods 2014-16 along with average lease term of 10.2 years reflect the excellent quality of its tenant base.

Source: Company Filings and Presentation
Despite having a large presence in suburban areas, CXP's occupancy rate of 92.3% is ~110 bps above its peers. This shows the preference of CXP's properties even in the second tier cities, where employment growth has been a tad lower than their metropolitan counterparts.
3. Proactive leasing shows the quality of the management: The company has undertaken around 7.1 mn square feet of leasing activity since January 2011. As result the average lease term has increased by ~ 3.7 years.

Source: Company Filings and Presentation
CXP's executive management has been with the company for the past 24 years and are internal. The company has a non-staggered board, with 8 of the 9 board members including the chairman being independent. It has been reporting with the SEC since 2003 and has opted out of Maryland anti-takeover provisions.

Source: Company Filings and Presentation
Risk concerns over $250 to $350mn asset recycling overblown: The management had guided to acquire and dispose assets in the range of $250 to $350mn for 2014. There have been concerns over the timing of this recycling and that it could affect consensus FFO guidance of $1.90 to $1.98 per share for 2014. We believe that investor concerns are overblown due to reasons mentioned below:
1. CXP has an excellent track record of proactively creating shareholder value by repositioning its portfolio. Since 2011, it has sold $910 mn of non-core assets and also deployed capital into ~$1.0 bn of Class A real estate in its key target markets.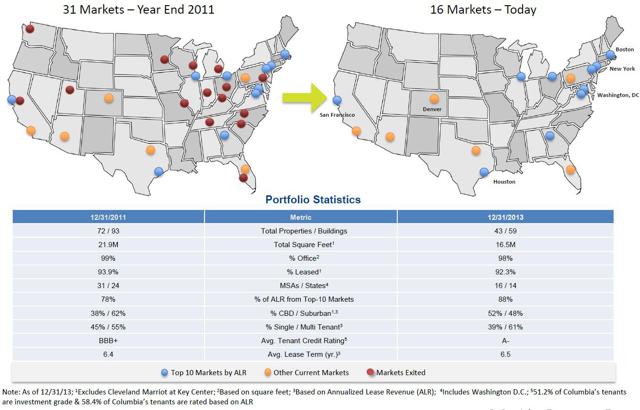 Source: Company Filings and Presentation
2. Strong balance sheet and excellent liquidity should help in asset recycle: CXP has one of the strongest balance sheet in the commercial REIT space with a i) gross leverage of 29% (1,300 bps below its peers), ii) net debt to EBITDA of 4.12x, and iii) fixed charge coverage of 4.8x. Also its asset pool is unencumbered (75% of the asset pool) and has a $379mn credit line available under its kitty. The recent IPO and enhanced liquidity might result in a credit upgrade as well. The recent sales of 18 properties for $521.5 mn would increase its cash position by ~$430 mn after repayment of a $90 mn mortgage loan.

Source: Company Filings and Presentation
The balance sheet would be a strong competitive advantage for CXP as the management had mentioned that it is comfortable taking additional leverage to 35%. Moreover the upcoming maturities in the coming years are also very minimal.
3. The $250 to $350mn asset recycling plans account for ~6% of its $5.1bn portfolio and could hardly have any material impact on its cash flows.
4. Though the assumption of purchase and sale of properties simultaneously looks excessively aggressive, CXP's clean balance sheet and undrawn revolving credit facility should help pay cash to buy properties (and maintain cash flow growth) even before selling them.
Insiders gung-ho about the stocks future: Insiders have been buying into the stock at regular intervals, which is a sign of confidence in the company's future. Also half the compensation for the management is stock based which bodes well for a higher share price.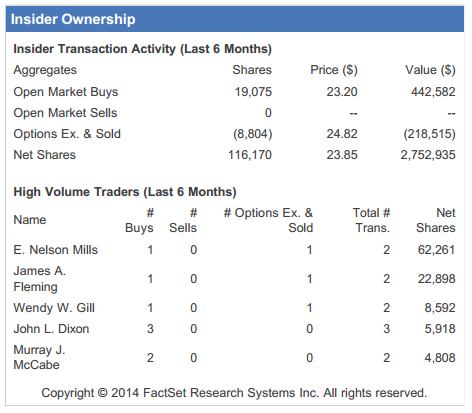 Source: Company Filings and Presentation
Impending Catalysts
Catalyst 1 - Credit Upgrade Long Overdue: Moody's has affirmed the Baa3 senior unsecured rating and Baa3 issuer rating for CXP. Further it has revised the rating outlook to positive from stable. The positive outlook reflects CXP's i) transition to internal management, ii) conservative leverage, and iii) corporate governance enhancements (appointment of an existing independent director as board chairman and non-payment of internalization fee to its former advisor). Our analysis of key factors shows that CXP is long overdue for a rating upgrade by two notches.

The last rating action with respect to CXP (formerly known as Wells Real Estate Investment Trust II) was on April 28, 2010, when Moody's assigned a Baa3 issuer rating with a stable outlook.
Catalyst 2 - More sell side coverage: According to the company website, CXP has only one sell side analyst tracking the stock, while other major REITs have around 8-10 brokerages covering them. More analysts getting into the rating bandwagon bodes well for CXP.
Catalyst 3 - Inclusion in REIT indices: MSCI US REIT Index (RMZ) accepts REITs with market capitalization greater than $5 bn by default. As a result CXP could not qualify during the November 2013 window. The company has a very high probability of being included during the May schedule as there are REITs smaller than CXP in the index. We also believe CXP could become part of other indices like FTSE EPRA/NAREIT North America Index ETF (NASDAQ:IFNA) and the Russell Index during 2014.
As companies become part of an index, REIT money ends up holding around 15-18% of the free float. In case of CXP, this would equate to roughly 20 mn shares or close to a month of trading volumes at the current run rate. Stocks tend to outperform with their addition to the indices, and also a majority of the outperformance is during one month before their inclusion. It could be even magnified in case of CXP given its limited free float.
Catalyst 4: CXP shares trade at a sizable discount of 15% to the NAV at current market price and could opt for share repurchase. Though share purchase means lack of opportunities to recycle, it could also be viewed as an option to buy its own assets at a discounted price. Given the clean balance sheet, CXP could take additional debt to repurchase shares and create value without straining its financials.
Retail overhang should abate in the near term: The REIT got itself listed on the NYSE on October 13, 2013. After listing the ownership consisted of ~134,000 individual retail investors. The retail investors have not shown much interest in exiting given the cheap valuation and dividend yield of 4.5%. Even after 6 months of listing, institutional ownership accounts for a meager ~14% of the float. Also, the trading volumes have been very small.

Source: Google Finance
Trading at undemanding valuations: Despite attractive fundamentals (favorable long dated maturities versus peers) and balance sheet strength the REIT is trading at a steep discount to its peers. At current prices it is trading at ~15% discount to its own NAV. Its cap rate is 220 bps above the peer average and 2014 FFO multiple is at a 16% discount.
Final Thoughts: Overall CXP has a strong buy thesis backed by strong fundamentals (meaningful size, strong occupancy and long dated lease maturities). Its blue chip client base, strong management team and clean balance sheet (low leverage, strong credit metrics and investment grade rating) also vouch the same. Investors can use the current scenario to take exposure at an attractive valuation and also gain more out of the 4.5% dividend yield. A key trigger for the stock up movement could be its inclusion in the MSCI REIT Index (RMZ), which would provide additional liquidity and buyers.
Key Risks: i) Around 50% exposure to suburban markets which are weaker compared to the central business districts, ii) retail overhang, and iii) execution risk associated with the asset recycling strategy.
Disclosure: I have no positions in any stocks mentioned, and no plans to initiate any positions within the next 72 hours. I wrote this article myself, and it expresses my own opinions. I am not receiving compensation for it (other than from Seeking Alpha). I have no business relationship with any company whose stock is mentioned in this article.