Warren Buffett never ceases to remind investors of the advantage in owning an insurance company. The vast sum of money collected up front, in the form of premium payments, is quite literally a free source of investment capital. When deployed wisely, it can provide an enduring income stream to pay all the administrative costs, future claims, and leave enough left over for a handsome profit. No wonder insurance is the cornerstone of Berkshire Hathaway (NYSE:BRK.B).
In assembling my own 'holding company of wonderful businesses', I too have become enamored with the perpetual revenue generated by well-managed insurance companies. For investors seeking to tap into the potential returns, there are many outstanding candidates from which to select. Ace Ltd (NYSE:ACE), Hanover (NYSE:THG), Allstate (NYSE:ALL), Prudential (NYSE:PRU) and Cincinnati Financial (NASDAQ:CINF) to name a few, provide investors with an opportunity to reap similar benefits enjoyed by Buffett, regardless if they lack his elephant size gun.
Great Company, Sluggish Stock
An insurance company that has always intrigued me is Chubb Corporation (NYSE:CB). Popular with dividend growth investors for a long time though, in recent years, it has lagged many of its peers in the industry. This 132-year old property-casualty insurer, headquartered in Warren, NJ, has expanded from humble roots as a marine insurer in 1882 to carve out a unique market position in high-end insurance coverage in 25 countries around the world. Never seeking to become the largest, it has focused instead on tailoring personal and specialty insurance products for professionals and high net worth individuals, in addition to home, auto and some select industry segments.
According to the National Association of Insurance Commissioners (NAIC) Chubb ranks as the 12th largest property and casualty insurer in the U.S., in terms of premiums written. That translates to a 1.86% market share. As a means of comparison, the largest P/C insurer, State Farm Group, commands a 10.3% market share, and 7th ranked Berkshire Hathaway about 3.9%.
Chubb sports a solid record of return on equity the last five years, and underwriting profitability measured by its combined ratio. Expressed as a percentage, the lower the combined ratio, the more profitable the underwriting has been for the company.
| | | | | | |
| --- | --- | --- | --- | --- | --- |
| | 2009 | 2010 | 2011 | 2012 | 2013 |
| Return on equity | 14.0% | 14.0% | 10.8% | 9.8% | 14.6% |
| Combined ratios | 86.0% | 89.3% | 95.3% | 95.3% | 86.1% |
(Return on equity and combined ratios compiled from annual reports.)
Financial strength is everything in an industry that promises to pay for tomorrow's unknown disasters. Chubb is renowned for its financial strength and exemplary credit ratings.
| | | | | |
| --- | --- | --- | --- | --- |
| | A.M. Best | Fitch | Moody's | Standard & Poor's |
| Corporate senior debt | aa | A+ | A2 | A+ |
| Property & casualty financial strength | A++ | AA | Aa2 | AA |
Despite its fiscal strength and prudent investment portfolio, Chubb's revenue growth the last five years has trailed the industry, perhaps explaining why the stock is lagging its peer group and the S&P 500 over the most recent 1, 2 and 5-year periods. I remain optimistic this conservatively managed company will benefit from the rise in interest rates and its marketing strategy, and return to historical outperformance over the long term. I am using the current lackluster period to accumulate shares as investment funds become available.
Total Annualized Rate of Return - With Dividends Reinvested

Last 5 years

Last 10 years

Last 15 years

Last 20 years

S&P 500

16.8%

7.1%

4.5%

8.9%

Chubb

13.2%

12.0%

9.0%

9.7%
(Source; F.A.S.T. Graphs™)
Dividend Increases Every Year Since 1982
Chubb is a member of the S&P 500 Dividend Aristocrats®, an exclusive list of companies that have raised dividends for at least 25 consecutive years. On February 27th, it announced a 13.6% increase in the quarterly dividend to $0.50, payable on April 1st, marking the 32nd consecutive year it has raised its dividend. From 2004 to 2013, the dividend grew at an average annual rate of 9.3%. Looking further back, the dividend growth rate has averaged a more modest 7.3% over the last twenty years. Currently, the dividend yield is about 2.3%.
Over the past decade, the payout ratio has averaged about 22%, which is very low. The lower the payout ratio the wider the margin of safety for continued dividend growth. This is especially important with the cyclical nature of an insurance company, which can expect fluctuations in earnings depending on the health of the overall economy and catastrophic losses in any given year. Continued dividend growth looks to be quite sustainable with such a low payout ratio.
I have read on several blogs and online articles references to Chubb having paid dividends continuously since 1902. Normally, a company with that level of dividend longevity would publish such an accomplishment on its web site, or in press releases related to dividends. Finding no such evidence, I contacted Chubb directly to inquire about the validity of such claims, which have been made by outsiders. Chubb spokesman, Mark E. Greenberg, could not confirm any dividend history for the company before 1967, the year Chubb Corporation was formed. Without the company's endorsement, I place no merit on the claims of others that tout dividends to stockholders dating back to 1902.
Share Buybacks Support Growth in EPS and Stake in Ownership
Chubb has historically been a shareholder friendly company, as demonstrated by its ascent to dividend aristocrat. Equally impressive is the continuous share-repurchasing program begun in 2005 that has dramatically reduced the outstanding shares. With fewer shares, earnings per share increase and investors receive a larger slice of the pie. The more shares retired to the sidelines, the more an investor's portion in ownership of the company increases.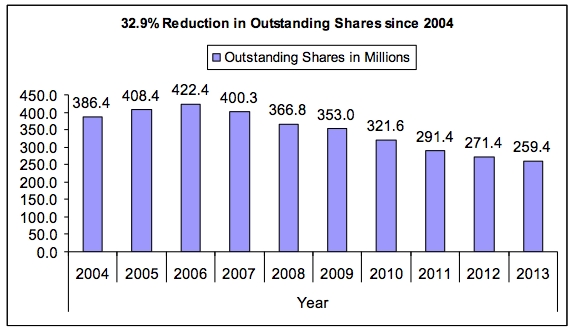 (Compiled from annual reports)
Share buybacks are continuing in 2014, with the announcement Chubb's Board of Directors approved $1.5 billion for repurchases this year.
EPS Displaying Solid Growth from 2004 - 2013
In addition to increasing shareholders' ownership in Chubb, repurchases are fueling EPS growth. Even in the face of the severe costs associated with abnormal catastrophe losses in recent years, the company has attained 9.4% annualized growth in EPS over the last decade. This is no small achievement and a testament to Chubb's fiscally conservative management and underwriting, coupled with the impact share repurchases have on earnings.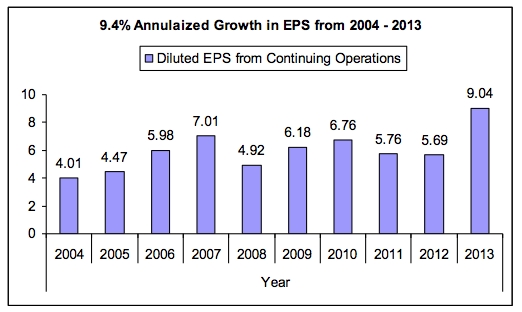 (Compiled from annual reports)
Be Aware of Risks
All insurance companies carry a degree a risk as their core business is financially reimbursing people and businesses when disaster strikes. Managing those risks prudently and responsibly is what separates mediocre insurers that fold up their tent when losses are overwhelming, from higher quality companies that have thrived for more than a century. The risks are virtually endless, but here are five that are most noteworthy:
Currency risk
Declining market share
General economic slowdown
Extraordinary catastrophic events
Litigation and abnormal judgments
Chubb has offices in 25 countries outside the U.S., predominantly in South America, Europe, Asia, and Australia, accounting for about 25% of premiums written. The international market offers global diversification to economic and insurance cycles that may vary with the U.S. The flipside to international diversification is exposure to currency risk.
Property-casualty insurance is a highly competitive commodity business, prone to price wars, loss of market share. Chubb has survived since 1882 by sticking with its niche markets in marine and specialty insurance product lines, designed around higher net worth clients. Personalized customer service is paramount for enduring success and Chubb historically receives some of the highest customer satisfaction rankings in the industry, which cannot be readily duplicated by no-frills competitors.
One glance at the earnings chart reveals that, during recessions, business falls off. When the economy slows down, businesses close doors, individuals reduce costs, margins compress, and premium payments dry up. Economic cycles come and go, but the well-managed insurers march onward.
Mother Nature has unleashed an avalanche of escalating storm damage since the 1960s. Costs from catastrophic losses have risen nearly 700% for U.S. property-casualty insurers in the last decade alone, according to the Insurance Information Institute.
Specific to Chubb investors is the company's exposure to asbestos litigation and future judgments. Chubb has set aside $556 million for asbestos related claims, that includes $232 million for known claims and $334 million for future cases.
The View from F.A.S.T. Graphs™ 2004 - 2014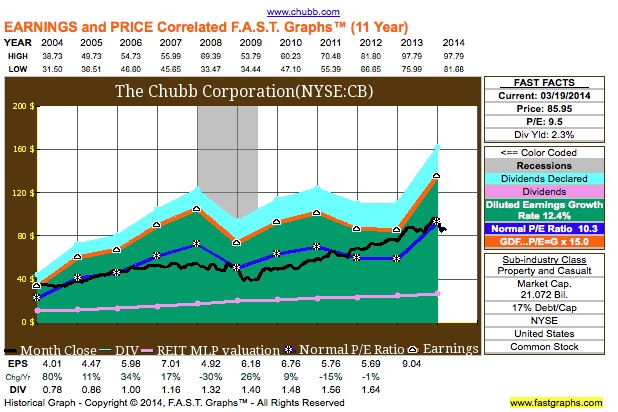 The stock price (black line) has historically trended below its earnings justified valuation (orange line), typical for an insurance company. The current price is only slightly below its historical 10.3 PE (blue line), thus Chubb is essentially fully and fairly valued. A reasonable valuation to initiate or add to a position, though some investors may prefer a lower entry point offering a greater margin of safety. With no imminent catalyst to propel the valuation higher, the disciplined approach may be prudent.
Chubb is one-third of a core position I own in the insurance sector, with the remainder comprised of Aflac (NYSE:AFL) and The Travelers Companies (NYSE:TRV). I wrote briefly about Aflac in another SA article last week, and more extensively about Travelers in January if you wish to read more about either. Collectively, I view the three as lifetime investments that I will someday pass onto my grandchildren, because of the remarkable dividend durability each has demonstrated.
Disclaimer: Always perform your own due diligence, and respect that my enthusiasm for a dividend growth investment may not be suitable for your portfolio.
Disclosure: I am long CB, AFL, TRV. I wrote this article myself, and it expresses my own opinions. I am not receiving compensation for it (other than from Seeking Alpha). I have no business relationship with any company whose stock is mentioned in this article.