By Peter Peng
By 2020, U.S. oil output is expected to have risen to 11.6 million barrels a day from 9.2 billion in 2012 as it taps rock and shale layers in North Dakota and Texas. While prices are uncertain, the increased volume should provide a significant tailwind to many master limited partnerships (MLPs) that provide transportation and storage infrastructure. Within the MLP space, Magellan Midstream Partners (NYSE:MMP) has a bright outlook and the financial health to acquire more expansionary projects boosting cash distributions.
This article is part of our megatrend series, a look at the trends that will drive markets over the next decade. Within each megatrend, we will focus on two companies with the potential to outperform. The idea is that even if the individual companies fail to execute on their strategic plans, the overwhelming force from the megatrend should drive strong returns.
Overlooked diversification on a strong income play
Last week, we highlighted the great tax advantage from MLP investments because of the way they are structured as pass-through ownership. Much of the income from MLPs is tax-deferred because of the huge shield of depreciation due to capital spending. Furthermore, Magellan Midstream Partners has a competitive advantage in its structure, a 100%-limited partner, with no incentive distribution rights to the general partner. This means the company can return more distributable cash flow to the unitholders, instead of sending it off to the general partner.
In addition to the beneficial structure of the company, MLPs are a great way to diversify your traditional stock-bond portfolio. In a study done by the American Association of Individual Investors, MLPs showed a correlation of 0.49 to equity, 0.39 to REITs and 0.56 to high-yield bonds. A correlation of 1.0 means the investments moves in lockstep with each other, while a correlation of -1.0 means they move inversely. The lower the correlation between investments means the lower the risk in the portfolio, because individual investments should not all decline at the same time.
Attractive growth projects and accretive acquisitions
The ability to identify and execute additional growth projects or acquisition is a significant factor that weighs in on the company's ability to increase cash distributions. Magellan Midstream Partners currently has $550 million of expansionary projects underway in 2014, along with potential expansion projects of more than $500 million. The company's debt-to-EBITDA ratio is relatively low at 3.19, well below its peers, allowing the company the financial flexibility to use debt financing for future acquisitions without jeopardizing a low cost of capital.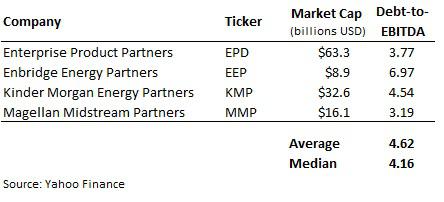 Management has been shifting capital expenditure to crude infrastructure to take advantage of the expected increase in volume and diversify operating margin. The recent Permian basin pipeline, Longhorn and BridgeTex are expected to be completed in mid-2014, and will be a significant source of growth for Magellan. The projects are expected to add incremental pipeline capacity of 1,072k bpd in the Permian, a key source of organic growth for the firm.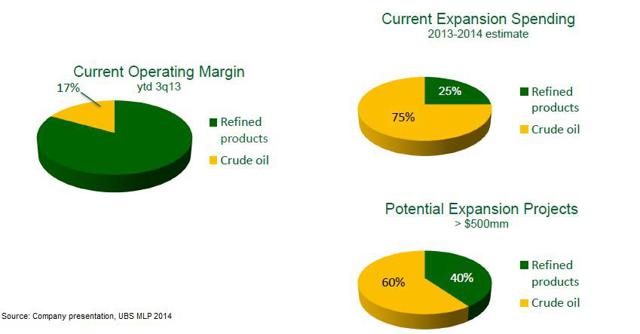 Steady Eddie- Low risk and consistent return
Magellan Midstream Partners operates on a relatively stable business model backed by long-term throughput commitments. It has a well-diversified customer base, with no customer accounting for more than 10% of consolidated revenue. Fee-based services are expected to generate 85% of operating margin this fiscal year.
Investors currently enjoy a 3.4% dividend yield on top of the rising stock price, rising 381% over the past five years. The dividend has increased at a compound annual rate of 12% since 2001, with 46 quarterly increases. The company's solid investment-grade rating, one of the highest-rated MLPs at BBB+, allows for lower cost of capital and more financial flexibility.
Over the next year, management projects dividend growth of 15% and will continue to reward unitholders. Distributable cash flow could also increase significantly on the near-term completion of several projects. I am modeling a moderate 15% dividend growth over the next five years on revenue and cash flow analysis supported by higher energy volumes and a strong development program. Dividend growth may revert to the 12% average over the second stage, with terminal growth estimated at 3% into perpetuity.

These assumptions are consistent with the current energy boom, as pipeline infrastructure plays a significant role in the transportation of gas and oil. The model argues that the fair price of the company is $81.46, that is 17% higher than the current market price.
Magellan Midstream Partners is going to benefit from the strong tailwind of the energy megatrend over the next decade. Beyond the increased demand, the company's lean balance sheet and low debt leverage makes its future acquisition less costly to finance. It is an excellent candidate for your portfolio, as it provides both income and stock price appreciation, along with diversification benefits.
Disclosure: I have no positions in any stocks mentioned, and no plans to initiate any positions within the next 72 hours. I wrote this article myself, and it expresses my own opinions. I am not receiving compensation for it (other than from Seeking Alpha). I have no business relationship with any company whose stock is mentioned in this article.