Shares of Lions Gate (LGF) have been under heavy pressure this week. Poor critical reviews of its latest blockbuster-hopeful, Divergent, have cast a pall on investor sentiment. However, unless you're a teenager, there is one critical thing you need to know before deciding to buy, sell, or short Lions Gate:
Divergent wasn't made for you … or the critics.
Unfortunately for LGF's stock, most critics are not teenagers. More importantly (for the stock), those same critics aren't paid to predict how much money the movie will make.
However, revenue (and profit) is what drives stock prices.
If you follow what I'm saying, you'll understand that LGF shouldn't be judged based on what you or the critics thought of the movie. What matters is what the millions of teenagers think. This is the mentality I used to select LGF for my Poised To Triple portfolio, months before most moviegoers had even heard of The Hunger Games. The method worked -- LGF skyrocketed from $12 to $36 in less than 18 months. The stock has since "graduated" from my portfolio, but the company remains within my sphere of expertise.
So, what now?
In an attempt to figure out how Divergent might play out, I took the entire Miami Beach branch of PTT Research to see the first available showing of the movie last night. We weren't alone. Despite being a school night, the theater was packed with teenagers (mostly female), leading to a $5 million box office start to an opening weekend that is expected to yield $50-60 million in total.
I think that number is quite doable.
The movie was actually better than I expected (admittedly due in part to the low expectations set by the curmudgeonly critics). Again, most professional critics aren't young girls. Further, most of them are sick and tired of seeing teen novels adapted to the big screen. I don't blame them. If I was forced to watch every "teenie bopper" movie, I'd be a little irritated as well.
But they're not the final arbiters. The teens are.
In that regard, we already note a major divergence (pun intended) in the critics' reviews versus that of last night's audience: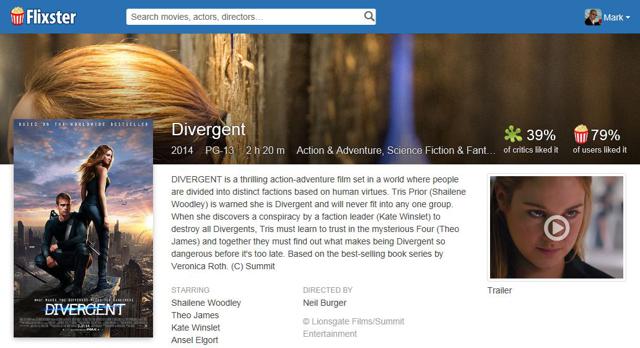 As you can see, the critics rated the movie a 39%, while moviegoers gave it a 79%. Keep in mind, many of those movie goers were reluctant parents (many male) dragged out to chaperone a gaggle of swooning young girls. Suffice it to say that I was out of place in the theater.
This split in critic versus moviegoer sentiment is nothing new. LGF's hit franchise, Twilight, experienced the same dynamic. Its first installment only rated a 49% from critics (higher than Divergent), but a 73% from moviegoers (lower than Divergent's 79%).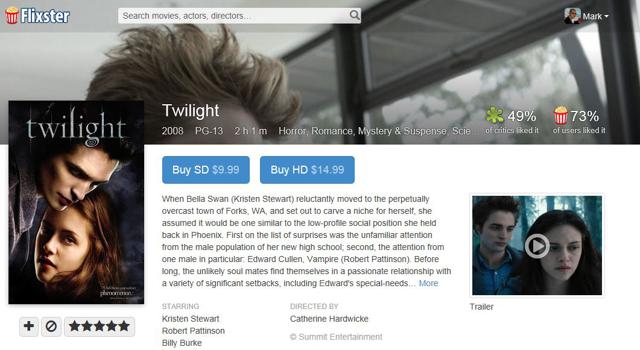 The penultimate installment, fared far worse, but didn't stop it (or its sequel) from breaking the bank for Lions Gate (and its shareholders):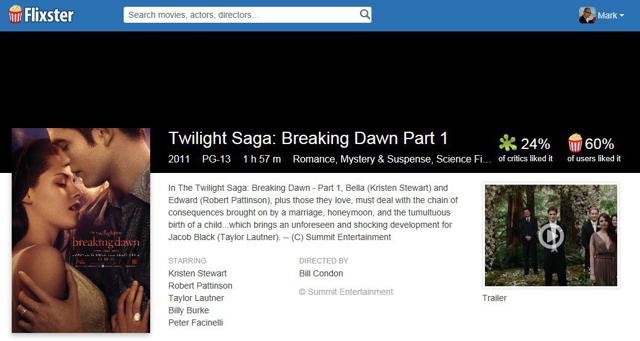 Keep this in mind as the Divergent series unfolds.
As for the movie itself, from my "older" perspective, the director left something to be desired. The character development wasn't smooth and many scenes were nowhere near as intense as I would have liked. However, the movie wasn't made to excite my desensitized 43 year old brain. It was made for fresh and still-sensitive teenage minds.
Still, I liked it. Hearkening back to my teen years, I'm sure I would have liked it a lot more. The numerous scenes depicting kids running wild would have appealed to the adventurousness and wanderlust that personified me (and many other teens) at that age. To an extent, those scenes still hit home. So, I can only image that they did the same for the young throngs that filled the theater last night.
In fact, unless the audience's gasps, pants, and cheers deceived me, the young crowd was sufficiently captivated to ensure a long life for this franchise. In the near-term, I expect that Thursday's release will serve LGF well. The movie will surely be the talk of the day at school. Those who didn't see it (or don't have tickets to go tonight) will feel left out. If you've ever known how that feels (I'm still miffed about not getting to see ET in the theater as a sixth grader -- back in 1982!), you can bet that ticket sales will be brisk throughout the weekend. It's a small price for a teenager (or parent) to pay to not be left out when grade-school's hottest conversion du jour resumes on Monday morning.
The buzz on Twitter affirms this view. This morning's real-time Tweets regarding Divergent are overwhelmingly positive. And while there are some who diverge from that view, I can tell you this -- though I didn't love the movie, it did draw me in enough to anticipate the sequel. Speaking of which, I expect Divergent's follow-up to be better than the original, ala Catching Fire, thanks to a being based on the stronger book in the series.
In the meantime, investors should note that Divergent's ticket sales are outpacing that of the first Twilight movie on an apples-to-apples basis. Twilight went on to open with nearly $70 million in box office receipts, $10 million higher than the top end of Divergent estimates.
Investors should also realize that LGF has historically reacted poorly to movie premieres. After The Hunger Games' record-breaking opening weekend, the stock flat-lined for five weeks before jumping 50% in the four months that followed.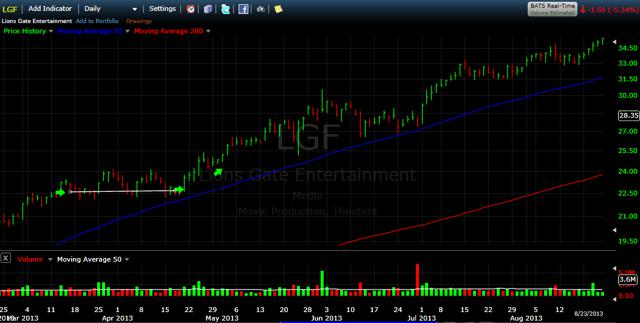 That's no guarantee that Divergent will produce a repeat performance, the purpose of this article is to give investors an idea of the proper mindset to utilize when deciding what to do with the stock. This is the same mindset that I have used to select a plethora of stocks that have tripled on Seeking Alpha.
Indeed, the proper way of looking at this situation diverges greatly from the myopic "the reviews sucked, so sell" mentality that has prevailed over LGF's shares this week. Thinking with common sense, instead of the herd, will almost always produce better investment returns.
Oh, one more thing -- Divergent's lead actress, 22 year old Shailene Woodley, also stars in the upcoming teen flick, "The Fault In Our Stars" (20th Century Fox / due out June 6). Among teens, the movie is already hotly anticipated. The trailer was featured at the theater last night and I'd be lying if I didn't say that it looks like a hit. Woodley's star is on the rise and that will only help to make the Divergent series stronger for LGF's future-minded shareholders.
Speaking of LGF's future, Wall Street is looking for earnings to rise 46% over the coming year. The resultant EPS of $1.62 translates into a reasonable forward PE ratio of 17 and a cheap PEG ratio of 0.37. Simultaneously, those estimates are on the rise and the company hasn't missed a quarter in recent memory, providing solid justification for investors to take a divergent view of this week's bearish action.
Disclosure: I am long LGF. I wrote this article myself, and it expresses my own opinions. I am not receiving compensation for it. I have no business relationship with any company whose stock is mentioned in this article.