The 'Retire Young' portfolio is a portfolio I created on Seeking Alpha. This portfolio consists of stocks I already own, even though the quantity of these stocks in my actual portfolio may be different from the quantity of the stocks in this portfolio. Basically, this portfolio is half-imaginary half-real (i.e., the stocks mentioned in this portfolio are all in my portfolio, even though some may be in different amounts).
Having said that, I would like to make an honorary mention to one of my favorite stocks, Microsoft (NASDAQ:MSFT). During the last 2 years, every time I talked about how Microsoft is a great stock, people kept telling me that it has been nothing but "dead money" for more than a decade and most people didn't see any future in it. After all, Microsoft seemed to belong to a group of stocks like Intel (NASDAQ:INTC), Cisco (NASDAQ:CSCO) and Dell that took more than a decade to recover from the effects of the tech bubble of the late 1990s.
Today, as Microsoft reached a new 52-week high, the company passed $40 per share for the first time since the tech bubble. This is a huge milestone for the investors of Microsoft because this signifies that most, if not all of the psychological drama that kept Microsoft's shares cheap for more than a decade are now mostly overcome. Those who bought Microsoft during the last recession have already doubled their money by now.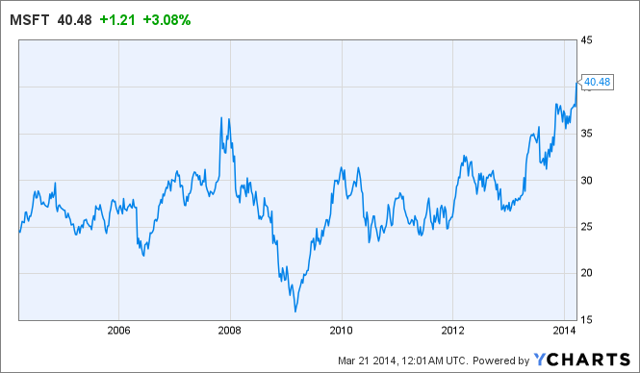 When it came to Microsoft, the perception was always that "the company stopped growing years ago." Obviously, this was nothing but a perception because Microsoft never stopped growing. I mean, look at the chart below and please tell me at what point do you exactly see a halt in Microsoft's growth (the Great Recession doesn't count). Year after year, Microsoft continued to increase its revenues and the company's growth continues to occur relentlessly. Every year, Microsoft posts growth and the critics always say "this time they got it, but next time they won't get it," yet the company grows, grows and grows. In 2010, many people were talking about how Microsoft is too big to grow any further. Three years later, the company's revenues climbed from $60 billion to nearly $85 billion, yet we still hear the same stories about why its growth will come to a halt soon.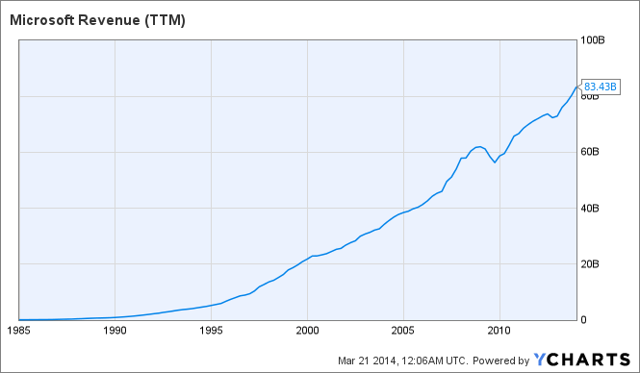 Here we are not just talking about revenues, either. At the peak of the tech bubble, Microsoft's net income was less than $1 per share (more specifically, around $0.70). Over the years, it passed $1 per share (in 2006) and $2 per share (in 2011). Currently, the company's net income is headed towards $3 and many analysts expect it to pass this figure within a year or two. Again, I would like to ask the critics where Microsoft's growth looks like it's slowing or coming to a halt? Just because Microsoft doesn't make as much noise as other technology companies doesn't mean it is not innovating and growing.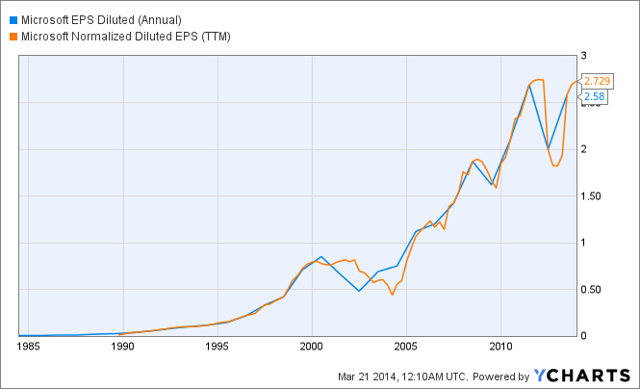 One of the most amazing things about Microsoft is the company's strong margins. In the technology world, margins never stay high for long. You can come up with the best product in the world, enjoy the best margins in the world, but sooner or later the competition will catch up and once that happens, your margins will head south because once the bidding war starts, margins start "heading home" for a rest. Over the years, we've seen the declines in Microsoft's margins due to increased competition and pricing wars; however, the company's margins are still very healthy. I should also note that the company's product mix is playing a big role in the lower margins in the recent years. For example, the Xbox and related hardware will have much lower margins than most of Microsoft's software solutions; however, the company still enjoys very strong margins many companies can only dream of. Currently, Microsoft's gross margin is in low 70s, operating margin is in low-to-mid 30s, and net profit margin is in high 20s.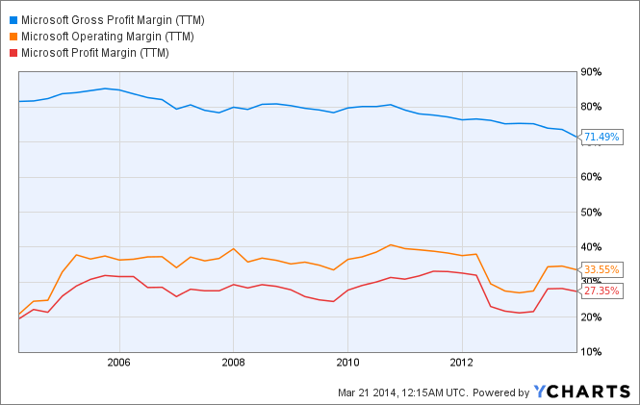 Microsoft has always been a cash cow and the company will continue to be a cash cow for the foreseeable future. Many times, you hear people saying that it is impossible for a company to have strong cash flow numbers when it is in growth mode because a company can either afford to be a cash cow or growth stock but not both. Well, Microsoft is both. The chart below shows Microsoft's cash from operations, and notice how the figure has been increasing greatly over the years. In fact, Microsoft's current cash from operations is double of what it was just a decade ago. How is that for being a growth company as well as a cash cow? This will continue to result in dividend increases for the foreseeable future.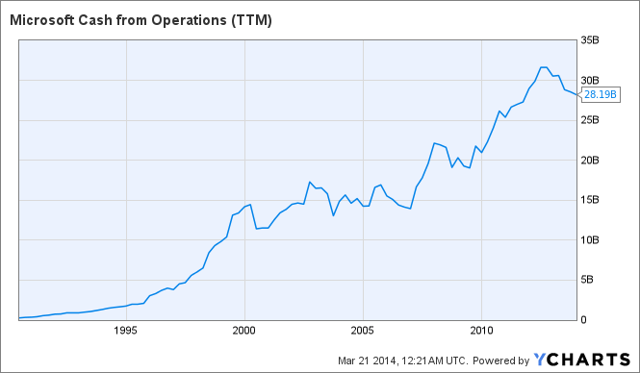 Of course, it would be unfair to talk about Microsoft without mentioning the company's huge mountain of cash. The company currently has $84 billion in cash and short-term investments as well as nearly $15 billion in long-term investments. Notice how the company's cash balance has been increasing at a very rapid rate between 2010 and today. This trend is also increasing Microsoft's book value each quarter. Just a decade ago, the company's book value was around $42 billion and this figure is about $85 billion today, and it is expected to pass $90 billion within the next year.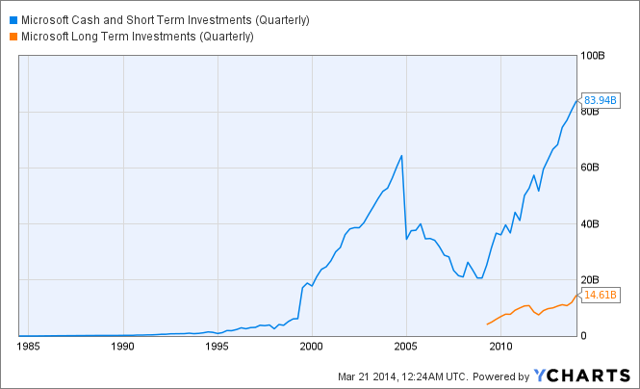 Investors always treated Microsoft like a value play and they continue to assign the company a low valuation. The chart below shows the historical P/E ratio of Microsoft over the years. Even after a strong rally in the recent weeks and reaching a new 52-week high, Microsoft is still enjoying a low P/E of 15 (roughly 10 after excluding cash). If this isn't cheap, I don't know what is.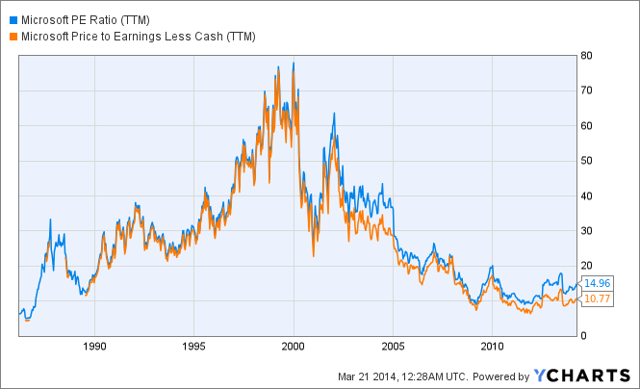 Speaking of the 'Retire Young' portfolio, most of our stocks are doing great. Since forming in last April, our buy-and-hold portfolio is up by 22.65%, and our buy-and-write-calls portfolio is up by 24.51% compared to the S&P 500 Index's performance of being up by 18.90% and Dow Jones Index's performance of being up by 10.67%. We'll talk about the performance of our portfolio in another article in more detail, and we will definitely make some changes to the portfolio, since it's been awhile.
Disclosure: I am long MSFT. I wrote this article myself, and it expresses my own opinions. I am not receiving compensation for it (other than from Seeking Alpha). I have no business relationship with any company whose stock is mentioned in this article.