Jagged Peak Inc. (OTCPK:JGPK) is a software-as-a-service provider focused on e-commerce optimization. The company's EDGE™ enables clients to control and coordinate multi-channel orders, catalogs, multi-warehouse inventories, and fulfillment across multiple customers, suppliers, employees, locations and partners in real-time. With two wholly owned and 20 independently owned warehouses using its platform, the company helps lower clients' customer wait times and overall delivery costs.
In addition to EDGE™, the company's TotalCommerce™ is a turnkey solution that enables clients to quickly and cost-effectively launch a fully operational, best practices, e-commerce online channel direct to consumers. The outsourced "managed services" solution leverages the company's extensive technology and infrastructure to provide manufacturers with a rapidly deployable end-to-end e-commerce solution that includes everything from payment processing to online marketing.
These two solutions generate predictable recurring revenue for the company while providing clients with rapid, cost-effective, and easy-to-use solutions. In 2013, the firm reported revenues that increased 28% to $47,481,800 and net income that increased 59% to $847,300 due to e-commerce order processing revenues that grew more quickly than costs. Investors have awarded the robust top- and bottom-line performance with a three-month gain of 115% and a one-year gain of 179%, as of March 19, 2014.
Rapidly Growing End Markets
According to eMarketer, e-retail sales in the U.S. are expected to grow at a 14% compound annual growth rate of 14% over the next four years, topping $434.2 billion by 2017. Apparel and accessories are projected to have the strongest compound annual growth rates at 17.2% through 2017, whereas computers and consumer electronics will be the slowest growers at 15.3% over the same timeframe. Even in the slowest components, these growth rates are significantly higher than other areas of the economy.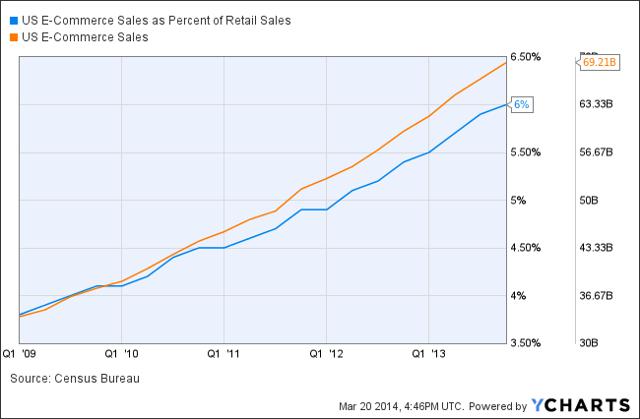 Jagged Peak intends on capitalizing on these growth rates through a number of different initiatives. By leveraging its existing client relationships, management believes there are significant opportunities to increase its market share in areas like consumer retail, financial services, healthcare, travel, manufacturing, and government. Adding capabilities like demand forecasting, data mining, and other analytical tools could also enhance functionality and build additional channels towards generating revenue.
But ultimately, it's the company's fulfillment services that make it unique. Orders captured through its portals may be processed directly through EDGE™ and transmitted to its warehouse and transportation management systems in real-time for order processing. The "frictionless" processing environment ensures prompt and accurate order fulfillment and data integrity that's difficult for many other e-commerce software to match. These services are particularly valuable for manufacturers looking for a hands-off solution.
Financial Performance & Valuation
Jagged Peak reported revenues that increased 28% to $47,481,800 and net income that increased 59% to $847,300, or $0.05 per share, for its fiscal year 2013. With a share price of $0.80, these figures suggest a trailing price-earnings multiple of 16x and a trailing price-sales ratio of 0.3x. These figures compare to industry averages of 16.6x and 4.3x, respectively, according to Morningstar data, suggesting that the company may be undervalued. Note that the company's valuation multiples do not reflect the latest information in the image below.

The company's valuation multiples appear even more undervalued when considering its growth rates. Over the past five years, the company has realized a 23.27% compound annual growth rate from revenue that grew from $16.68 million in 2009 to $47.48 million in 2013. A 23% growth rate could justify a price-earnings multiple of closer to 23x, assuming that a PEG ratio of 1.0 is a fair value, which yields a fair valuation of about $1.15 per share today. With net income growing more rapidly due to economies of scale, the figure could move much higher, too.
Of course, the valuation should be discounted to account for the greater risks associated with the smaller company. In its recent 10-K filing, the company provided an outline its greatest risk:
Sales to a single, multi-national customer with several brands amounted to approximately $41.3 million, or approximately 87% of total revenue, and approximately $31.7 million, or approximately 85% of total revenue, during the 52-week periods ended December 27, 2013 and December 28, 2012, respectively. Accounts receivable from this customer was approximately $4.1 million, or approximately 69% of net accounts receivable and approximately $2.5 million, or approximately 61% of net accounts receivable, at December 27, 2013 and December 28, 2012, respectively. The risk of this concentration is mitigated as the deposits from this customer at December 27, 2013 and at December 28, 2012 were approximately $2.1 million and $1.5 million, respectively.
Revenue from the customer appears to have been increasing, which suggests satisfaction with its services, while the fully integrated nature of its operations suggest that there's a great deal of effort in switching providers. As a result, these risks may be lower than they appear to be on the surface, but still should not be discounted from its potential valuation.
Other Risk Factors to Consider
Jagged Peak is a micro-cap stock that involves significant risks that aren't present in many large blue-chip stocks. Investors should carefully consider these risks before purchasing the company's stock and be sure to include it as only one part of a diversified portfolio in order to limit risk.
Customer Concentration - Sales from one client accounted for 87% of revenue in 2013 and 85% of revenue in 2012. While the company is attempting to diversify its revenue, the loss of the customer could be extremely detrimental to its operating results.
Insider Ownership - Executive officers and Directors own more than 70% of the company, which means they have tight control over its future. While high inside ownership is a strong sign of confidence, it may inhibit the ability of outside investors to influence the company's direction.
Small Market Cap - Micro-cap stocks inherently entail greater risks than large-cap stocks, including not only operational risks but also liquidity risks that could make it more difficult to buy or sell the stock.
Key Takeaway Points
Jagged Peak operates in the rapidly growing e-commerce industry with a unique fully integrated service geared towards manufacturers.
The stock appears to be undervalued based on its industry peers and growth rates with a potential fair valuation of closer to $1.00-1.15 per share.
Top-line growth and bottom-line improvements should drive value moving forward, but investors should be aware of the risks associated with the stock.
Disclosure: I have no positions in any stocks mentioned, and no plans to initiate any positions within the next 72 hours. I wrote this article myself, and it expresses my own opinions. I am not receiving compensation for it (other than from Seeking Alpha). I have no business relationship with any company whose stock is mentioned in this article.
Editor's Note: This article covers one or more stocks trading at less than $1 per share and/or with less than a $100 million market cap. Please be aware of the risks associated with these stocks.