In a highly-anticipated move, General Electric (NYSE:GE) filed a Form S-1 Registration Statement with the United States Securities and Exchange Commission for an initial public offering (NYSEARCA:IPO) for Synchrony Financial, a spin-off of its consumer lending business within its GE Capital division. The company initially made its intentions known regarding the spin-off last November.
The IPO marks the next step in GE's plan to jettison the non-core consumer lending business from its portfolio and reduce its dependence on GE Capital, which at one point accounted for nearly half of GE's revenues. GE plans to complete the IPO later in 2014 with as much as 20% of the shares publicly traded. The final step will take place in 2015 when the remaining interest is distributed from GE to existing shareholders. GE has filed to trade shares on the New York Stock Exchange under ticker symbol SYF.
Rationale For The Spin-Off
GE Capital has long been viewed by analysts as weighting down the valuation of GE, due to the volatile nature of the consumer lending market. Since the 2008 financial crisis, which had a massive negative impact on GE's ability to fund the consumer financing business, it has exited the commercial real estate lending business in a $2.51 billion deal with EverBank Financial-and with this move, the consumer lending business. The goal, according to GE, is to reduce the GE Capital share of company profit to around 30 percent.
Synchrony's Potential
Based on high investor demand for shares of consumer lending companies, which in 2013 raised upwards of $10 billion through equity stock deals, industry analysts estimate that Synchrony could command a market capitalization of up to $27 billion if it receives an earnings multiple similar to shares of Visa, Inc. and other publicly-traded companies.
Synchrony, which handles all aspects of consumer credit card lending services for companies such as Wal-Mart Stores Inc., Amazon.com Inc., and Lowe's Companies Inc., accounted for approximately $2 billion net earnings in 2013. According to the filing, Synchrony provides "a range of credit products through programs established with a diverse group of national and regional retailers, local merchants, manufacturers, buying groups, industry associations and healthcare service providers." In 2013, it financed $93 billion of sales and serviced 62.0 million active accounts for its vendors.
Positive Conclusion For Shareholders
The spin-off is expected to be a positive move for shareholders as it marks a continuation of CEO Jeffrey Immelt's desire to re-focus on GE's core businesses, which include aircraft engines, power generation and water processing, household appliances, and medical imaging. GE stated that it expects to offset the impact of the loss of earnings that Synchrony provided with a range of measures, including cost cutting as a result of the spin-off, efficiency gains within its industrial businesses, and share buybacks, which would reduce outstanding shares and increase earnings per share.
According to Sanford C. Bernstein analyst Steven Winoker, investors will likely, over time, enjoy higher earnings related to GE's core industrial businesses. According to Winoker's note, "we still believe those earnings deserve a much higher multiple than "banking" earnings given the differences in relative volatility, leverage and ROE."
(Chart below from Nasdaq.com.)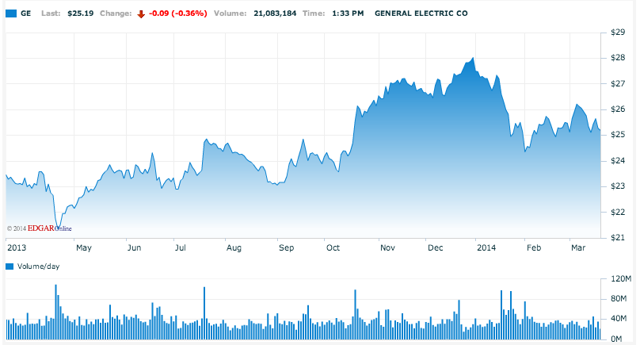 Disclosure: I have no positions in any stocks mentioned, and no plans to initiate any positions within the next 72 hours. I wrote this article myself, and it expresses my own opinions. I am not receiving compensation for it (other than from Seeking Alpha). I have no business relationship with any company whose stock is mentioned in this article.