To call you stupid would be an insult to stupid people! I've known sheep that could outwit you.
- A Fish Called Wanda (1988)
So, is AT&T (NYSE:T) really that stupid? From the moment iPhone 4 presales began yesterday morning it was fairly obvious something was badly awry. Pre-orders through the Apple (NASDAQ:AAPL) website were failing when it tried to connect to the AT&T website, and pre-orders through the AT&T website just plain failed. For a little while AT&T's website was down altogether, which was fairly astonishing, what with the rush of iPhone traffic having been known well in advance. It seems like further confirmation that AT&T is among … well, the dumbest companies on the planet.
Or is it? Because there are signs that everyone was taken by surprise by the demand for iPhone 4. Late yesterday AT&T was saying that iPhone units were sold out, and even Apple's website struggled under the load of eager, pre-ordering, Apple fan-boys and –girls.
To try and see what was going on, I yanked data from Google Insights across all four iPhone launches, from the original iPhone to the current 4 release. I tracked normalized (according to Google) search traffic pre- and post-launch for "buy iPhone" as an indicator of purchase intent.
The results are as follows (click to enlarge). The X-axis is weeks pre/post launch, and the y-axis is search traffic, according to Google (NASDAQ:GOOG). Note that the current iPhone launch is tracking ahead of all previous generations in terms of pre-launch interest. Granted, the initial launch was diffused somewhat by the January announcement long before the June release in 2007, but the general trend is still worth comparing across all four iPhone launches.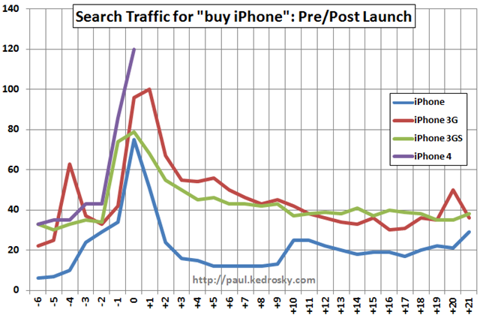 Is AT&T stupid? Alright, probably, but it could have been marginally less stupid if it tracked pre-launch iPhone search interest, which I bet it didn't.