Pundits have made almost every excuse under the sun to explain the recent movements of this market. Some funds had idle money, they had to buy. Oil was down, it had to rise. Tech was beaten down, it deserved to rise. Perhaps all of these had an iota of truth to them. However, they were not the reason lately.
Computer driven trading has been moving the market. It bounced off $104.50 on the SPY last week because the HFT traders saw the opportunity for big upside gains. The Euro was due to bounce, it had been oversold. Most think it has more downside, even in the near term. For now it is still going up. While it is doing this, the computer traders are very likely to drive the market higher.
The short term simplistic explanation is that many commodities are traded in Euros as much as USDs these days. When the Euro goes up, the USD price of these commodities goes up (usually to a greater extent). When the Euro goes up, US exports look more attractive in Europe. This is good for US tech companies, although again, these changes tend to be exaggerated.
One of the drivers for this is the vanilla HFT trading, which quickly buys lower and sells higher. Some programs do this based on FLASH postings. They simply shut off when the preponderance of orders become negative. Keep in mind that they do shut themselves down! When they do, the market tends to crash quickly.
A second driver is a type of program trading that buys and sells when certain external factors are present. From my observations the last few days, the overriding factor in this type of program trading is currently the Euro. As the Euro has risen vs. the USD, the market has risen almost in lock step. The program trading programs are consequently buying and selling commodities (and commodity related companies) and tech primarily. They may also be buying and selling heavy exporters to Europe (other than tech and oil). This has the effect of pushing the prices of all of these stocks upward as some fund managers, retail investors, etc. also buy on the rebound. That is, these programs are set up to try to sell for more than they buy. This directed buying tends to buoy specific sectors. It can have a longer time horizon than basic HFT trading. Therefore it is a stronger driver to the upside. Some hedge funds do this same short term play by less automated means. Overall this activity tends to move the markets upward.
The 10 day charts below of both the SPY and the FXE (the Euro in USD terms) show the recent rebound rally.
10 day SPY chart: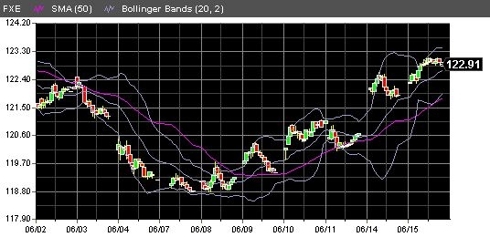 As you can see, these charts are about as highly correlated as you can get. 
Of course, fundamentals do eventually make themselves felt. Longer term technicals are often an indication of what those fundamentals are likely to do. The 6 months charts of the SPY and the FXE are below.
6 month SPY chart: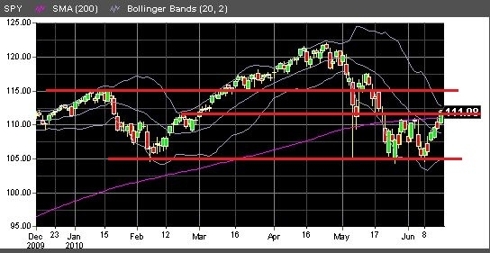 As you can seem from this chart, we are at a possible reversal point. The SPY has gone through resistance, but not by much. It is still very possible that it will reverse tomorrow. The oil spill has stopped being contained at all due to a fire. The official estimate of the rate of the leak has been increased to 60,000bpd. More news is coming out that BP is in deep financial trouble due to this spill. Just in penalties it is said to owe $1100 to $4300 per barrel. That is not even considering the damages the spill has done or the clean up costs. This news alone could move the market down, especially after the recent strong up move.
Add to this all of the negative economic data Tuesday (big decrease in homebuilder sentiment, bad retail sales data, miss by Best Buy (BBY), terrible employment index in the Empire State Manufacturing data and a miss in the Index overall), downgrade of Greek banks. Add the negative news at the end of last week, especially the retail sales, the new mortgage applications, Greek sovereign debt downgrade to junk (Ba1), and the Initial Claims data. Then you get a recipe for a downturn. The exact timing is as always very much uncertain. The chart above indicates that we may be setting up a head and shoulders pattern. The news may be negative, but we may have to push up to approx. $115 on the SPY to put in the 2nd shoulder. Of course, we could also have a lower 2nd shoulder. The Housing Starts and Building Permits data comes out Wednesday. If it follows the recent trend of such news, it will be bad news. This could start a downturn. A much higher than expected PPI a la China could start one too. Initial Claims seem likely to disappoint on Thursday.
6 month FXE chart: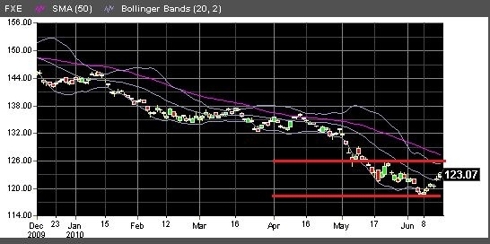 As you can see, there is substantial resistance at approx. $1.26. There is also some resistance where the FXE is right now. The current sharply rising FXE appreciation line does not make one think that it is going to turn downward immediately, but one can never tell. Approx. $1.26 does seem like a possible reversal point.
Credit is tightening in the EU (banks and corporations are having trouble accessing credit), in China, and even in the US (SMBs are having trouble getting loans). This is the scenario that led to the rapid fall during the Lehman Brothers failure. It cannot and should not be ignored. If SMBs cannot get loans, they will not likely create US jobs.
The US RE industry will continue to flounder. The EU in general and Spain in the extreme has huge RE problems. The Chinese government is now saying that China may have an RE bubble. The Indian government is worried about a possible sub prime problem on home equity loans. Many rural loans have been made for up to 150% of the asset's value. Many of these obligations may not be able to be met. A very ugly situation is setting up. China's and India's rapid growths have ameliorated these problems, but they are still there lurking under the surface. When they will show themselves remains to be seen. The fact that the Chinese government is now officially acknowledging its problems may signal that that time is not far off.
Such notables as David Rosenberg are predicting a near term SPY of $95 or even $88. A VIX spike to above 45 has historically marked a 20+% down movement. We just had one, but we have not had a 20+% down movement yet.
Watch the Euro! It should tell you the near term direction of the markets.
Disclosure: I have a small short position in the SPY. Recommend waiting for a more clear cut direction sign.