Chevron (NYSE:CVX) held its annual analyst meeting on March 11, 2014. Management provided detailed update on the company's future operating performance, which I believe should have a positive implication for share price going forward.
Management reduced its annual production target in 2017 from the previous 3.3 mmboe per day to 3.1 mmboe per day. Despite the lower guidance, the implied 20% total output growth by 2017 (or an annualized growth of 4.5%) remains largely above the production growth potential from Chevron's mega-cap peers. The production growth is expected to be driven by developments in Angola, Australia, and the U.S. as well as continued shift of production mix toward crude oil and natural gas liquids.
On the capital expenditure front, management believes that capex peaked in 2013 but expects that future spending should stay flattish through 2016. Future spending would be near $37B to $40B level, as management continues to put investment in high quality projects as top priority (see chart below).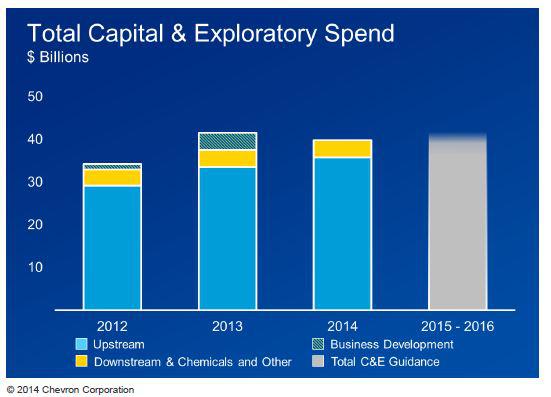 Management also expects operating cash flow to grow from $35B in 2013 to above $50B in 2017. The growth is believed to be driven by the 20% production growth over the period and improved cash margin, which is attributable to management's effort to continue investing in higher-margin projects (see chart below). In my view, management's operating cash flow guidance is achievable, as Chevron was able to deliver above-average return on common equity ("ROCE") performance even in the period that 40% of the company's total capex is pre-productive. This means that as Chevron continues moving to the end of the current capex cycle its ROCE metric is likely to rise, as the invested capital starts to generate return (see chart below).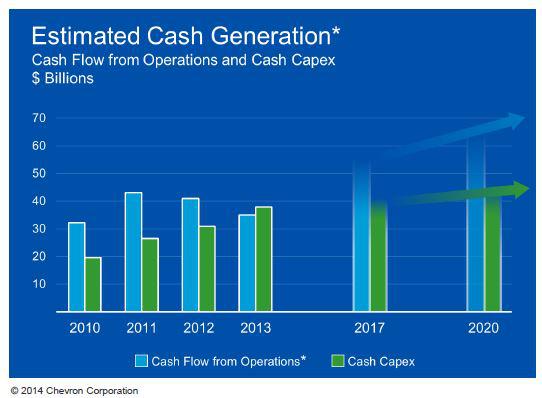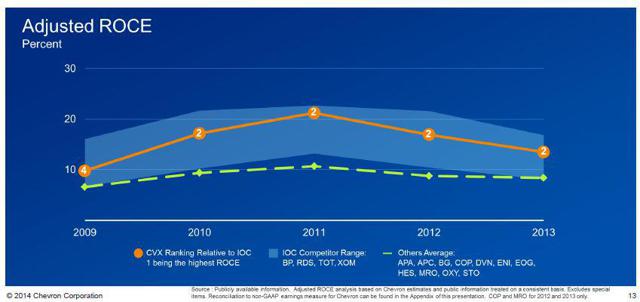 For the purpose of high grading the project portfolio, Chevron also plans to monetize approximately $10B assets from 2014 to 2016. The assets to be divested consists of 20% midstream and 80% upstream assets, which are mostly in the U.S. The potential replacement with higher-quality projects will benefit the cash margin.
I have performed a rough analysis to quantify the implication for shareholders. My analysis assumes operating cash flow to grow steadily from $35B in 2013 to $50B in 2017 and capital expenditure to trend closely to the actual level of $38B in 2013. These assumptions suggest that Chevron will turn free-cash-flow positive likely in 2015. Additional assumptions include annual growth of 2.5% and 8.5% for share repurchases and dividend payments respectively, from 2013 to 2017, as well as management's $10B asset monetization target from 2014 to 2016. This scenario would suggest that Chevron's external borrowing would continue to grow through 2015 and beyond then the company should be able to fund the share repurchase and dividend programs by its internally-generated cash flows.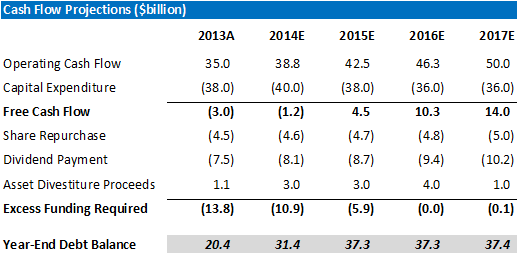 Given Chevron's strong balance sheet with $16.5B cash and net debt to EBITDA multiple of just 0.1x, the company should have ample borrowing capacity. Based on the above analysis, I estimated that Chevron's debt load should peak within the range from $32B to $37B by 2015/2016, representing a net debt to EBITDA multiple of just 0.4x to 0.5x, assuming no changes in cash balance and EBITDA (of course the EBITDA will rise, meaning that the actual net debt to EBITDA multiple will be lower). As such, the impact from higher leverage on shareholder value would be minimal.
Chevron now trades at just 10.2x 2015 estimated EPS, which is at 16% discount to the same multiple of Exxon Mobil (NYSE:XOM), the company's closest peer. In light of Chevron's better growth prospects of production volumes, operating cash flows and capital distribution to shareholders over those of Exxon, I expect the stock's valuation multiple to gradually expand as the company continues to deliver on track with the plan. Hence, investors are recommended to buy the stock before its valuation picks up.

All charts are created by the author, and data used in the article and the charts is sourced from S&P Capital IQ, unless otherwise specified.
Disclosure: I am long CVX. I wrote this article myself, and it expresses my own opinions. I am not receiving compensation for it (other than from Seeking Alpha). I have no business relationship with any company whose stock is mentioned in this article.