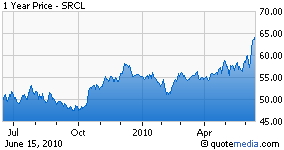 Stericycle, Inc. (NASDAQ:
SRCL
) is a multi-regional integrated company employing proprietary technology to provide environmentally responsible management of regulated medical waste for the health care industry. The Company is the second largest provider of regulated medical waste management services in the United States.
One of the product lines that has helped the bottom line is recall management. Recalls will be a fact of life and many pharma companies would rather hire an outside contractor to perform this function.
The company has a very aggressive growth through acquisition program and completed 6 new acquisitions in the past year.
The stock came to my attention by hitting 10 new highs in the last 20 trading sessions and 4 in the last 5. New highs in this soft market are hard to come by. In the last month the stock has enjoyed a 12.84% price appreciation and trades around 63.79 with a 50 day moving average of 57.61. The stock has a 100%
Barchart
technical buy rating.
Investors have noticed this stock and over on Motley Fool the CAPS members vote that the stock will outperform the market by a vote of 245 to 15 with the more experienced All Stars agreeing 67 to 8. Of the Wall Street columnists Fool follows, it is noted that all 3 articles have been positive.
Wall Street brokerage analysts are high on the stock with 7 buy and 2 hold recommendations published. They feel the sales will increase 16.20% this year and 8.10% next year. Double digit earnings per share increases of 16.70% this year, 13.58% next year and a 5 year compounded EPS growth rate of 16.44% deserve your attention.
This stock has great prospects:
2nd largest medical waste management company
Aggressive growth by acquisition strategy
Hitting new highs in better than 50% of the recent trading sessions
Very high investor sentiment
Wall Street buy recommendations based on increases in sales and double digit EPS growth.
Disclosure:
No positions in SRCL at the time of publication