Only two months ago, conventional wisdom held that a V-shaped economic recovery was a veritable certainty and the chances of a double dip recession were effectively nil. However, after the mini crash of May, with the S&P 500 index dropping nearly 15% over the course of one month, the debate has resumed. The data and trends that we focus on have strongly supported a return to economic contraction since early this year, and our analysis suggests that it is highly likely GDP growth will turn negative by the end of 2010.
One of the most compelling developments this year has been the historic plunge in broad money supply (M3). Although the government no longer reports this valuable measure of underlying monetary trends, many economists still do, such as John Williams at Shadow Government Statistics. According to his calculations, M3 is now contracting at an annualized rate of -8%, which is the sharpest such decline since World War II.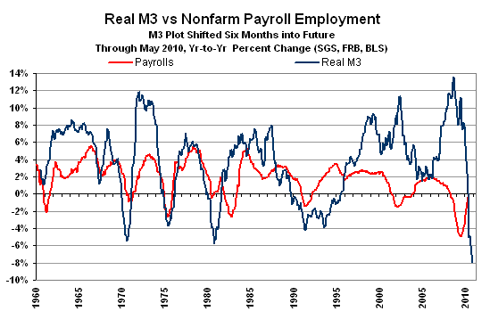 He also notes that every time monetary contraction of this magnitude has occurred, economic contraction has quickly followed over the next two quarters, and most signs currently point to a repeat performance as we head into the second half of 2010. The sharp decline of the Economic Cycle Research Institute (ECRI) weekly leading indicator into negative territory this month is the first step toward a confirmed recession forecast from that organization, although further deterioration would be required for them to make that call. However, when you view the move on a long-term chart (courtesy of Mish's Global Economy Trend Analysis), the trend is clearly lower.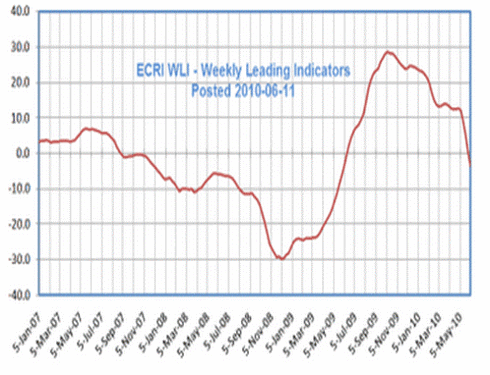 Additionally, our own Cyclical Trend Score (CTS) is flashing a warning sign as it has moved into sell territory for the first time since late 2007. As Dow theorists, we believe the stock market indices themselves are excellent predictors of future economic trends, and the fact that our CTS has broken down is a reflection of broad deterioration in market internals.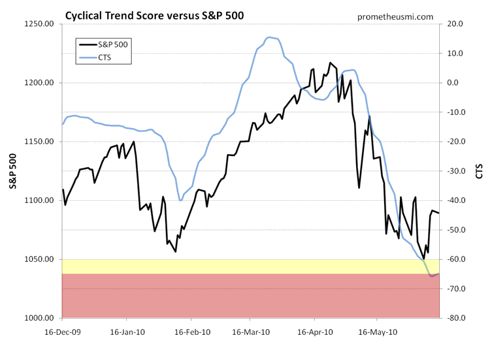 As always, there are no certainties when it comes to the financial markets, especially with regard to timing. The best we can do is identify the most likely scenarios based upon the data and trends that are important to us and then estimate their associated probabilities. Our analysis continues to indicate that reported GDP in the US will very likely go negative by the end of the year.
Disclosure: No positions