The release of Federal Reserve meeting minutes and Janet Yellen's inaugural address as Chairman of the FOMC was a closely watched event this week. The initial reaction to an additional $10 billion tapering in monthly asset purchases, combined with indications about policy tightening by 2015 hit the markets hard on Wednesday. Stocks, bonds, and gold sold off sharply as investors digested the data.
However, out of the ashes of those declines, we are starting to see a re-emergence of the financial sector as a market leader to the upside. The Financial Select Sector SPDR (NYSEARCA:XLF) was the strongest major sector ETF on Thursday and has now officially broken out to new recovery highs.
XLF is the largest and most heavily traded ETF for the financial sector with over $18 billion in total assets. It is comprised of 84 companies primarily engaged in banking, insurance, and capital markets. The top holdings include: Wells Fargo (NYSE:WFC), Berkshire Hathaway (NYSE:BRK.B) and JP Morgan Inc (NYSE:JPM).
When you look at a momentum comparison chart between XLF and the SPDR S&P 500 ETF (NYSEARCA:SPY), you can see just how strongly financials have been performing versus the broader market since the beginning of March.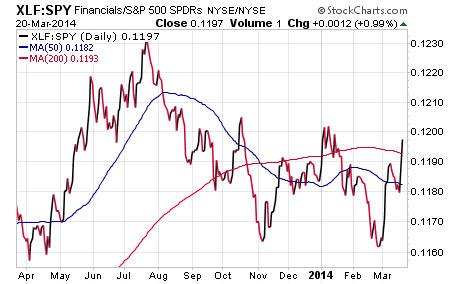 Bloomberg also recently reported that 29 of the 30 largest banks passed the latest Federal Reserve induced stress test for capital reserves. The findings of this survey concluded that these key institutions are collectively better positioned to meet their obligations, while still being able to pay dividends to shareholders. Banks have been bulking up their balance sheets and hoarding capital over the last several years to avoid any potential speed bumps in the economy going forward. This could be another fundamental boost to investor confidence in the financial sector despite the current lofty prices.
The SPDR KBW Regional Banking ETF (NYSEARCA:KRE) is another important index of smaller financial institutions that has also been gaining momentum this month. This ETF has actually outperformed XLF over the last 52-weeks by approximately 10% and I expect it will continue to distance itself if the market heads higher.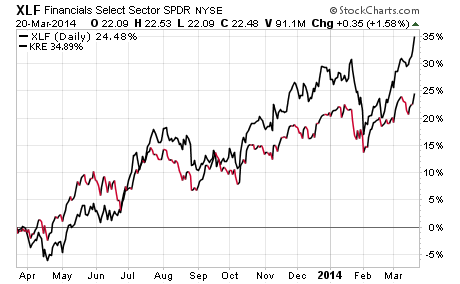 Financial stocks (and banks in particular) have undoubtedly been one of the biggest beneficiaries of the Fed's zero interest rate policy and quantitative easing efforts over the last five years. They have continued to reap the rewards of borrowing at cheap rates and lending at very advantageous spreads. However, future gains will need to be backed up by strong quarterly earnings and sidestepping any regulatory issues.
Right now the momentum is with this sector and it looks to be headed higher. If you currently have positions established, I would look to hang on to them with a trailing stop loss to guard against a reversal to the downside. New money is probably best added in small increments over time or on a pullback to increase your odds for success.
I expect that 2014 will continue to bring with it additional volatility that can be used to your advantage from a trading standpoint. Having some patience and discipline will ultimately pay off as we make our way through the remainder of the year.
Disclosure: I have no positions in any stocks mentioned, and no plans to initiate any positions within the next 72 hours. I wrote this article myself, and it expresses my own opinions. I am not receiving compensation for it. I have no business relationship with any company whose stock is mentioned in this article.
Additional disclosure: David Fabian, FMD Capital Management, and/or clients may hold positions in the ETFs and mutual funds mentioned above. The commentary does not constitute individualized investment advice. The opinions offered herein are not personalized recommendations to buy, sell, or hold securities.