On Thursday, Rafferty Capital Markets' Bank Analyst Dick Bove's enthusiasm was pouring out of him as he told the media why he loves Bank of America (NYSE:BAC). He sees the stock, which is his top pick, rising to $30 a share. I agree! After all, Bank of America is also one of my favorite stocks for 2014.
I watched as Dick Bove appeared on CNBC Thursday and pounded the table for Bank of America. The well respected bank analyst has made the statement before, but with the stock gaining on rising interest rates this week, he could hardly contain himself. He has the stock targeted to reach $30 a share this year. In the article linked above, I recently showed that if the bank could simply close the valuation gap between it and its rivals, it could trade at $27.50. In my view, it's getting there as it exorcises its demons from the real estate collapse and the financial crisis. The trip to $27.50 does not even account for improving operating results on all the factors Bove cited. I recently reminded investors of one of those factors, rising interest rates. A 100 basis point increase in interest rates translates into $3 billion in net interest income for BofA.
I have favored the stock for quite some time now and stated that 2014 looked like it would be a good year for Bank of America on New Year's Eve. Bove and I agree on many of the reasons for that, though he is much closer to the industry than I am today. I followed financials for two years at the start of my analytical career on Wall Street.
Bove hardly took a breath as he enthusiastically and confidently listed the reasons to buy Bank of America. He said:
The industry is currently generating all-time record high earnings.
Bank balance sheets couldn't be better, so they are prepared to lend. He said that if banks were analogous to factories, then they would be operating at just 60% to 70% of capacity today.
They have their most capital as a percentage of assets since 1938.
Liquidity is at 40-year highs.
Loan-to-deposit ratios are at 40-year lows.
The economy should improve, so loan volume should pick up.
He expects some increase in interest rates, which means they make more per "widget" sold (loans).
He says banks are in position to increase dividends for the next 3-5 years.
They trade at historic low price-to-book values.
He sees a CapEx boom in 2014.
Housing should creep up.
Auto sales should do a little better.
The U.S. energy sector should utilize more funds.
He sees an M&A explosion.
Sees the first increase in bank lending literally in the last seven years.
Growth in money supply has been substantial, and it should get converted into financial instruments that get traded. Over the last 3 years:
M2 growth at 9%
M1 at over 16%
That means there's a staggering amount of money that will get converted into financial assets to get higher returns, especially if interest rates are rising.
More financial instruments for banks like Goldman Sachs (NYSE:GS), JPMorgan (NYSE:JPM) and Morgan Stanley (NYSE:MS) to trade.
Banks benefit because they'll be the ones converting the cash into financial instruments as well.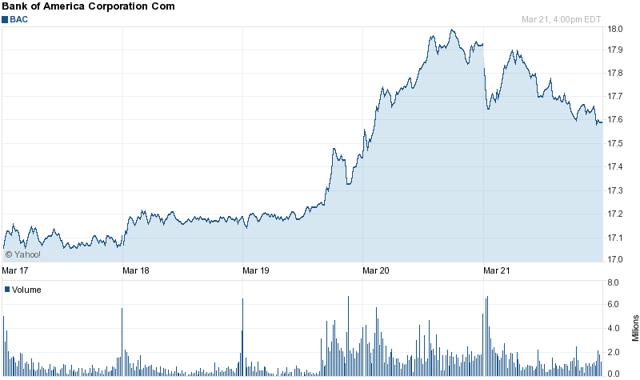 Bank of America had a great week, but edged back into the close Friday due to a relatively poor stress test ranking among its peers. In my view, every dip is just another buying opportunity. If BAC gets to $30 this year like Bove thinks it will, it will appreciate 71% from Friday's close of $17.56. That's screaming buy type stuff. Anyway, it's nice to know I'm in pretty good company in my positive view for BAC.
Disclosure: I have no positions in any stocks mentioned, and no plans to initiate any positions within the next 72 hours. I wrote this article myself, and it expresses my own opinions. I am not receiving compensation for it (other than from Seeking Alpha). I have no business relationship with any company whose stock is mentioned in this article.