In the world of search engine optimization, being an 'authority site' in the eyes of the search engines and their ranking algorithms is a massive accomplishment. It gives well deserving sites high rankings for important search terms that the sites provide content for. Without going into too much detail, well established sites earn their place as an authority site by usually having thousands of inbound links, have professionally optimized content, and have industry leading user behavior. MercadoLibre excels in all of these categories.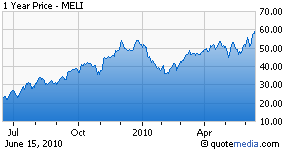 From what I can see, MercadoLibre is an elite authority site according to Google (NASDAQ:GOOG). MercadoLibre gets high rankings for a huge number of important product related search terms. They are by far the highest ranking e-commerce site in Latin American search engines and get a tremendous amount of free traffic that they can then monetize. Millions and millions of free users a month.
Essentially MercaoLibre can launch a web page for almost any product sold in Latin America and get a good ranking in Google if they SEO the page well. It should only get better and better as they improve SEO and get more products ranked high in the search engines. Google loves MELI - very powerful stuff.
There is little doubt that the executives at MercadoLibre have figured this out. It must be fun for them to login to their traffic logs daily with their morning coffee and laugh about how much free traffic they are getting and how much better it can get. CEO Marcos Galperin just needs to set high goals to make MercadoLibre a top search return for every product related search term used on Latin America search engines and do their best to provide good ethical content for as many product types and industry categories as they can. This should be easy for them to do. MercadoLibre has huge SEO advantages being the entrenched leader in the Latin American e-commerce industry where they are trusted by millions of users and operate a near monopoly.

So you can see what I mean, here are links to a diverse group of highly competitive search terms on Google Argentina and Google Brazil that showcase how well MercadoLibre ranks as of 6/15/10.
Google Argentina

#3 for the keyword 'Camaras'
#1, #2 and #3 for 'Cámaras Digitales'
#3 and #4 for the keyword 'Relojes'

Google Brazil


#1 for 'Celulares e Telefonia'
#5 for the keyword 'Playstation'
#4 for 'Instrumentos Musicais'
#1 for the keyword 'Antiguidades'
Disclosure: The author is long MELI shares