How do you think the San Antonio Spurs players felt last year when they lost Game 7 to the Miami Heat in the NBA Finals? Or how about the Denver Broncos being manhandled in the Super Bowl by the Seattle Seahawks? Do you think those players went home and celebrated being Number 2? I don't think so either. In fact, I remember being in a championship game as a kid and coming out the loser. Everyone kept saying, "It's OK, you played great, hold your head up, you'll get' em next year". Well, it wasn't OK, we didn't play great, I wanted to bury my head in the sand, and next year was so far away, it might have well been forever.
Being number 2 in sports is not a pleasant experience and can often be a very traumatic one. But being number 2 in business may actually be a sweet spot for many companies. So with that in mind, I wanted to dig a bit deeper into the #2 regional mall owner in the U.S. and determine if it would be a winner for me. I had already evaluated #1, Simon Property Group (NYSE:SPG) (Read Article), and determined that the price just wasn't right and I wasn't about to jump on the bandwagon that already priced in an optimistic forecast. Perhaps there is an opportunity in #2?
General Growth Properties
General Growth Properties (NYSE:GGP) is not the biggest regional mall owner in the U.S. In fact, it's not even close. General Growth owns 120 malls comprised of approximately 125 million square feet. A distant second to Simon Property Group with 320 malls and over 240 million square feet. You would think that General Growth would be at a disadvantage and that investors should invest in Simon if they had to choose just one of the mall owners. In fact, General Growth may actually benefit from being #2.
The problem with being the largest company in this industry is that you run the risk of getting too big. As investors, we don't like companies that reach a certain size and shift into cruise control. We want companies to continue to grow and to continue to increase their dividends.
Simon Property Group is the largest regional mall owner in the US. While they do have economies of scale that reduce general and administrative costs, growth for Simon has become a challenge specifically because of its size. In order for a company the size of Simon to continue to grow at reasonable rates, it must either invest in properties outside the U.S. or make fairly large investments that will drive FFO growth.
General Growth, on the other hand, is actually reducing its portfolio to focus more on Class A malls, which is driving up net operating income (NOI) and FFO (funds from operations). The class A malls in GGP's portfolio are generating close to $650 in sales per square foot, which is higher than comparable properties in Simon's portfolio.
Recycling Portfolio
So far in 2013, GGP has sold $1 billion of non-core assets and invested $1 billion in Class A quality shopping malls. It currently has a total of $2 billion in the development pipeline and an additional $1.3 billion in process or recently completed.
The plan is to sell primarily Class B malls with sales per square foot of less than $400, but management hasn't ruled out the possibility of selling some of the A malls on an opportunistic basis.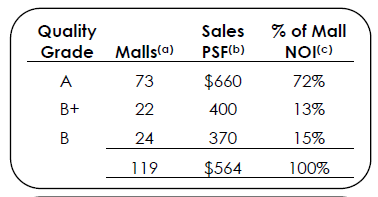 Since 2010, the company has reduced its portfolio of properties from 169 to 119 and in the process, has improved its portfolio on a variety of metrics: Permanent occupancy levels are now above 90%; tenant sales are at $564 per square foot; and the dividend per share has increased from $0.38 to $0.60.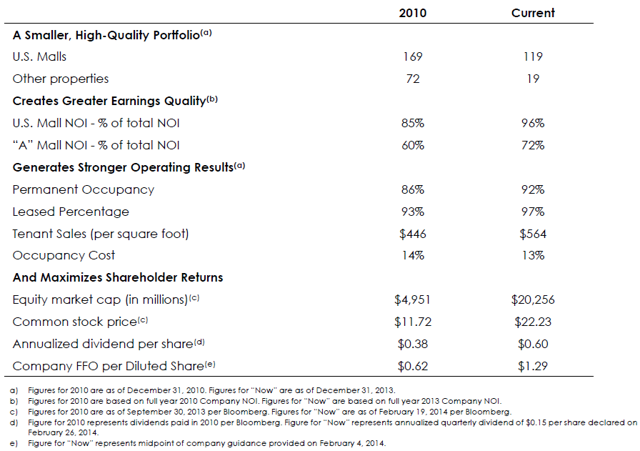 The Evolution of Malls
Malls have recently been given the kiss of death by many analysts and investors alike. The growth of online shopping and dominance of Amazon (NASDAQ:AMZN) have displaced many retailers and that trend will not end anytime soon. However, malls continue to strengthen and they currently have the lowest vacancy rates of all the retail property types. Shopping malls have evolved from a destination for shopping to one used more for family entertainment and dining. The shopping is just another part of the customer "experience".
Mall owners who have been able to adapt their properties to changing trends have been more successful at maintaining high occupancy rates compared to malls that have continued down the retail tenant path. Some mall owners are also redesigning space being vacated by big box retailers or larger department stores, and reconfiguring those spaces to accommodate smaller box retailers and entertainment venues.
Another trend that has been occurring along with the growth in online sales is the use of retail stores as fulfillment centers. As warehouse space has become more expensive, some retailers have implemented a strategy to supply product from the stores. While this may be considered an expensive alternative to warehouse space, it actually serves two purposes that benefit retailers. On the one hand, so long as inventory levels can be managed, there isn't a duplication of efforts at the stores and a fulfillment center, nor are there additional costs associated with staffing a fulfillment center. Secondly, and perhaps more importantly, some online shoppers prefer to pick up their goods at the store, which may lead to additional purchases during a customer's visit.
Retail growth opportunities are evident in areas such as fast casual food, small format grocery stores, fitness and health spas, discounters, dollar stores, off-price apparel and sporting goods. Meanwhile, contraction is occurring in bookstores, mid-priced apparel, office supplies, and casual dining.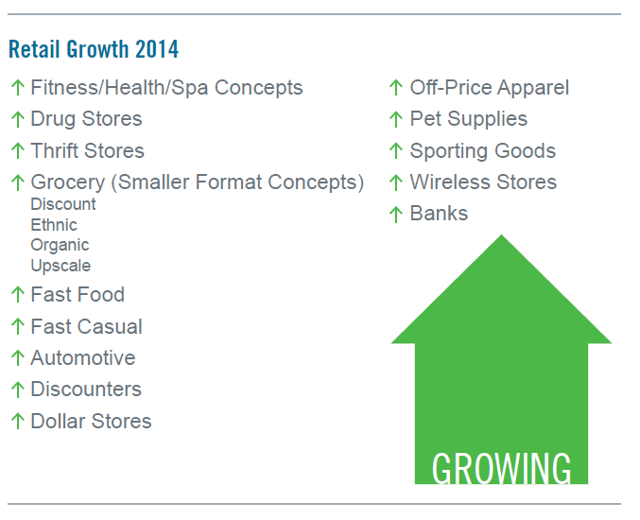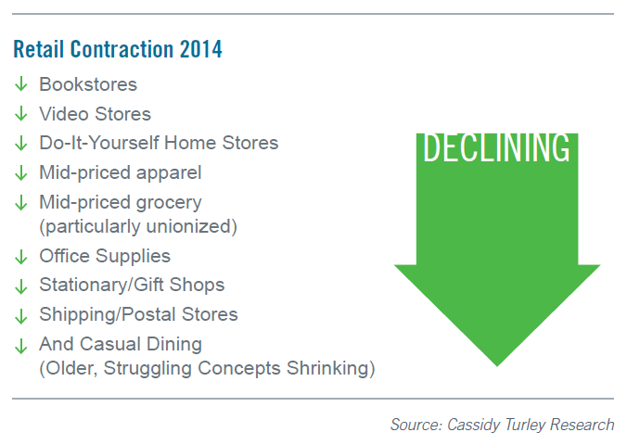 Consumer Trends
So far, consumer spending has been robust and consumer confidence remains at levels that typically lead to consumer spending.
Consumer spending makes up about 2/3rds of GDP in the U.S. And we could argue that consumer spending is typically preceded by consumer confidence. After all, a confident consumer is one whose job is secure, who has the opportunity to make more money, and who has the ability to find a better paying job. If a consumer is confident, therefore, a consumer tends to be happy. And a happy consumer goes shopping.
While GDP is a backward looking metric, consumer confidence is one of the few directly linked leading indicators of future performance. Consumer confidence isn't required for spending to occur, but psychologically, and historically, a confident consumer spends.
The chart below shows the University of Michigan Consumer Sentiment index. The chart shows a downward trend since 2000, which included some ups and downs between 2001 and 2008. But the drop from 2008 to late 2009 hadn't been seen in the history of the index. The good news is that since hitting bottom in 2009, consumer sentiment is on the rise and consumer spending has followed suit.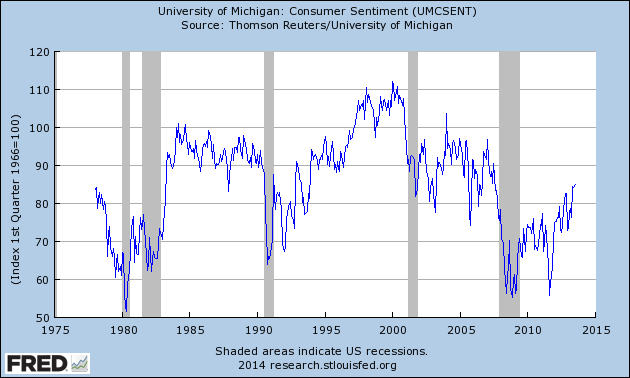 Spending as measured by Real Personal Consumption Expenditures has recovered and past its previous high set in early 2008. It is interesting to note that consumer confidence began to rise just before consumer spending started to increase again.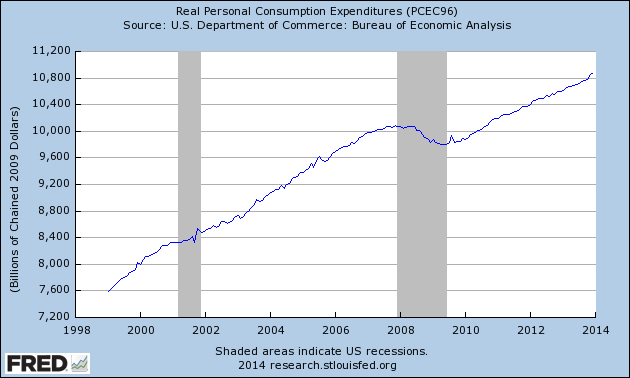 Challenges Remain
Weak job growth or economic growth can still cause consumers to slow spending. The unemployment rate has declined from 7.5% to 6.5% and is at the level the Fed had identified as a target to begin raising rates. But the current unemployment rate belies some of the fundamental gaps in the labor market and the headline unemployment rate has been openly challenged as not providing an accurate picture of the labor market.
Furthermore, as we previously mentioned, eCommerce is expected to take additional sales away from traditional brick and mortar stores, so it will be interesting to see how the regional mall sector evolves from one of retail focused tenants to one that caters to providing services and other items that are less susceptible to online competition. This has been the most evident area of growth for many regional malls.
The middle market stores are being impacted the most by online stores, I assume because consumers of luxury goods may prefer to see and feel products before making a purchase, and the shipping of lower cost goods or the minimal price difference for purchasing online can make it easier to buy in person.
That being said, studies have shown that online shoppers tend to buy more and retailers who can properly market in a clicks to bricks format will be successful. According to Cassidy Turley in its 2014 Retail Forecast:
Ultimately, e-commerce will never replace the shopping in experience but it will create many challenges for the retailers that do not master a comprehensive omni-channel approach (bricks and clicks) to the marketplace. Likewise, since shopping is about the experience and e-commerce is about convenience, retailers who fail to grasp that the new paradigm demands higher levels of in-store customer service will also face significant challenges ahead.
Is General Growth Poised to Outperform Its Bigger Rival?
As a smaller player than Simon, General Growth may find it easier to generate a substantial level of growth through acquisitions of smaller regional malls. However, I don't see a reason why GGP should be trading at a higher price/FFO multiple than Simon Property. At a price to FFO multiple approaching 20, General Growth looks too expensive even with a projected FFO growth of 11%. I would prefer to see this multiple in the low double digits even if it were slightly above its long-term average of 10.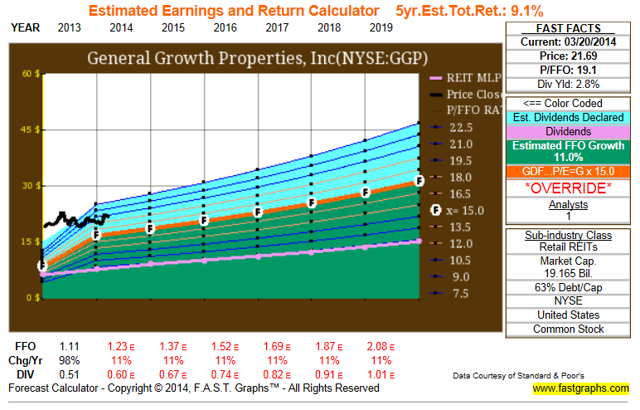 For now, I'm sitting on the sidelines waiting for a better entry point or substantial FFO growth above 11%.
Sources: General Growth Properties Website and Investor Presentation, Cassidy Turley 2014 Retail Forecast, University of Michigan, Thomson Reuters, U.S. Department of Commerce: Bureau of Economic Analysis, Fastgraphs.
Disclosure: I have no positions in any stocks mentioned, and no plans to initiate any positions within the next 72 hours. I wrote this article myself, and it expresses my own opinions. I am not receiving compensation for it (other than from Seeking Alpha). I have no business relationship with any company whose stock is mentioned in this article.