by Simon Napper

For many, achieving good investment returns is an arcane art for the gifted few. An exclusive club of magicians weave their spells and works their magic with new members appearing from time to time. It's our place to cross their palms with silver to get the benefit of their potions.
In a previous article building a simple portfolio was discussed. This moves this art towards a science that is open to all, because the SIB (Simpler Is Better) Portfolio allows us to create a benchmark based on asset allocation. This can be used to compare against other plans and give some measure of the funds available.
Five asset classes are chosen based on well proven academic research and practical proof:
U.S. Equity

Developed Market Equity

Emerging Market Equity

Real Estate Investment Trust (REITs)

Fixed Income
The above five assets are often considered as core asset classes. In our studies of thousands of company 401k plans, most plans do have investment funds to cover some and/or all of them. The purpose of this article is to demonstrate that even with such somewhat simplistic five assets, it is still possible to achieve reasonable returns.

The claim of asset allocation is that over 90% of the returns are derived from the asset classes and not the selection of the funds themselves. So that if you select the funds that represent the right asset classes from your 401K, you will get better returns than chasing after the highest performing funds from the last 1, 2, or 3 years.
To demonstrate the point, MyPlanIQ created a series of portfolios derived from asset allocation strategies, risk profile and Vanguard index funds for each of the five asset classes.
Table 1 shows the funds available for the SIB portfolios. The mix of the funds will be driven by the risk profile of the individual and the asset strategy selected.
| | | |
| --- | --- | --- |
| Asset Class | Symbol | Vanguard Name |
| US Equity | | Total Stock Market Index |
| Developed Market Equity | | Total Intl Stock Index |
| Emerging Market Equity | | Emerging Market Stock Index |
| Real Estate | | REIT Index |
| Fixed Income | | Total Bond Market Index |
Nothing complex, just a simple portfolio derived from funds that are easy to understand and can serve as a simple benchmark against which more complex (and expensive) portfolios can be measured.
For SAA [strategic asset allocation], the assets were first split into fixed income and risky assets. This split was dictated by the risk profile (fixed income 20% growth, 40% moderate, 60% conservative). Then allocation of risky assets is made equally and there is periodic rebalancing to ensure that the portfolio remains with the correct ratios.
For TAA [tactical asset allocation], the assets were also split into fixed income and risky assets based on the risk profile. However, the allocation of the assets will vary based on economic conditions. In essence, when one asset class is not performing well (for example, emerging markets in a time of financial uncertainty), there will be a shift to other asset classes.
Historical simulations were run for six portfolios:
Table 2 shows the performance of the SIB portfolios based on the risk profile and asset allocation strategy
Click chart to enlarge: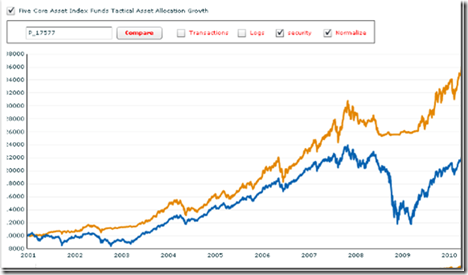 The first thing of note is that the simple portfolios perform very well - demonstrating that asset allocation is key to success. The second thing of note is that tactical asset allocation consistently gives better performance in the long run.

When applying this TAA to a corresponding ETF portfolio, it's possible to see specific action over the last 30 days. At the beginning of May, TAA portfolio was 26% real estate (NYSEARCA:IYR), 36% fixed income(NYSEARCA:AGG), 38% emerging markets (NYSEARCA:EEM). Today, the portfolio is 33% real estate (IYR), 37% fixed Income(AGG), 30% US Equity (NYSEARCA:VTI). This represents a shift out of emerging markets to U.S. equity.
When applying this to a 401K plan, you may have limited choices of funds in each category so that you may not be able to achieve the best of all possible performance - but even with sub-optimal funds, by picking the right asset classes, you should be able to improve your returns.
When I checked my own 401K plan, for which I did what most people did - pick a few funds at random and hope - I have achieved a five year return of 5.19%. If I had used TAA applied to the plan funds I would have seen a return of 10.74% -- remember that an additional 6% a year over a decade will double your retirement money.
Key takeaways:
Improving your returns is not that difficult - you can understand it and drive it - even with limited choices in your plan, you can do better without having to spend hours learning some secret art - compare your current results with what the SIB portfolios achieved.

TAA has consistently outperformed SAA. More on TAA. More on SAA.

Superior fund selection will return 1-2% extra - for free. More on SIB fund selection.

In future articles, we will start comparing specific 401K plans against the SIB portfolio and derive a league table of best and worst of breed.

Disclosure: Long SPY, LQD, IYR, TLT