What started in 1989-90 as a search system for the government of the Soviet Union, is today one of the world's most popular search engines. Yandex (NASDAQ:YNDX), Russia's internet search giant, currently runs the risk of getting entangled in Russia's political aspirations.
Yandex, at $30.38 a share, has fallen by over 33% from its 52 week high of $45.42 on 9 Jan. 2014, prior to Russia's move to annex Crimea. While there are risks in the near term, we think that panic selling has unlocked a great opportunity for the long-term investor.
Crimean Crisis: Impact on Yandex and Russia
Investors have been worried about the negative impact of economic sanctions imposed by the EU (European Union) and the US on an already weak Russian economy. During such economic downturns, it is expected that discretionary spends like advertising, the largest source of revenue for Yandex, will be affected the most.
The EU (European Union) has imposed some sanctions on Russia, with more to come soon. However, so far, the sanctions are limited to travel bans and asset freezes directed at 21 Russian and Ukrainian officials, while the US has released a similar list of 11 individuals.
Since any sanctions pertaining to oil and gas trade would have a huge economic impact on all entities involved, experts believe that the real impact of impending punitive measures on the Russian economy and Yandex may be limited. Ref
Yandex Revenue and Profitability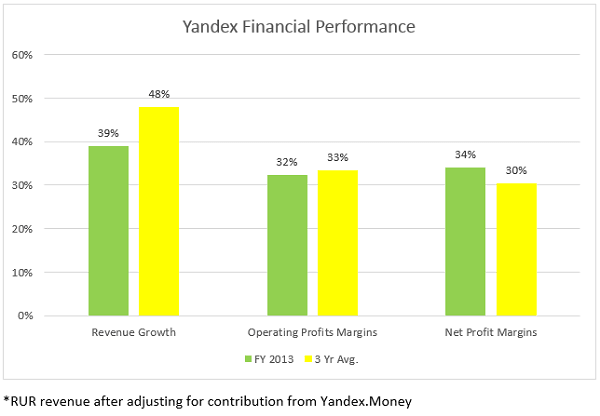 (Source: Amigobulls - Yandex Annual Income Statement)
Though revenue in FY 2013 fell short of the company's guidance, one can't ignore the fact that Yandex's performance remained excellent. Revenue grew to $1.21 billion from $947 million a year ago and profit margins were in line with its 3 year averages even after adjusting net profits for the one-time income from the sale of majority stake in Yandex.Money.
Where financial track record is concerned, Yandex has displayed robust revenue growth and unwavering profitability at operating and net levels on a consistent basis.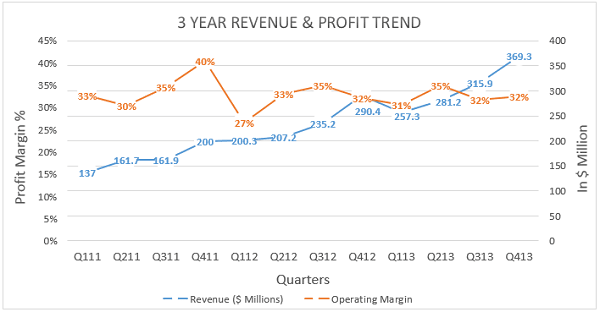 (Source: Amigobulls - Yandex Quarterly Income Statement)
In FY 2013, more than 98% of the company's revenue came from advertising, with 1% coming from Yandex.Money. Going forward, revenue from Yandex.Money will form a part of other income.
Q4 2013 saw paid clicks grow at 52% vs. 50% in Q3 2013. Revenue from advertising on partner sites (or ad-network) nearly doubled sequentially, as the segment grew nearly twice as fast as ad-revenue on Yandex sites in FY 2013. The same is a result of the company's partnership with domestic competitor Mail.ru which holds 8.2% market share of the Russian online search market. Though advertising on Yandex owned sites is more profitable, the development is a result of choice rather than chance and is likely to continue.
Yandex Internet Search Market Share
Though Google (NASDAQ:GOOG) is still the favorite search engine in most parts of the world, Yandex controls 62% market share in Russia. It has edged past Google in Belarus, accounts for over 30% of the search market in Ukraine and also operates in Turkey and Kazakhstan. Thriving on its adaptability to local language search requirements, Yandex is difficult to dislodge in these regions.
Yandex is planning a foray into the Middle East, a move that would diversify its geographical risk.
Key Drivers of Future Growth
Yandex - Google RTB Deal
Yandex has recently entered into a tie-up with Google which could catapult its display-advertising revenue. The deal will allow Google's advertisers to bid for ad-spaces on sites in Yandex's ad-network while advertisers on Yandex will be able to access global ad-displays via Google's DoubleClick Ad-Exchange.
The cross selling of ad inventory is carried out via an RTB or real time bidding system where buyers bid to acquire ad-space. As per estimates, by 2017, these RTBs will account for 29% of digital display ad spends in the U.S. Apart from helping Yandex expand its advertiser base, this deal could partly hedge the risk arising from an economic slowdown in Russia and help them monetize their market share in regions outside Russia.
Yandex.Market
Another exciting opportunity for Yandex lies in its transformation of Yandex.Market from a price comparison site into a full-fledged e-commerce portal. An e-commerce business run by a search engine undoubtedly has huge potential in itself, but the fact that Russia is now home to Europe's largest internet audience will definitely help its cause.
Recent Acquisitions
Yandex recently acquired Kinopoisk, the Russian equivalent of IMDB, to bolster its online video advertising revenue.
Yandex has seen an increase in search shares across mobile platforms and its mobile maps based 'TAXI' application has been hugely popular in its markets. Yandex's recent acquisition of KitLocate, the developer of an energy efficient geo-location technology for mobile devices re-iterates the company's increasing focus of mobile platforms.
Yandex Valuation
When compared with its peers on the basis of revenue growth and profitability, Yandex does consistently better than Google, though Baidu (NASDAQ:BIDU) remains the best of the lot.

When valued based on the average P/E enjoyed by its peers (P/E of 31.4), Yandex should be priced at $37.12 a share, representing a 22% upside from its last closing price of $30.38.
Yandex has all the key elements of a financially robust company, healthy ROE, ROIC, a great track record and a gamut of exciting opportunities in the coming years. In our view, Yandex is a great company that is currently bearing the burden of geo-political risks. In the long run, however, once these risks have subsided, Yandex would be a great investment.
Disclosure: I have no positions in any stocks mentioned, and no plans to initiate any positions within the next 72 hours. I wrote this article myself, and it expresses my own opinions. I am not receiving compensation for it. I have no business relationship with any company whose stock is mentioned in this article.
Additional disclosure: The article was written by Vikram Nagarkar, Equity Analyst at Amigobulls.com. Amigobulls Mediatech Pvt. Ltd. is not receiving any compensation for this article (other than from Seeking Alpha). Amigobulls Mediatech and Vikram Nagarkar do not have any business relationship with any of the companies mentioned in the article.