Being an electrical engineer by trade, I find myself looking at electronics technology companies often as not, since I have known many of them over time as a customer, supplier, or competitor. What follows is a discussion of a portfolio of electronics related technology companies I am comfortable to hold in my retirement accounts. Of course, comfort means different things to each; to me it is a portfolio based on five investing principles.
Having a relative good value story, either in terms of business innovation or in their competitive position.
A decent dividend focus and commitment.
Focus in one of the two major technology profit themes (so far) of the 21st century - mobile/wireless devices and the internet/networking infrastructure.
Emphasis on more stable business to business, rather than fickle consumer level sales.
A growth path via a leading business position in a stable and growing aspect of technology, and competitive technical edge to keep them there. Ideally, I want to plan to hold for a long while,

to DRIP and not worry about them daily.
Happily, these days technology leadership positions appear to go hand in hand with companies paying a dividend, which makes some selections simpler. The evolution of the portfolio has a subtle unifying theme based on the above principles, but as is often the case, stocks were acquired opportunistically, at points where their value seemed very compelling (I include the year I acquired them as a point of reference).
Table 1 shows my Retirement Technology Dividend Portfolio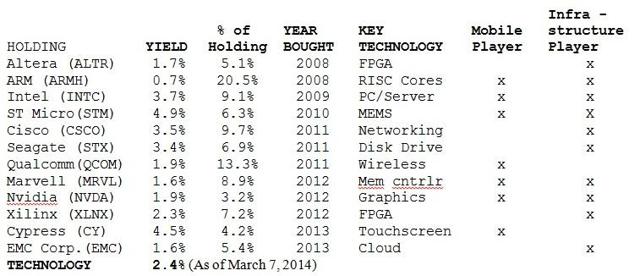 Each company has its own relative strength. Their yields range from 0.7% for ARM to a more robust 4%+ for STM and CY. In all cases, the dividends appear secure based on combinations of earnings, cash flow, or cash on hand to cover at least 2 years of dividends. My discussion on each stock focuses more on qualitative reasons why I hold them, including some special situations that may not be as obvious outside the engineering community.
ARM (NASDAQ:ARMH) and its ubiquitous Cortex processor architecture are in virtually every mobile and System on Chip device. ARM licenses the processor for fee and royalty rather than selling ICs; since they have a license with virtually every one making an IC, they tend to profit regardless of who get design wins. As a kicker, their long time competitor, MIPS was acquired in 2013, opening new areas and opportunities for them. That said, ARM is richly valued right now, at a PE of 135 and is volatile with a beta of 1.2, so there may be better entry points later in the year.
While ARM owns mobile business, internet and server infrastructure remains powered by Intel (NASDAQ:INTC) processors. This infrastructure is a performance oriented and risk averse area, so I expect any migration from Intel will be slow. Intel's issues in penetrating mobile business are widely discussed, but their generally under-recognized ace in the hole is their leading edge IC manufacturing facilities. On a longer-term basis, if Intel uses these resources to pursue a 3rd party foundry business, this has potential growth upside bigger than any mobile design win. Intel remains a bargain stock by most measures, with a PE of 13.4, but PEG of 2.6 is a concern if their current business models do not evolve.
Seagate (NASDAQ:STX) is one of a small group of HDD suppliers providing hard disk drives for PCs and the cloud. STX picked up market share from acquiring Samsung's HDD business in 2011. While Solid State Drives get more attention these days, hard disk remains the workhorse to handle the majority of storage for at least the next generation of the big memory systems. Even after a nice run-up in the last year, Seagate seems cheap, with a PE of 12 and an enviable PEG of .8.
Marvell (NASDAQ:MRVL) is a diversified IC vendor, making chips for mobile, for disk controllers, etc. I like it for its memory controller business, where its major competitor, LSI Logic is in process of being acquired. MRVL is more speculative than most on the list, it has some seen interesting times recently; a pending $1B patent decision pounded the stock in the last year, recent buyout rumors have made the stock more expensive at a PE of 25; the ride has been and will be bumpy, but the underlying story remains strong at a PEG of 1.3
Nvidia (NASDAQ:NVDA) is synonymous with GPUs. The compelling aspect is increasing use of GPUs outside of gaming as processing accelerators in servers and the cloud. AMD, the company's main GPU device competitor, is still working on its own issues. NVDA may have additional upside as a play in the tablet space with its Tegra graphics-centric processors. Nvidia has a PE of 25 after a run-up over the last year. I think its PEG of 2.5 underestimates potential long-term growth of its GPU niche.
Altera (NASDAQ:ALTR) and Xilinx (NASDAQ:XLNX) have a combined 90%+ lock on the programmable logic/FPGA business. FPGA value of 80% of the performance for 25% of development cost compared to ASIC becomes more compelling with every IC generation. Structured ASIC vendors, who were FPGA's main competition, mostly died back in the last tech bust. FPGA has become a more mature business, as noted by PEGs over 2 (Altera being unexpectedly high at 4.1), but the moat between these two leaders and any other contenders is large for what I see as a ubiquitous technology. The two have very similar finances, with Xilinx having a slightly lower PE at 25.
EMC (EMC) is the dominant internet and cloud infrastructure systems integration and software provider. It is the most direct play on the next generation of internet and storage, which I see as a continuing growth area. The stock is moderately priced with a PE of 20 and PEG of 1.2.
Qualcomm (NASDAQ:QCOM) has always been the giant in the corner on wireless devices, developing both underlying technology and chips used for front end and baseband processing in virtually every major communications device. If it does not get the design win, it licenses its patents to those that do. Even with a good run since last summer, the stock remains moderately priced with a PE of 20 and PEG of 1.0.
STMicro (NYSE:STM) plays in many areas, but it leads in motion/position MEMS peripherals found in many mobile and wireless architectures. I picked this up at half the current price as a speculative play on Europe. STM recently wrapped up some costly joint ventures, which have dropped its PE into negative, but which I think should improve its profit and focus going forward.
Cypress (NASDAQ:CY) is a market leader in touch screen controllers, among other fields. CY is my current contrarian play, still working through changes in its memory business, which dropped its PE into the negative. I see this being a temporary issue; between touch screens and other interesting mix of products, am willing to bet on the founder (the legendary TJ Rodgers) as CEO being someone who is proven in navigating the technology business.
Summing up the general unifying themes for the portfolio, my preference is for companies having:
1. Relative advantages in their competitive environment. As example, several companies on my list have competitors that were acquired or that otherwise are facing near-term challenges.
2. A key role in either mobile or infrastructure technology. Wireless devices (phones, tablets, etc.) get all the attention these days, but huge amount of infrastructure is revamped for each generation of devices. All the companies listed also have some play in the touted Internet of Things theme which may (there are still some big ifs in my mind) become the next big technology driver.
3. Largely business to business, rather than a consumer level sales. Apple (NASDAQ:AAPL), as the most obvious counter-example, is a showcase technology company and even has a decent dividend, but I have never been comfortable with the fact that it lives and dies on how well its latest device is received by a fickle and unpredictable public. That is nothing against Apple; it just is not what I am looking for in this portfolio.
Of course, the kicker is collecting dividends as you go, which I think is a required element for most self-managed portfolios.
This portfolio is obviously discussing a snapshot in time. I do not include or discuss some other holdings I have commented about elsewhere, such as TI (NYSE:TXN), which (as an ex-employer) resides in a different part of my portfolio, and probably deserves an article all in itself.
As a final disclaimer - I talk about what I own. I'm not saying these are only tech good companies out there. As in all these discussions, I am giving an opinion; the stocks and their markets discussed have risks as well as virtues. Caveat Emptor.
Disclosure: I am long ALTR, ARMH, INTC, STM, CSCO, STX, QCOM, MRVL, NVDA, XLNX, CY, EMC. I wrote this article myself, and it expresses my own opinions. I am not receiving compensation for it (other than from Seeking Alpha). I have no business relationship with any company whose stock is mentioned in this article.