For the better part of the last couple of years, I've been hooting and hollering about Bank of America (NYSE:BAC) as a long position. I finally staked my personal long position a couple of months ago in the $16 region.
I named buying the company as one of my 8 Attractive Trades for 2014, based on the following criteria:
With continued cost cutting that's going to run into 2014, Bank of America is set to continue producing an improving bottom line, regardless of possible stagnant revenues.
Although legal issues remain the Bank's biggest caveat, BAC continues to settle litigation relating to the subprime crisis one at a time and will continue to do so in 2014.
CEO Brian Moynihan remains focused on the fundamentals, leading with a clear head, and is the backbone of the bank's lucrative performance in 2013.
Warren Buffett, already yielding a $5 billion profit on paper in his Bank of America investment, remains satisfied in the company and hasn't sold his position.
Bank of America dividends are expected to rise in 2014.
The raising of the dividends was going to be a direct product of how the bank did during its stress test this year, and we found out last week that all of the "too big to fail" banks passed their stress tests.
ABC News reported:
More than five years after the financial crisis struck, the biggest U.S. banks are better able to withstand a severe recession than at any time since the meltdown, the Federal Reserve has determined.

Results of the Fed's annual "stress tests" showed Thursday that all but one of 30 top banks passed muster with sufficient capital buffers to keep them lending through an economic crisis. Only Zions Bancorp fell short. The results showed continued improvement in banks' financial positions since the 2008 crisis, the Fed said. That built on positive results from last year's tests.

"The industry is stronger and more profitable than a year ago," said RBC Capital Markets banking analyst Gerard Cassidy.

The banks' stronger positions should enable them to pursue business plans, pay dividends to shareholders, raise capital from investors and expand services to customers, said Frank Keating, president of the American Bankers Association.

The 30 banks tested included Bank of America Corp., Citigroup Inc., JPMorgan Chase & Co. and Wells Fargo and Co.
Thusly, our one more big reason to go long is going to be the dividends. For years, I've watched BAC preferred holders get dividends while common shareholders received a paltry penny per share. That is all likely to change now.
Wit that will come the addition of BAC to many dividend paying funds and portfolios, which could cause an underlying bump in the stock price. Bank of America has been trading up 12.6% in the last three months and up 39.8% in the last twelve months.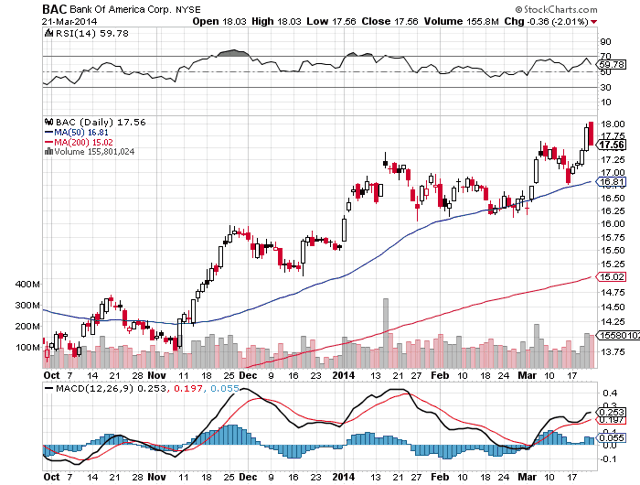 Again, the main risk in BAC stock is mostly due to the bank's outstanding legal issues as a result of the subprime crisis. It may look like the litigation is never-ending, but I assure you that the bank continues to churn out settlements and deal with these issues accordingly. They can't last forever - and, when they're resolved, we're going to see even more confidence in the bank.
With the results of the bank's continued cost cutting into this year likely to continue to help improve its bottom line, I remain steadfast in my position with the company and eagerly await reinvesting the dividends.
Investment thesis: Buy Bank of America now to take advantage of coming dividends post-stress test and eventual major confidence returning after the bank resolves its outstanding litigation.
Disclosure: I am long BAC. I wrote this article myself, and it expresses my own opinions. I am not receiving compensation for it (other than from Seeking Alpha). I have no business relationship with any company whose stock is mentioned in this article.