The Alerian AMZ index drifted lower by -.06% this week against a + 1.4% S&P 500. Median performance of all MLP issuers was a healthy +.53%. A strong week for high growth units with 20 reaching a new 52 week high and only 7 reaching a new 52 week low, most notably the Kinder Morgan complex. As we near the end of the earnings reporting period, ~ 66% of the issuers are expected to generate 3 year average CAGRs in the 11-12% range, offering potential total returns of 15-17%.
Unit Value Winners and Losers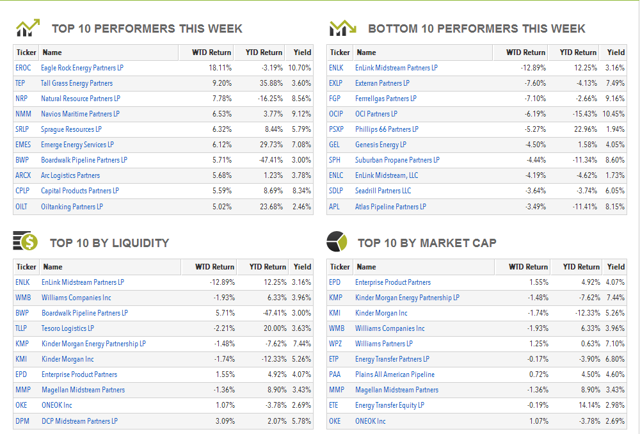 Troubled Eagle Rock Energy Partners LP (NASDAQ:EROC) announced the filing of its SEC proxy statement for the sale of the company's midstream assets to Regency Energy Partners, LP (NYSE:RGP). Previously, Natural Resource Partners (NYSE:NRP) lost approx. 30% when the distribution was cut in January. Coal MLPs had a positive week in spite of a bearish outlook for 2014 coal demand.
EnLink Partners, LP (NYSE:ENLK) announced a secondary offering of 18 million units to be sold by current partners in the company.
Distribution Rate Changes
OCI Partners LP (NYSE:OCIP), an ammonium and methanol producer with a variable distribution, announced their first distribution and offered guidance of $2.00-$2.20 per unit with a forward yield of 10.45%. Here is a chart listing the 15 highest distribution coverage ratios.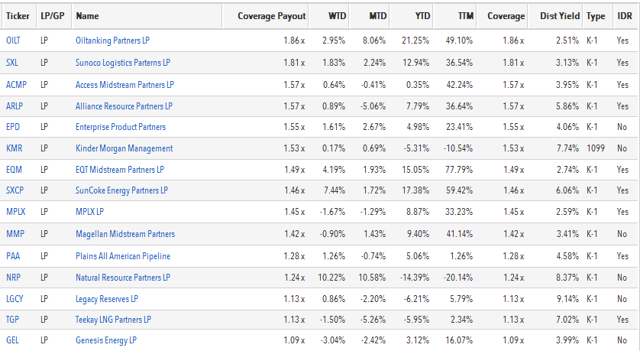 Insider Trading
Concerning the large sale of Access Midstream Partners, LP (NYSE:ACMP) units, Global Infrastructure was the buyer from Chesapeake Energy (NYSE:CHK) when that company was forced by financial troubles to unload its midstream MLP holdings. Energy Capital Partners is the equity capital firm that set up the 2012 IPO of Summit Midstream Partners, LP (NYSE:SMLP).

Share Issuance News
Issuance activity slowed this week with just two equity issues outside of the EnLink secondary sales by insiders. BreitBurn Energy Partners LP (BBEP) registered a $200MM ATM as did USA Compression Partners LP (NYSE:USAC) for $1B. Get the details of any offer of interest by clicking on the specific issue on the Issuance page of the MLPData Dashboard.

ETF, CEF and Mutual Fund Money Flows
Approximately $200MM flowed into MLP packaged products this week, bringing the total AUM to ~10% of the aggregate market cap, an indicator of expanding institutional ownership. Closed End Fund's narrowed their average discount to NAV by trading up +.31.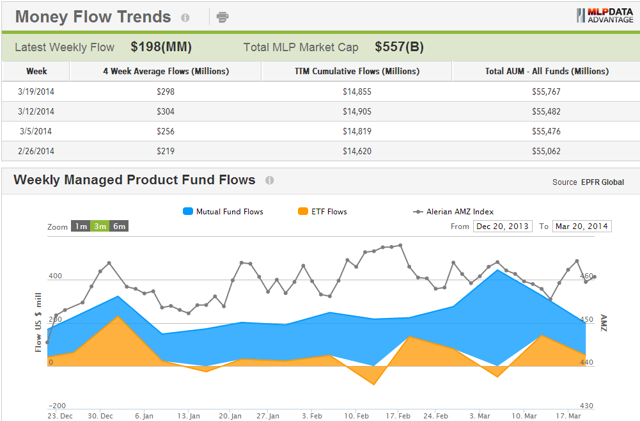 Next Week's Earnings Calendar
There are four earnings releases scheduled for next week.

To receive this Weekly Intelligence report, please follow MLPData here on Seeking Alpha. Expanded analytics and real time chart updates are available on MLPData.com
All charts, values and tables provided by MLPData.com
Disclosure: I have no positions in any stocks mentioned, and no plans to initiate any positions within the next 72 hours. I wrote this article myself, and it expresses my own opinions. I am not receiving compensation for it (other than from Seeking Alpha). I have no business relationship with any company whose stock is mentioned in this article.