Last week was a tough week for Lions Gate Entertainment (LGF) and its shareholders. The company lost around $600 million of its market value, as shares dropped 13.7% over the past five days and closed at $27.60 on Friday. Early on this week, Lions Gate's shares slipped due to some mixed reviews on Divergent, the company's next big franchise after The Hunger Games and Twilight. On Friday, the shares were crushed again after weak numbers for Divergent's opening weekend came out compared to another Lions Gate production The Hunger Games.
First box office numbers came in
Today, the first weekend box office numbers came in. Divergent dominated the box offices (see table below). The movie earned $22.8 million on its debut, not bad for a $85 million production. Based on last night's performance, Divergent is likely to earn between $50 million (boxofficemojo.com) and $54 million (boxoffice.com).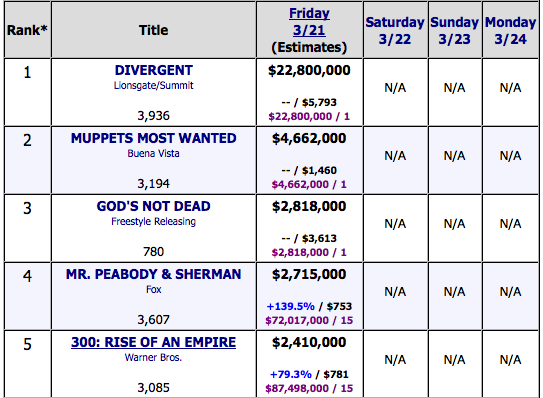 Source: boxofficemojo.com
The new estimates are at the low end of the initial estimates. Last week, analysts expected Divergent to earn between $50 million and $68 million during its domestic opening weekend. Some predicted that Divergent could be able to challenge Twilight's $69 million opening weekend. In my opinion, investors should not compare Divergent with other Lions Gate productions. Not every Lions Gate production is going to be a home run. What counts is how many times Lions Gate gets on base. Lions Gate proved that it controls production budgets very well. As a result, the company's productions do not have to earn $100+ million during their opening weekends to become profitable for the company (and its shareholders).
Divergent well received by audience
Despite the fact that Divergent did not beat Twilight or The Hunger Games in its opening weekend, I consider Divergent a huge success for Lions Gate. As SA contributor Mark Gomes pointed out in this article, Lions Gate should not be judged by what critics think about the movie. It is important what teenagers (especially girls) think about the movie. The first results are very promising since 81% of their audience liked the movie.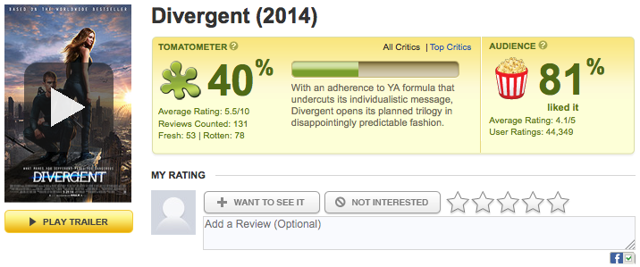 It is clear that Divergent is more popular among its audience, than among critics considering that only 40% of the critics liked the movie. To check teenagers' sentiment, I took a quick look at the tweets regarding '#Divergent' and I found almost no negative tweets. Overall, the audience enjoyed the movie. This is confirmed by boxoffice.com's Twitter Index. According to the index, 88% of the tweets regarding Divergent are positive and only 12% are negative.
Conclusion
Considering the fact that Divergent is well received by the audience, I believe that this week's sell-off was an overreaction. First of all, investors anticipated unrealistic box office sales for Divergent's opening weekend. As I mentioned before, some of them expected Divergent to beat Twilight's $69 million opening weekend. These estimates were reviewed downwards, after the movie critics were not enthusiastic about the movie. Second, Divergent's success must be judged by its audience response rather than by the critics.
Finally, how could this $85 million production be the reason behind last week's $600 million loss in market value? Nobody expected Divergent to make $600 million. In my opinion, this could only be justified if Divergent flops completely and the company decides not to produce two (or three) sequels. However, the audience received the movie very well and Lions Gate already announced the next sequel Insurgent. Therefore, I believe that last week's loss was an overreaction and the shares will rebound strongly next week.
Disclosure: I am long LGF. I wrote this article myself, and it expresses my own opinions. I am not receiving compensation for it (other than from Seeking Alpha). I have no business relationship with any company whose stock is mentioned in this article.