As Sina's (NASDAQ: SINA) social media subsidiary Sina Weibo marches toward its $500 million IPO, it has just acquired (Figure 1) the most important new user in its history - Tencent (OTCPK:TCEHY).
Figure 1: Screenshot of Tencent's official corporate page on Weibo.com (Source: Weibo.com)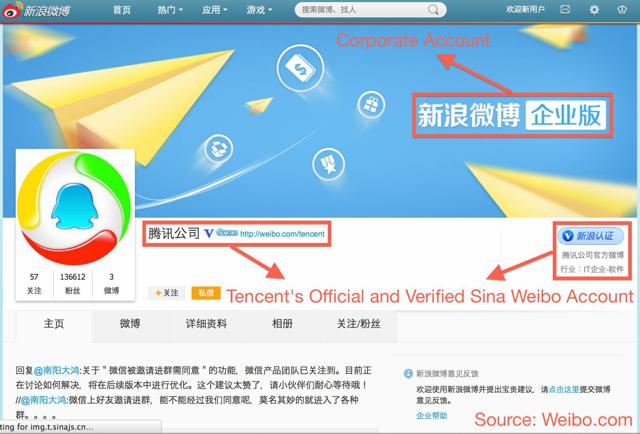 Tencent is the parent company of social networking service Weixin (WeChat), the biggest rival of Sina Weibo. On the evening of March 20 (U.S. eastern time), in its first ever Weibo message, Tencent asked Weibo users to provide feedbacks on its products and services, with the best comments winning iPad Minis (Figure 2). This marketing campaign by Tencent has been highly successful, receiving tens of thousands of responses within the first two days.
Figure 2: Screenshot of Tencent's First Sina Weibo Message (Source: Weibo.com)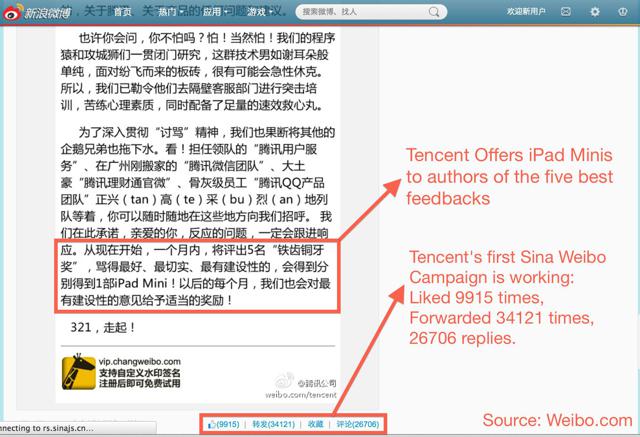 Tencent's usage of Sina Weibo highlights Weibo's core value and provides fuel for its IPO engine. Tencent's successful campaign has proven Sina Weibo's core value as an ideal channel for companies to interact with consumers throughout China. The timing of this event is very interesting: It took place just six days after Sina Weibo filed for its U.S. IPO. This means Weibo's Wall Street pre-IPO road shows have just received a timely boost, in the unlikely form of a case study featuring its biggest corporate rival using its service. For any institutional investor having a hard time understanding Sina Weibo's value, Tencent's campaign serves as a vivid and convincing endorsement, demonstrating how Weibo's corporate clients can use the platform to promote their brands.
Tencent's move reminds me of Dwight Howard letting rival Nate Robinson dunk over his head during the memorable 2009 NBA Slam Dunk Contest. Does Tencent's assist foreshadow Sina Weibo winning the China Social Network Slam Dunk Contest? Not necessarily.
By opening a Sina Weibo account, Tencent has demonstrated strong self-confidence and an open mind that is rarely seen in a big Chinese Internet company. And it does have a reason to be confident: In 4Q13, Weixin's monthly active users more than doubled year-over-year to 355 million, accounting for 57% of China's 618 million Internet users. According to Baidu Index (Figure 3), the most authoritative data source for Chinese Internet users' search behaviors, during the past 30 days, search volume for the keyword "Sina Weibo" declined 35% year-over-year, while searches for "Weixin" rose 29% year-over-year. In the same period, total searches for "Sina Weibo" were 58% of the search volume for "Weixin". These data points clearly show that Weixin is growing its popularity and user base at the expense of Sina Weibo.
Figure 3: Search Volumes for Weixin and Sina Weibo (Source: Baidu Index)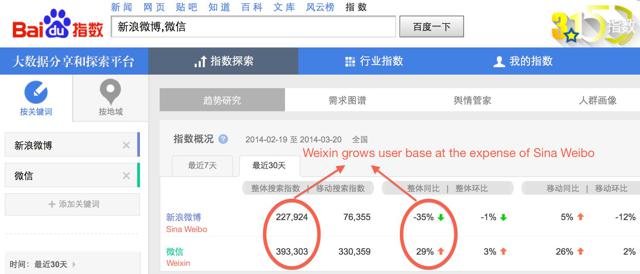 Tencent's friendly gesture to Sina Weibo also implies its vision for China's social network landscape going forward, where the two companies will coexist: A mass-market Weixin where China's consumers interact with each other and brands, and spend the dominant share of their social networking time; and a public-relations-oriented Sina Weibo where companies, organizations, and celebrities conduct formal communications with consumers. For this reason, Tencent does not mind opening a corporate account on Sina Weibo.
While enjoying the short-term publicity boost provided by Tencent, Sina Weibo should understand that its top priority is to avoid being marginalized by Weixin in the competition for users' time spent on social networking. With Weixin holding a sizeable lead in new user acquisitions (Figure 3), Sina Weibo's best response is to spend heavily on acquiring and retaining users. This strategy was outlined during Sina's 4Q13 earnings conference call, where Sina's management team told analysts that they "plan to invest heavily," and listed "user and user activities," not monetization, as the primary goal and focus of Sina Weibo in 2014.
Disclosure: I have no positions in any stocks mentioned, and no plans to initiate any positions within the next 72 hours. I wrote this article myself, and it expresses my own opinions. I am not receiving compensation for it (other than from Seeking Alpha). I have no business relationship with any company whose stock is mentioned in this article.