They are the best of the best. They are the companies that have stood the test of time when it comes to providing consistently reliable dividends and dividend growth to their shareholders year after year. And for those investors seeking to maintain a dedicated stock allocation regardless of whatever the global economy or its financial markets bring over the coming years - euphorically good to catastrophically bad to anything in between - these dividend champions of champions are worth keeping on a short list for consideration if and when the time and price is right.
The Upper Crust Of The Aristocrats
Fourteen companies in the U.S. stock market possess a unique distinction. They are the only companies that have increased their annual dividends to shareholders for 50 or more consecutive years through today. Why is this important? Because consistent dividend growth enables an investor to secure a steadily increasing income stream over time from their portfolio regardless of the cyclical swings in stock prices that might occur at any point in time along the way. The key to success with this strategy, however, is that an investor must stay the course and avoid realizing losses during periods of extreme market stress. This, of course, is easier said than done.
The following is a list of 16 companies that make up the upper crust of the dividend aristocrats. Included in the list below are two additional names that are almost certain to enter the club with a dividend hike in 2014.
Name (Ticker) - number of years - year of first dividend increase
Diebold (NYSE:DBD) - 60 years - 1954
American States Water (NYSE:AWR) - 59 years - 1955
Dover Corporation (NYSE:DOV) - 57 years - 1957
Emerson Electric (NYSE:EMR) - 57 years - 1957
Genuine Parts (NYSE:GPC) - 57 years - 1957
Parker Hannifin (NYSE:PH) - 57 years - 1957
Procter & Gamble (NYSE:PG) - 57 years - 1957
Northwest Natural Gas (NYSE:NWN) - 56 years - 1958
3M (NYSE:MMM) - 55 years - 1959
Vectren (NYSE:VVC) - 53 years - 1961
Cincinnati Financial (NASDAQ:CINF) - 52 years - 1962
Coca-Cola (NYSE:KO) - 51 years - 1963
Johnson & Johnson (NYSE:JNJ) - 51 years - 1963
Lowe's (NYSE:LOW) - 51 years - 1963
Colgate-Palmolive (NYSE:CL) - 50 years - 1964 **projected
Illinois Tool Works (NYSE:ITW) - 50 years - 1964 **projected
The above is an absolutely rock solid list of high quality dividend paying companies, nearly all of which I have owned at one time or another over the years. But while their long-term track record of dividend increases is most impressive, when thinking about owning dividend growth companies that can sustain this trend regardless of the market environment, the following question comes to mind when examining this list. What exactly was going on prior to the mid 1950s that has no company extending this feat any earlier?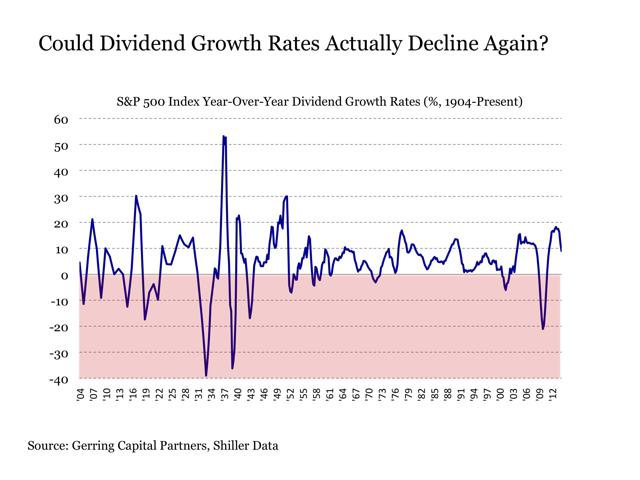 The answer of course is the Great Depression and its aftermath. And just like a decline in home prices and an outbreak of deflation were considered outlandish ideas just a few years ago, the notion that dividend growth companies might encounter an environment at some point in the future where they may have to consider either not increasing their dividend or even worse cutting or suspending their dividend altogether cannot be ruled out as a possibility. After all, it was not uncommon for the market to endure periods of meaningful dividend cuts prior to the 1950s. And what is notable about today is that following roughly five decades of virtual placidity in dividend growth rates, recent years have seen a sudden increase in the volatility of these growth rates last seen in the early 1940s.
None of this is to suggest that it is likely that we will see dividend growth rates grind to a halt or turn negative in any sustainable way going forward. This is particularly true in the current environment, as companies have spent years chipping their way toward aristocrat status. As a result, dividend increases are likely to beget more dividend increases as companies do whatever it takes to maintain their upper-crusted dividend identity. But with that being said, the potential still exists that such a dividend slashing episode could take place, as we already saw it starting to unfold in a major way only five short years ago before the Fed came to the rescue with a fire hose of monetary stimulus to rescue financial markets.
The Champions Of Champions
So with this possibility in mind, it is worthwhile to pose the following question. Who among the upper crust of dividend aristocrats are truly the champions of champions? In other words, what companies have demonstrated the time tested ability to pay their dividend no matter what, including the Great Depression or anything like it. For these are the iron clad companies that may warrant additional attention in the portfolio construction process when seeking to generate dividend income growth while also preparing to endure any possible storm that might present itself on the horizon.
Among the list of 16 companies in the list above, the next question worth considering is who among them were able to simply continue paying their dividend without interruption during the Great Depression. After all, the 1930s was a period marked by deflation, so even if the dividend were not growing on a nominal basis, it would be rising in real terms if overall consumer prices were falling. The upper crust of dividend aristocrats is quickly whittled down to five names that have managed to pay dividends continuously each year including through the Great Depression as well as other crises that may have come before.
Name (Ticker) - year of first consecutive dividend paid
Procter & Gamble - 1890
Coca-Cola - 1893
Colgate-Palmolive - 1895
American States Water - 1912
3M - 1916
Illinois Tool Works - 1933
Johnson & Johnson - 1944
Vectren - 1946
Emerson Electric - 1947
Genuine Parts - 1948
Parker Hannifin - 1950
Northwest Natural Gas - 1952
Diebold - 1954
Dover Corporation - 1955
Lowe's - Formed in 1946
Cincinnati Financial - Formed in 1950
None of this is to say that any of these companies would not manage to continue paying a dividend if a similar episode unfolded in the future. But what makes the five companies at the top of the list notable - Procter & Gamble, Coca-Cola, Colgate-Palmolive, American States Water and 3M - is that each have the demonstrated history of actually achieving this feat in the past. These are the dividend champions of champions.
Three in particular deserve special honors in this regard, as Procter & Gamble, Coca-Cola and Colgate-Palmolive all managed to continue paying a dividend through not only the Great Depression but also the Panic of 1907, World War I and the 1920-1921 Depression. Three other aristocratic companies also deserve honorable mention in this regard, as Exxon Mobil (NYSE:XOM), PPG Industries (NYSE:PPG) and Stanley Black & Decker (NYSE:SWK) are all on the list for having increased dividends for at least 25 consecutive years (1983, 1973 and 1968, respectively) and have paid annual dividends each year since the late 1800s.
Of course, none of this means that these champion stocks would necessarily manage the same accomplishment during any future crisis. In addition, it is likely that a new set of companies would make a name for themselves in this regard if any such event were to unfold. And as always, an investor should conduct rigorous fundamental analysis when establishing and maintaining an ownership position in any given company. But regardless of whether the stock market continues to elevate to new highs or if it enters into a sustained correction or worse, it is reassuring to know that high quality companies with a track record of paying and increasing their dividends over time have demonstrated the ability to continue doing so no matter what obstacles the economy or broader market might throw at them along the way.
Disclosure: This article is for information purposes only. There are risks involved with investing including loss of principal. Gerring Capital Partners makes no explicit or implicit guarantee with respect to performance or the outcome of any investment or projections made. There is no guarantee that the goals of the strategies discussed by Gerring Capital Partners will be met.
Disclosure: I am long XOM. I wrote this article myself, and it expresses my own opinions. I am not receiving compensation for it (other than from Seeking Alpha). I have no business relationship with any company whose stock is mentioned in this article.