Bank of America (NYSE:BAC) has clawed its way back. Bank of America's stock recently marked a new 52-week High at $18.03 driven by ongoing positive sentiment toward the deposit-strong banking franchise. I have previously written about five key themes that I deemed to be instrumental in driving Bank of America's share price in the future. Those five key themes were:
Sentiment change.
Reduced litigation risk.
Improving asset quality.
CRES turnaround.
Dividend hike.
In addition to those key themes, two additional developments could have a substantial impact on Bank of America's earnings potential and shareholder remuneration policy: Stress test results and increasing interest rates.
Stress test results leading to higher shareholder remuneration?
Positive news came from the stress test front last week. All but one bank passed this year's 'severely adverse' stress test scenario. 29 out of 30 bank holding companies passed with only Zion Bancorporation (NASDAQ:ZION) failing the capitalization requirements.
Banks had to show that they could maintain at least a 5% Tier 1 common equity ratio in the severely adverse scenario.
Even though Bank of America wasn't among the best performers in the stress test -- it achieved a minimum Tier 1 common ratio of 5.9% after the Federal Reserve updated its stress test results on March 21, 2014 -- the important thing is, that the bank has passed the test. Passing the stress test is the first hurdle in getting regulatory approval for shareholder remuneration plans that include higher dividend payments and share repurchases (results expected next week).
(Source: Dodd-Frank Act Stress Test 2014: Supervisory Stress Test Methodology and Results)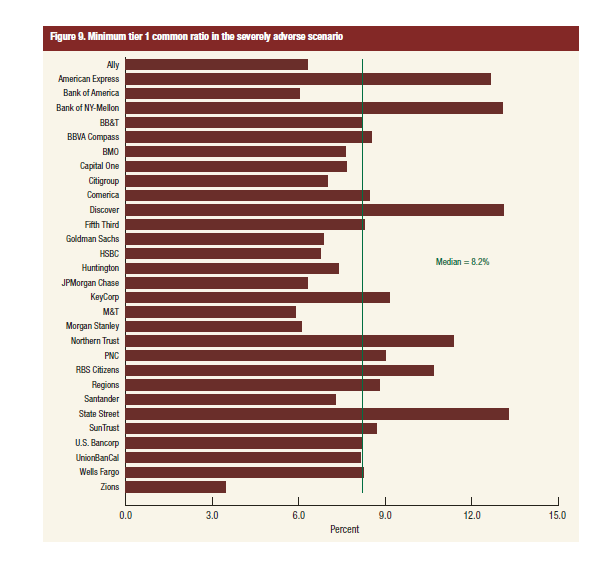 Bank of America and Citigroup (NYSE:C) currently pay investors only a symbolic dividend of $0.01. Investors can be sure that it is on management's mind to push for higher dividend payments to shareholders as quickly as possible.
Interest rate environment and cyclical upswing
Banks are in a funny business. If things are bad, they get bailed out, the Federal Reserve adopts a hugely accommodative monetary policy with almost zero interest rates, and banks make a decent spread as a result. If things are good and interest rates rise (which usually happens when the economy does well, unemployment decreases, the output gap closes and inflationary pressures increase), banks are leveraged cyclical bets on further economic expansion and gain once again.
In any case, I think investors can be quite sure that interest rates across the rate spectrum are set to increase. With rising interest rates (and higher loan- and mortgage demand), big banks like Bank of America should experience substantial boosts to their bottom line. I am especially optimistic with respect to Bank of America's Consumer Real Estate Services unit (CRES) which should be the primary beneficiary of a cyclical economic upswing in the United States.
As Bloomberg reported on March 21, 2014:
Yellen, speaking after chairing a Federal Open Market Committee meeting for the first time, said policy makers have stopped linking the interest-rate policy to an employment threshold. Even so, pressed to define how long rates will remain low after quantitative easing ends, she said the term would be "on the order of around six months."

Quarterly Fed forecasts also showed more officials predicting that the benchmark rate, now close to zero, will rise to at least 1 percent at the end of 2015 and 2.25 percent a year later. The central bank said it would trim its monthly bond purchases by $10 billion to $55 billion.
I expect further reductions in monthly bond purchases in 2014, possibly in $10 billion increments. In any case, a more restrictive monetary policy will lead to increasing interest rates which is a good thing for bank holding companies.
Bank of America is still cheap
Not too long ago I have argued that Bank of America is still a great bargain -- Bank of America was trading at $16.72 at the time -- as evidenced by its sizable discount from book value. I wrote:
BofA trades at only ten times forward earnings and at a P/B ratio of 0.81. Stocks of financial institutions have historically traded at a premium to book value especially in phases of exuberance. BofA reported a total book value per common share of $20.71 for the fourth quarter 2013 which represents a sizable discount to book value of 19%. Despite the increase in share price over much of 2013, investors are still not overpaying for shares of BofA.
Fast forward one month and not much as changed in terms of valuation. Bank of America still trades at a relatively low forward earnings multiple of 10.8x and now exhibits a 15% discount from its reported fourth quarter 2013 book value per share of $20.71.
(Source: Yahoo Finance)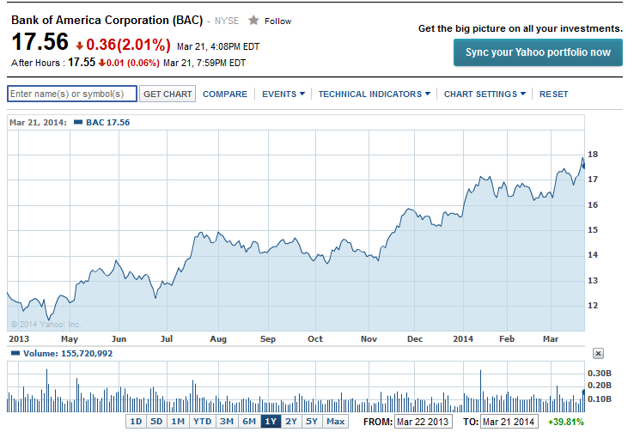 Conclusion
I think Bank of America is on a good way to rectify its inferior shareholder remuneration policy. Higher dividend payments and share repurchases, if approved, could be strong catalysts for the stock. In addition, rising interest rates, and with it higher investment-, loan- and mortgage demand, should set the stage for a new bull phase in banking stocks. Given the persistent discount to book value, Bank of America remains a promising BUY considering the myriad of catalysts the bank is exposed to. I am also reiterating my $25 price target for Bank of America in 2014. Strong, long-term BUY.
Disclosure: I am long BAC, C. I wrote this article myself, and it expresses my own opinions. I am not receiving compensation for it (other than from Seeking Alpha). I have no business relationship with any company whose stock is mentioned in this article.