Visa (NYSE:V) stock is a company that always seems to be perpetually overvalued, with the stock price almost never allowing investors an opportunity to establish an ownership position (especially if you see wisdom in Benjamin Graham's counsel to never pay more than 20x current profits for a stock, based on the logic that relying on a high earnings per share growth to find success is an inherently risky endeavor).
Of course, people who have disregarded Graham's advice and purchased Visa's IPO in 2008 at over 30x profits have done quite well since then, compounding their wealth at an annual rate of 24.7% since then (while the S&P 500 has returned 7.7% over that same time frame).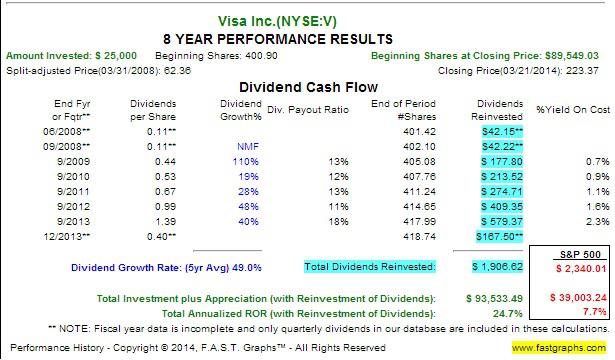 With a business model like Visa, the wisdom of Charlie Munger seems more appropriate:
"Over the long term, it's hard for a stock to earn a much better return than the business which underlies it earns. If the business earns 6% on capital over 40 years and you hold it for that 40 years, you're not going to make much different than a 6% return-even if you originally buy it at a huge discount. Conversely, if a business earns 18% on capital over 20 or 30 years, even if you pay an expensive looking price, you'll end up with a fine result.

So the trick is getting into better businesses. And that involves all of these advantages of scale that you could consider momentum effects."
With the case of Visa, it seems self-defeating to quibble over valuation concerns when you've selected one of the few megacap companies that is still growing at a 15-20% rate.
It can be tempting to be worried about Visa's stock price because it seems so reasonable to be wary about buying a company whose stock price has appreciated 40% in the past year with a current valuation approaching 30x earnings (the current stock price is now 29.3x the $7.59 that Visa made in normalized profits over the course of 2013).
There are four reasons why Visa's current valuation may still lead to annual returns in the 13-15% range going forward: the company's balance sheet, ability to grow profits in resistant times, ability to perform excellently in high growth or even inflationary times, and unparalleled scalability of its core business model.
Let's take these elements one by one.
First, Visa has one of the cleanest balance sheets of any company that I've ever studied in my life. Its internal balance sheet seems to be an "ideal company" example from David Dodd and Benjamin Graham's Security Analysis come to life; it's rare to see such unblemished finances out in the wild. Visa has no debt on its corporate balance sheet. It has no defined pension plan that it needs to fund. It issues no preferred stock. And it actually funds its buyback program directly out of profits, reducing its share count from 836 million in 2010 to 644 million at the end of 2014. Visa's profits are so much purer than that at other companies simply because the company refuses to chain itself to ongoing capital commitments that would lay claim to its profits years from now.
Secondly, the company passes the test of performing resiliently during severe recessionary times. Visa is a financial company, and despite the worst financial crisis that the United States has experienced since the Great Depression, the company still managed to grow its profits from $2.25 in 2008 to $2.92 in 2009 to $3.91 in 2010. While other companies were struggling to survive, Visa was prospering with growth that almost doubled profits in a three-year stretch.
Regarding Visa's performance in good times, the company's strength is that it operates on the gross dollar volume business model. In other words, when the number of dollars processed through the Visa system increases, so does Visa's profits automatically. If this is due to high growth, great, Visa collects more fees. And even if this is due to inflation, Visa will automatically adjust because the higher nominal dollar transactions will result in higher fees as well. This "heads I win, tails I win" structure is why Visa continues to maintain such a high growth rate despite its $140 billion size.
And lastly, there is Visa's unparalleled scalability with its business model. Visa is now approaching the point where it will process over $2 trillion per year in constant dollar payments. In the United States, its volume growth is just a shade under 10%. When you look at Visa's volume growth in Eastern and Central Europe, you will see a figure that is approaching 30% annually. As digital processing becomes increasingly mainstream throughout Asia, Eastern Europe, and Central Europe, you should expect growth in these areas to do most of the heavy lifting for Visa as they are set to maintain annual growth rates north of 20%.
As a bonus, there is Visa's dividend. It's easy to ignore in entirety; after all, when a company is growing at 15-20% with commensurate capital gains, the dividend yield of 0.72% isn't exactly what is most exciting. But it is the dark horse of Visa's shareholder returns: the dividend almost quadrupled between 2009 and 2013, and the payout ratio is still less than 20% of the company's profits. If Visa continues to grow in the neighborhood of 15% per year and plans to steadily increase its payout ratio over time as it becomes a more mature company, the yield-on-cost that investors receive on their Visa shares could easily exceed 10% a decade from now, likely built on an enormous capital gain to boot.
Strict value investors probably won't be interested in paying 30x earnings for Visa stock. That's fair enough-the price of Visa's stock doesn't offer a margin of safety. However, the business model (and not the price) does come with a margin of safety that growth investors might find compelling. After all, Visa traded at 30x earnings six years ago, and that didn't stop the company from posting 24% annual returns. Its operating margin is over 60%, its net profit margin is approaching 50%, it possesses no debt or preferred stock or pension obligations on its balance sheet, and the gross dollar volume nature of its business model allows the company to automatically participate in global growth by receiving increased fees for higher transactions. And, for heaven's sake, it's still growing at 30% annually throughout Europe everywhere except the westernmost industrialized nations. Sustainable high growth rates can overcome a lot of problems, including valuations approaching 30x profits. The company was in the same situation in 2008, and the story hasn't changed substantially since then to think that Visa can't deliver excellent returns over the next six years as well.
Disclosure: I have no positions in any stocks mentioned, and no plans to initiate any positions within the next 72 hours. I wrote this article myself, and it expresses my own opinions. I am not receiving compensation for it (other than from Seeking Alpha). I have no business relationship with any company whose stock is mentioned in this article.