Verizon (NYSE:VZ) is best positioned in the Telecom Sector given that it is leading the wireless segment with its best in class 4G LTE services and broad spectrum. In 2013, the company witnessed EBITDA margin expansion of 260bps year-on-year, with effective cost control measures such as its device payment plan. Also, VZ's postpaid subscriber base remains the strongest amongst its peers. Moreover, repurchasing its 45% stake from Vodafone (NASDAQ:VOD) will improve its bottom line results, which will include the generation of more revenues and strengthening of the cash flow base in future. Furthermore, the company offers a stable dividend yield of 4.60%. Based on my price target of $54 (calculations shown below), the stock offers a potential price appreciation of 15%.
Price-Based Competition Well Served by VZ
VZ stands strong amongst its peers despite the intense competition in the Telecom Sector. The company has effectively addressed the price war in the recent past. In response to aggressive price cuts by peers, it has recently reduced the prices of some of its data plans by as much as 12.5%. Also, the company has a solid subscriber base, which continues to become stronger, as compared to its peers. The solid subscriber base allows the company to better leverage its fixed costs, and portends well for the stock price. The company, in recent quarters, has outperformed its peers in terms of gross postpaid additions. The following table shows the leading share of gross postpaid subscriber additions in 2013 for VZ in contrast to its peers.
| | | | | |
| --- | --- | --- | --- | --- |
| VZ | 42% | 38% | 39% | 39% |
| AT&T (NYSE:T) | 2% | 29% | 28% | 26% |
| T-Mobile (NASDAQ:TMUS) | 11% | 18% | 18% | 18% |
| Sprint (NYSE:S) | 17% | 15% | 15% | 17% |
Other than healthy gross postpaid additions, net postpaid additions for the company have been displaying a healthy trend, which will positively affect its future performance. VZ is also experiencing a healthy and stable churn rate in recent quarters. I believe the company will continue to maintain its strong position in the industry as its subscriber base and churn rate are showing an improving trend. The following graph shows net postpaid subscriber additions in the four quarters of 2013.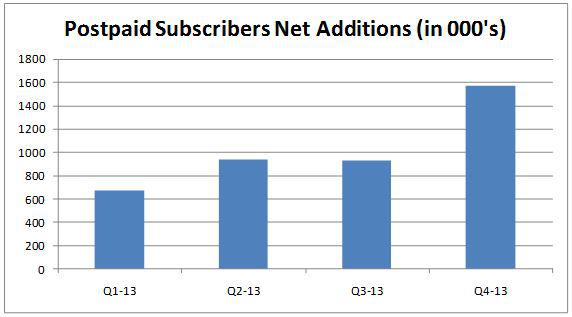 Source: Company's Quarterly Earnings Report
The following chart shows the churn rate for VZ.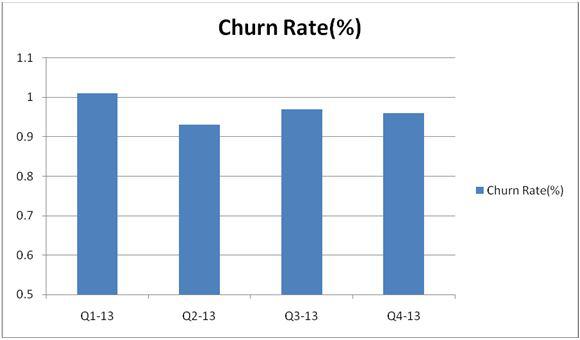 Source: Company's Quarterly Earnings Report
Top in LTE Game
VZ has the largest LTE network in the U.S. The company's primary focus, in the recent past, has remained its wireless operations, which have attractive margins and provide earnings growth. The company has maintained a balanced approach to improving and expanding 4G LTE services, which remain a key reason for its dominance in the wireless segment. I believe the company's best in class 4G LTE network will portend well for its wireless revenues growth and future stock price. VZ's strong network helped the company experience a 1.25% year-on-year increase in postpaid ARPU in 2013. AT&T and VZ have long been in a 4G LTE war, but VZ continues to outperform T in wireless revenue increases in recent quarters, as shown in the chart below. Solid wireless revenue growth for VZ will fuel its top and bottom line growths in the future.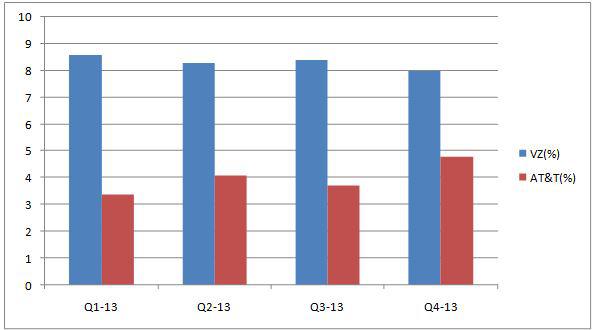 Source: Quarterly Earnings Report of VZ and T
Effective Cost Cut policies-Improving Margins
VZ has successfully maintained high margins through effective cost control policies. The company has reduced its expenses by almost $7 billion by the end of 2013, and is targeting more cost savings in the near future. Cost savings guidance for 2014 is expected to be disclosed during the 1Q2014 result in April next month. The company experienced EBITDA margin expansion of approximately 260bps year-on-year to 35% in 2013. VZ stands at a strong position in terms of its core profitability with its EBITDA margins higher than T, TMUS and S. Continuous EBITDA margin expansion for VZ will support its cash flows and fuel earnings growth.
The following table shows EBITDA margins comparison between VZ, T, S and TMUS.
*(EBIDTA margin is based on full year, 2013, numbers)
| | |
| --- | --- |
| VZ | 35% |
| T | 32% |
| S | 16% |
| TMUS | 22% |
Source: Companies Report and Calculations
As part of its program to strengthen revenues, VZ has recently introduced a device payment plan. It has attracted customers with this program, giving flexibility of paying for devices over a period of 2 years. The program helped the company lower subsidy payments, which will strengthen the company's margins. I believe the program will result in higher smartphone usage, which will result in high ARPU and total revenue growth in the near future.
The company's recent initiative to regain the remaining 45% stake of its wireless operations from VOD for $130 billion will portend well for the company's consolidated results in the future. Now VZ will be able to make all strategic moves in wireless segment independently.
High Debt to Equity Backed by Strong Cash Flows
The company has a high leveraged balance sheet, with a debt-to-equity of 2.15x, which remains a concern for investors; however, I believe the approaching debt maturities will lower its debt-to-equity. Also, the company is targeting to de-lever its balance sheet and regain its A- credit rating in the near future. Moody's downgraded VZ credit rating by one notch to BBB+ from A-. The company's strong cash flows support its near term debt repayments.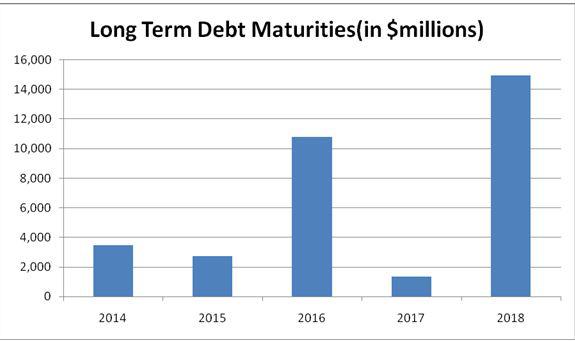 Source: Form 10-K
Price Target
I have calculated a price target of $54. For my price target calculation, I have used estimated cash flows from 2015 to 2017, debt-to-equity 30%, cost of equity 7.67%, after tax cost of debt 3.67%, WACC 6.5% and terminal growth rate of 0.5%. Based on my price target of $54, the stock offers a potential stock price appreciation of 16%.
| | | | | |
| --- | --- | --- | --- | --- |
| | 2015 | 2016 | 2017 | Terminal value |
| Estimated FCF ($-Millions) | 18,757 | 19,126 | 19,361 | 324,297 |
| Present Value of FCF ($-Millions) | 17,594 | 16,869 | 16,012 | 268,469 |
Source: Equity Watch estimates and calculations
*(all calculations in $-millions)
Total value of firm = 17,594 + 16,869 + 16,012 + 268,469
= 318,944
Market Value of Debt = 93,601
Number of shares outstanding = 4,140
Market Value of Equity = 318,944 - 93,601
=225,343
Price Target= Market Value of Equity/ Number of Shares Outstanding
=225,343/4140
=$54
Conclusion
I am bullish on VZ. My bullish stance on VZ is supported by its strong fundamentals. The company, with a strong subscriber base, is well positioned amongst its peers to benefit from future growth opportunities. The company has been taking the correct steps to further improve its margins, which will fuel its bottom line growth. Also, the company offers a stable dividend yield of 4.6%. Its high debt-to-equity remains a concern, however, I believe the company has solid cash flows to support its debt repayment and strengthen its credit outlook.
Disclosure: I have no positions in any stocks mentioned, and no plans to initiate any positions within the next 72 hours. I wrote this article myself, and it expresses my own opinions. I am not receiving compensation for it (other than from Seeking Alpha). I have no business relationship with any company whose stock is mentioned in this article.