Devon Energy (NYSE:DVN) just doesn't really seem to get the attention (and valuation) it deserves. The independent oil- and gas company has an attractive exploration footprint with core operations in the most promising shale regions in the United States: The Anadarko Basin, the Permian Basin, Eagle Ford and the Barnett Shale. In addition, Devon Energy also has development assets in the Rockies and the Mississippian-Woodford region which could be good for positive surprises in the coming years.
Devon Energy has transformed itself into a concentrated shale player with proven reserves of 2.6 billion BOE and strong oil production growth prospects (see chart below):
(Source: Devon Energy Investor Meeting March 2014)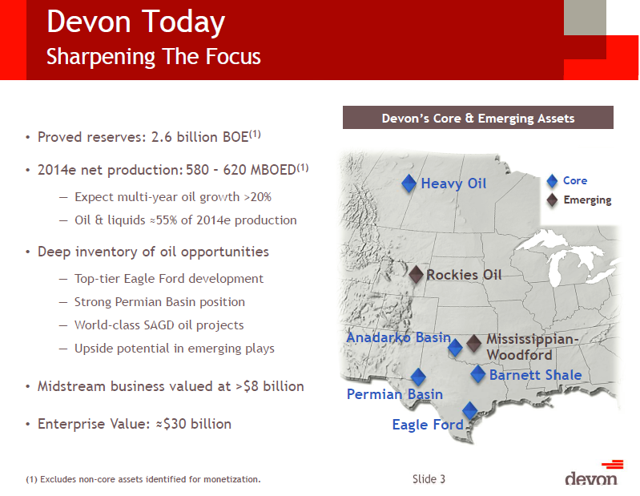 Share performance
Devon Energy's share price sits just below its 52-week High of $66.92 waiting for impulses to break higher. The company presented some good news recently (Completion of the Eagle Ford asset acquisition, the creation of EnLink Midstream Partners, L.P. (NYSE:ENLK) which consolidates its US midstream assets with the assets of Crosstex Energy), but the market doesn't seem to reward Devon Energy for its strategic moves just yet.
(Source: Yahoo Finance)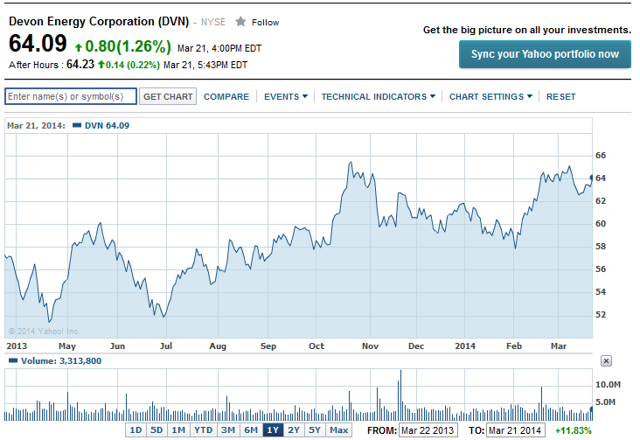 Compared to other large-cap oil- and gas exploration companies, Devon Energy has not performed that well over a five-year performance measurement period. Marathon Oil (NYSE:MRO) gained 111%, Anadarko Petroleum (NYSE:APC) 104%, Occidental Petroleum (NYSE:OXY) 62% and Devon Energy 40%. Only Chesapeake Energy (NYSE:CHK) performed worse with a five-year return of 35%.
(Source: Yahoo Finance)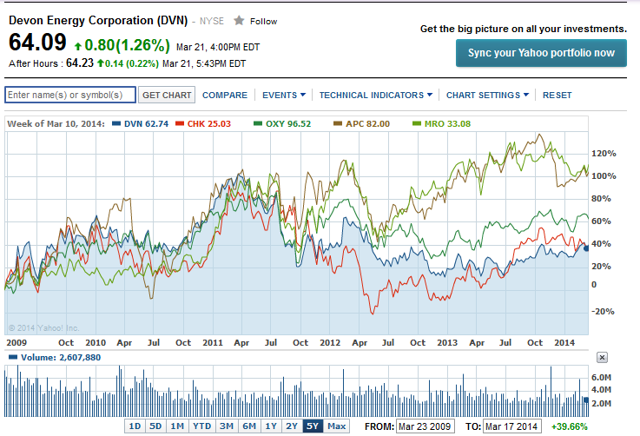 Market valuation
Select exploration companies can still be bought at reasonable valuations. While some exploration firms have run ahead of themselves in terms of valuation (for instance, Anadarko Petroleum), Devon Energy only commands a forward earnings multiple of 10.09 -- the lowest in the peer group -- which translates into an earnings yield of 9.9%: Not too bad considering the outsized production growth prospects coming from a concentrated shale oil- and gas asset portfolio.
With a peer group average P/E ratio of 12.44, Devon Energy trades at a 19% discount to other large-cap oil- and gas companies with significant shale exposure.
(Source: Achilles Research, Finviz.com)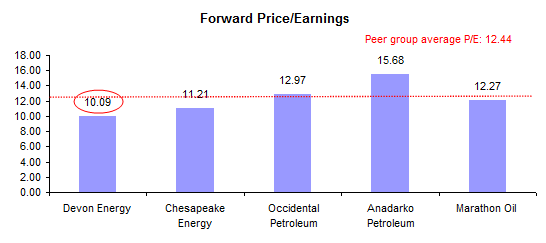 On March 5, 2014 Devon Energy announced a 9% increase in its quarterly dividend: The company now pays investors a quarterly dividend of $0.24 per share which translates into annual payments of $0.96 per share (annualized forward dividend yield of 1.5%).
The dividend itself is, however, not the main reason to purchase the oil- and gas company. Devon Energy's oil production- and cash flow growth from its core- and development assets should translate into higher equity valuations and capital gains for investors.
(Source: Achilles Research, Finviz.com)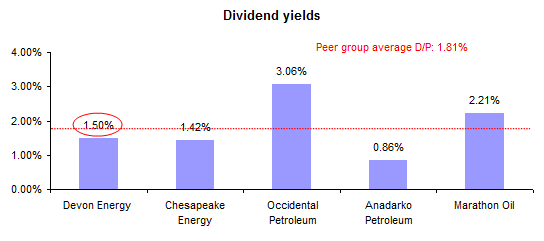 A summary table containing P/E-, PEG- and D/P ratios as well as Devon Energy's discounts to the respective peer group averages is presented below:
(Source: Achilles Research, Finviz.com)

Conclusion
Devon Energy has taken bold strategic action in order to deliver future production growth. The acquisition of Eagle Ford assets (82,000 net acres located in DeWitt and Lavaca counties in Texas) from GeoSouthern Energy has led to a promising portfolio upgrade. According to company information, 'this world-class light-oil position is delivering outstanding well results offering some of the highest rate-of-return drilling opportunities in North America'. In addition, the creation of a consolidated midstream company offers diversification, scale advantages and higher market visibility.
With a strong asset platform, positive news flow and a low valuation, Devon Energy is an attractive investment for investors who want to gain exposure to the shale oil- and gas exploration boom in North America and for investors who are capital gains-focused. Strong, long-term BUY.
Disclosure: I am long DVN, CHK. I wrote this article myself, and it expresses my own opinions. I am not receiving compensation for it (other than from Seeking Alpha). I have no business relationship with any company whose stock is mentioned in this article.