The S&P 500 is currently up 0.4% since 1:59 PM ET on Wednesday just before the 2 PM Fed statement was released. Below is a look at how the S&P 500's industry groups have performed over the same time period.
As shown, the Banks and Diversified Financials have been clear winners since the Fed statement. Interest rates spiked post-Fed, especially on shorter-duration Treasuries. The Financials stand to benefit from these higher borrowing costs, and investors have reacted accordingly by flooding into the group. Another area that has done well post-Fed is the Semiconductors. As shown, this group has rallied 2.2% since 2 PM on Wednesday. Not sure why, but they have!
On the downside, the Drugs and Biotech group that had been doing so well in early 2014 has gotten hit hard post Fed. The group is down 1.9% over this time period, which is the worst of any group. Consumer Durables & Apparel, Software & Services, Health Care Equipment and Services, Real Estate, Transportation, Retailing and Media are all in the red post Fed as well.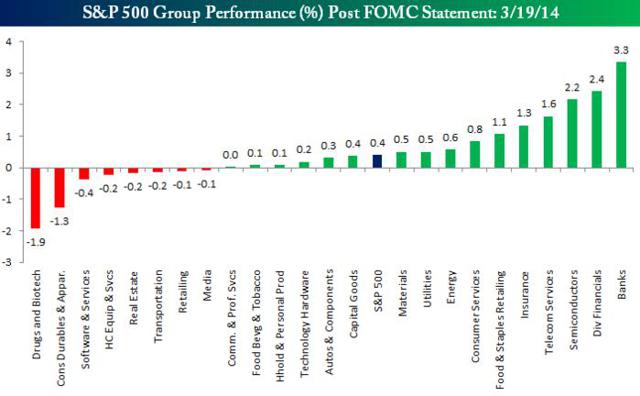 Click to enlarge