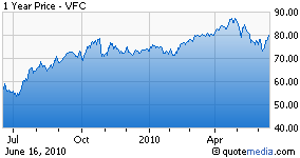 VF Corp (NYSE:VFC) Executive Summary:
$8.6 billion apparel company with diverse product lines and below average risk

3.1% yield, strong payout history, low payout ratio

Excellent management and robust balance sheet
1-year target: $87.40; 3-year target: $105.20
Underperforming industry and S&P YTD
The return of volatility to the markets has strengthened by desire to find an attractively valued dividend stock with the opportunity for growth. I utilized a screen focused on market capitalization, beta, return on equity, P/E, dividend yield, and relative performance. The result is a hidden gem that presents the opportunity for both growth and stable dividend returns.
VF Corp is a self-described "$7 billion-plus apparel powerhouse, with an incredibly diverse, international portfolio of brands and products that reach consumers wherever they choose to shop." An apparel company is only as strong as its brands and V.F. has a robust collection that includes Lee, Majestic, Nautica, Wrangler, and The North Face.
As an apparel company VFC is a cyclical company, which means that it is dependent on the business cycle and whether or not consumers have discretionary income. Now you might be thinking that this is precisely not the type of stock to invest in right now, but VFC is not critically dependent on high-end merchandise. As mentioned previously, VFC specializes in a diverse group of products. For example, Wranger jeans can be purchased for under $10. Lee and Nautica also have price points in the $20 and $30 ranges, respectively. So not only is VFC well positioned to weather the tumultuous economy, its higher-end brands such as North Face will supercharge its profitability when the economy eventually recovers. This is precisely the type of strategy that helped other cyclical companies such as Tiffany (NYSE:TIF) rebound.
When analyzing a company, I typically inspect approximately fifteen key metrics. Since VFC also pays a dividend, I expand the criterion to around twenty. At first this list may appear to be overwhelming but virtually all of the metrics can be researched online or easily calculated from the financial statements.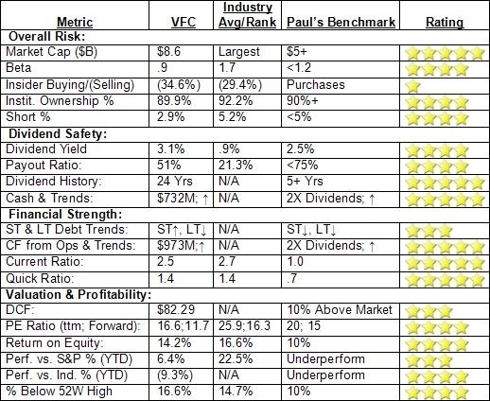 (Click to enlarge)
All data comes from various ratios or combinations/averages of ratios from Yahoo! Finance, Motley Fool, or TDAmeritrade. Most industry averages were based on the five largest industry participants (VFC, Polo Ralph Lauren (NYSE:RL), Gildan Activewear (NYSE:GIL), Lululemon Athletica (NASDAQ:LULU) and Phillips-Van Heusen (NYSE:PVH)) which have market caps ranging from $8.6 billion to $2.7 billion.
Overall Risk Level
Market Cap/Relative Size:
I prefer to invest in companies with market capitalizations greater than $5 billion because there is an abundance of information available about these larger firms. Potential returns tend to be greater for smaller firms because there are fewer analysts following those companies. VFC is the largest company in the apparel industry with a market cap of $8.2 billion.
This measures the company's volatility in relation to the market. For example, if beta equals 1.0, the firm will track the market's performance (commonly the S&P 500). For this reason, I prefer companies with lower betas (<1.0) because they are less volatile than the overall market. Since this is a cyclical industry, it is unsurprising that the industry beta is 1.7; however, VFC is substantially lower at 0.9. This can be attributed to the diverse brands of the company.
Insider Ownership and Transaction Trends:
There is one primary reason why insiders buy shares – they believe that the stock price will increase. On the other hand, there are many reasons why insiders may sell such as a personal need for cash, exercising options, or personal diversification. For this reason, I consider insider buying a strong signal but I do not put much faith into insider sales.
Institutional Ownership Percentage:
Studies have indicated that there is a direct relationship between institutional ownership and stock price so this is a critical factor. If a company does not have greater than 90% institutional ownership, I am very hesitant to own it. Financial institutions have tremendous talent and resources unavailable to the average investor so I relish the opportunity to piggyback on the work of other intelligent investors.
The number of shares sold short (fundamentally borrowing shares of a company, selling them, and hoping that the stock declines before returning the shares) divided by total shares outstanding. The potential loses from shorting are unlimited so if there are a large number of investors selling short, this is a potent red flag that the stock may be heading for a tumble. Additionally, there is also a hidden advantage to a stock with a high short percentage: if there is unexpected good news, a short-squeeze can really make the stock skyrocket.
Dividend Safety
The dividend payout on a per share basis is obviously a major factor in deciding to invest in a company. Unless a company is in its high-growth phase, I expect at least a modest dividend. Typically a yield of two to six percent is acceptable depending on the industry. Once the yield begins to creep above six percent, the sustainability of the yield usually starts to come into question, depending on the industry. Not only is VFC's dividend greater than three percent, but it is over two percent greater than the industry average.
To gauge the sustainability of the dividend, an invaluable ratio is the payout ratio which compares earnings per share to dividend per share. Naturally, the lower the payout ratio, the better as it indicates that the company can afford to payout dividends just from current earnings without having to utilize retained earnings or raise additional funds. A rule-of-thumb for a sustainable payout ratio is less than 75%.
The duration of time that a company has continuously paid its dividend reveals three things: (1) Strong management with the ability to forecast well; (2) Organizational commitment to shareholders; and (3) Sustainable business model. It is often difficult to gather information with which to evaluate management but dividend history is an excellent proxy. If you are investing in the company primarily for its dividend, this is a vital characteristic. Almost a quarter-century of dividend payments is hard to argue against. Additionally, VFC has raised the dividend virtually every year over that time period. A bonus that solidifies my confidence in management is the fact that the CEO and CFO have been with the company for 15 and 24 years, respectively.
Everyone knows that cash is king! Pretty self-explanatory here: another indicator of a safe dividend is when a company has twice as much cash as it paid out in dividends. VFC fits the bill.
Financial Strength
Short-Term and Long-Term Debt Trends:
Debt in the capital structure of a company can have significant benefits due primarily to the tax deductibility of interest payments. While the cost of debt is lower than the cost of equity financing, just like eating ice cream, there can be too much of a good thing. As the level of debt rises, the interest payments can become prohibitive and force a short-term orientation that is fixated on satisfying bondholders rather than shareholders. For this reason, relatively low levels of debt are ideal. The absolute levels of short-term and long-term debt only tell part of the story: the trends over time should also be considered.
Cash Flow From Operations:
Did I mention that cash is king? If I could only look at one characteristic when making an investment decision, this would be it. It will be a very rare situation when I invest in a company with negative cash flows from operations.
These next two metrics focus on a company's liquidity and ability to pay obligations as they come due. The current ratio is measured as current assets divided by current liabilities; therefore, a ratio of at least 1.0 indicates short-term strength. With that in mind, VFC's current ratio of 2.5 is extremely strong.
The quick ratio is a variation of the current ratio with inventory and prepaid expenses excluded from current assets. This is an important ratio for companies that rely heavily on inventory. If there is a cash crunch the current ratio can be misleading because a company may not be able to easily sell its inventory at regular prices. Again, VFC has an excellent quick ratio of 1.4, further confirming that VFC is liquid and well managed.
Valuation and Profitability
Utilizing the average growth rates for the three and five year periods, I conducted a DCF analysis assuming a 10% discount rate. This benchmark may be high in light of the current environment and VFC's strong financial position but again, I prefer to strengthen the margin of safety. With an average forecasted five-year growth rate of 9.4% and 2% terminal growth rate, I arrived at a valuation of $82.29.
An alternative way to value a company is to use the price-to-earnings ratio. This is where VFC really shines: it trades at a significant discount. If VFC were to trade at the industry average of multiple of 25.9 then it would be $123 per share. Obviously that seems high considering the DCF valuation. To get a more accurate picture, I expanded the universe of stocks to the twenty leaders and laggers in the industry: the result was a PE of 18.4. Applying the 18.4 multiple yields a much more reasonable $87.40. I believe that this is a realistic one-year target. My three year target is the average of the two PE valuations ($123 and $87.40), $105.20.
VFC's current PE is equal to the industry average's future PE. Again, this is a very strong sign that VFC is undervalued relative to the industry.
A measurement of earnings as a percent of shareholders equity indicates the profit potential of the company. The DuPont decomposition of RoE explains why it is so valuable: one simple ratio incorporates profitability, asset management, and corporate management. Managers can utilize different strategies to achieve RoE which causes the ratio to be extremely useful for industry comparisons. VFC lags the industry slightly but still has a healthy 14.2%.
Performance vs. S&P 500 vs. Industry (YTD)/Price in Relation to 52-Week High and Low:
I like to follow the axiom of buying low and selling high so I am very hesitant to buy near a 52-week high unless there is great news. Obviously you need to be careful here as well because you do not want to invest in a company that is lagging too much because there is usually a reason for it. VFC has appreciated almost twenty percent less than the S&P 500 in 2010 and is fifteen percent below its 52-week high. Those discounts are modest enough that I am not worried about a veiled reason for the poor short-term relative performance.
There have been numerous upgrades and positive analyst reports since VFC's last exceptional quarter:
In closing, VF Corp presents a rare opportunity in the market: solid fundamentals, attractive valuation, and above average dividend yield. I believe that there is a great opportunity present for long-term investors. I recently purchased shares over the past two weeks and I hope that we can all share in some profits.
Disclosure: Author long TIF and VFC