As the country's largest auto-parts retailer, AutoZone (AZO) remains one of the market's most solid performers to date. The company has consistently been able to grow its market value and increase its earnings as it expands its store numbers. Over a 24-week period ending on February 15, the company added 35 new stores. Over the last 5 years, the company's share price has increased 235.9% % as shown in the graph below.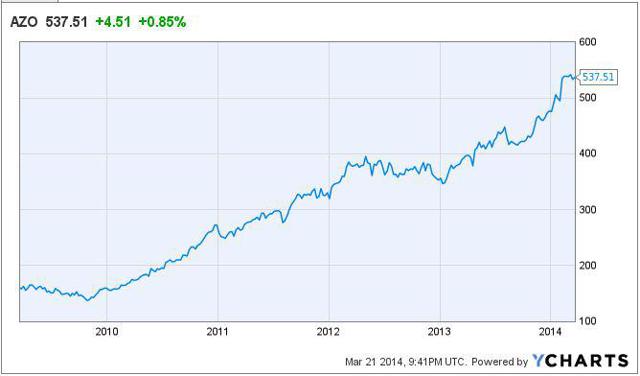 However, despite this proven track record, investors might want to still be cautious about this company looking forward. While business continues as usual, AutoZone appears susceptible for several reasons. The following are 4 reasons why investors might want to avoid AutoZone.
The company has severely deteriorated its balance sheet. As of Q2 2014, AutoZone carries total assets of $7.25 billion along with total liabilities of $8.70 billion. Combined, this equates to a shareholder deficit of $1.71 billion. This deficit has continued to grow. For year-end 2011, 2012, and 2013, the shareholder deficits were $1.56 billion, $1.85 billion, and $2.06 billion respectively.
The company has propped up its stock price with share buybacks. Companies typically buy shares when they are unfairly valued by the market. Yet for AutoZone, management has consistently bought back shares at market highs in an apparent effort to lift the company stock price even higher. As of the end of Q2 2014, the company still has an authorized buyback of $727 million despite facing new 52-week highs. This wouldn't be an issue if shareholder equity was improving as well, but this doesn't appear to be the case.
The company faces stiff market trends. Car reliability has been improving and the trend has been pushing the average age of vehicles higher. As of 2013, the average age of U.S. light vehicles has reached 11.4 years in comparison to the less than 8.5 years in 1995. More durable vehicles and car parts equate to less visits to the repair shop or direct retail sales. Likewise, according to the Wall Street Journal in the article found here, the do-it-yourself car repair market has only experienced a mere 2.8% compound annual growth rate over the past decade. Additionally, the rate in which people buy components that are professionally installed has grown at an even slower rate of only 2.1%.
The company's valuation continues to be extended on the basis of debt increases. AutoZone's price-to-free-cash-flow ratio has increased to 20.26 from under 11.00 back in 2010. Over the same time period, the company has added over $2.9 billion of debt, of which much has gone into share buybacks at increasing market prices. While much of the company's free cash has been going into the store expansions, the increasing shareholder deficit continues to stretch further away from the company's growing market capitalization.
AutoZone now trades with a $17.91 billion market capitalization based on the last price of $536.86 on March 21. The company trades with a trailing price-to-earnings ratio of 18.03 and a price-to-sales ratio of 1.89. AutoZone carries a negative book value of $51.28 per share. The retailer carries a current ratio of 0.80 and total current liabilities of $4.39 billion as of Q2 2014.
Final Thoughts
There is little doubt that AutoZone's upward share price momentum can continue as it historically has over the past few years. The company's cash flow has thus far been able to support numerous store expansions. Even over the 12-week period ending on February 15, the company opened 28 more stores, ending the number of domestic stores to 4,871. By leveraging its balance sheet in order to lift its share price higher, investors continue to benefit from management's direction in the present.
Nevertheless, AutoZone continues to sow weakness into its balance sheet on the prospect of that continued growth. However, the company's market is growing very slowly. The extended market rally since the end of the Great Recession has thus far allowed investors to overlook this deterioration. But it remains to be seen if the upward share price trend can continue should the company's cash flow be disrupted. Accounting for perfection is never a good risk to take.
Disclosure: I have no positions in any stocks mentioned, and no plans to initiate any positions within the next 72 hours. I wrote this article myself, and it expresses my own opinions. I am not receiving compensation for it (other than from Seeking Alpha). I have no business relationship with any company whose stock is mentioned in this article.