The market is trekking higher, it seems that there is no stopping this run. As the indices head higher, select companies are outperforming the general market trends. Three companies which I expect may have gotten ahead of themselves are E*Trade Financial Corporation (NASDAQ:ETFC), WebMD Health Corporation (NASDAQ:WBMD) and Medidata Solutions, Inc.(NASDAQ:MDSO).
E*Trade has had an incredible run, up 137% over the past 52 weeks - a large market cap increase now standing at $7.3B. On the cover, a trailing P/E of 87x is extreme, coupled with a P/S ratio of 4.84x. E*Trade does have a healthy amount of cash per share at $12.35, although this is buried when showing the company's debt/equity ratio of 182x. Return on assets and equity have been minimal as well over the past twelve months, at 0.18% and 1.76% each, respectively. More worrisome is the large amount of insider and institutional selling taking place. Insiders have sold 96.5% of their shares over the last six months while institutions have sold 9.23% of their holdings over the past quarter. E*Trade's run has been attributed to its positive 4Q results released, a positive EPS of $0.20 compared to a $0.65 loss a year ago, higher daily average revenue trades of 160,000 for the quarter - the highest in two years, and 22k new brokerage accounts added.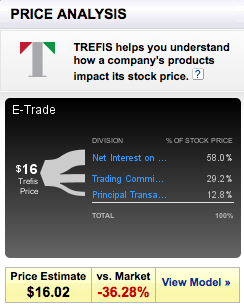 Per E*Trade, Trefis has a negative stance on shares of the company, expecting downside from current levels.
The news is positive, although more than a double in shares may be a stretch. E*Trade's customer security holdings were up 5.7% at the end of January, cash deposits were held still from the prior month and brokerage related cash increased $1.3B to $40.2B. E*Trade has had a huge run, it may be time for a slight pullback in the enthusiasm.

E*Trade's run has taken place while the company's revenue, net income, cash and short-term investments and free cash flow all on a quarterly basis has remained in the same area over the past 5 years.
WebMd may also be a fundamental question mark after an over 70% gain over the past 52 weeks. With a 134x P/E and an P/B of 8.45x, the company is not exactly fairly valued. Packing a near 500x debt to equity ratio and a 22.60% shot % of float, WebMD is not a breath of fresh air. Insider selling is skewed by awards of options that have been taking place over the past year, per E*Trade's data. Although WebMd's CEO sold over $1.6M worth of shares in t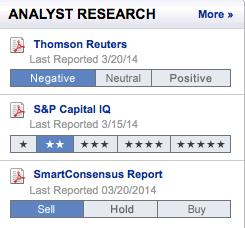 he last week of February alone. Uncle Carl Icahn also shed over 5.5M shares in mid-October after a beneficial owner in the company shed over 570k shares in mid-September. Stifel recently downgraded WebMd in early March and along with the high short float coupled with insiders running, institutions and investors are betting against WebMd.
Per E*Trade (Image Source), Analysts have a negative view of shares of WebMd as well - with Thomson Reuters holding a negative stance.
Medidata Solutions is in lock step with E*Trade, with a 137% gain over the past 52 weeks. The company may be the most fundamentally overvalued of the three with a 209x trailing P/E, a 14.8x P/B and a 12.1x P/S ratio. Against the rise in share price is the company's quarterly earnings growth, yoy, down 91.20%. Over the last six months, insiders have shed nearly 10% of their holdings as institutions have let go of nearly 5.35% of their holdings. Medidata has had an incredible run, although its fundamentals are catching up with it. Deutsche Bank initiated coverage on Medidata with a price target of $133 on November 21, 2013. The analyst quoted increased revenue as driving the company's future performance. Although as revenue has increased over the past months, MDSO's net income has been moving lower.
(click to enlarge) (Source)

Companies can outperform the market for a variety of reasons, although when their share price far outpaces the state of organic growth, this is cause for an investor to look back at the reasons they made their investments, and consider taking profits.
Conclusion:
Investing in companies encompasses both trading and fundamentals. As such these companies could retreat soon or continue to trend higher based on either metric.
E*Trade in particular has recently been upgraded, with trading levels soaring. When everything is going spectacular, it may be just the time to take profits on a successful trade. E*Trade is the outlier of the three that I would rather be neutral about than short considering recent upgrades and increased treading levels. However, it is worth reevaluating to make sure your personal investment story in the company is still intact.
In closing, buying when others are selling and selling when others are buying is more easily said than done. However, investors and traders in these three companies may achieve a successful trade by exiting now.
I have no positions in any securities mentioned. This article is strictly informational to help investors and traders make the best possible decisions regarding their trades.
Disclosure: I have no positions in any stocks mentioned, and no plans to initiate any positions within the next 72 hours. I wrote this article myself, and it expresses my own opinions. I am not receiving compensation for it (other than from Seeking Alpha). I have no business relationship with any company whose stock is mentioned in this article.
Additional disclosure: This article is informational and is in my own personal opinion. Always do your own research and contact a financial professional before executing any trades.