For a stock that has gone from below $50/share a year ago to its current level of $112/share today in March 2014, there's a lot that people are unfamiliar with regards to Qihoo 360 Technology (NYSE:QIHU). The company operates as a software and Internet service provider, with a core function in security tools of all kinds for computer users, a growing field thanks to more industry attention being given to hackers, snoops, and Internet data interception by illegal groups as well as governments these days.

Source: Ycharts
Financials
Qihoo has been enjoying a significant rise in both gross and net income in the last three years, which has given the company significant cash flow power to grow and solidify its new gains. Rising from a gross revenue and net income of $168 million and $15 million, respectively, in 2011, Qihoo closed out 2013 with a whopping gross revenue of $671 million (an increase of 104% from $329 million in 2012) and a new net income level of $100 million (an increase of 113% from $47 million in 2012), representing a jump 660% in available operating profits.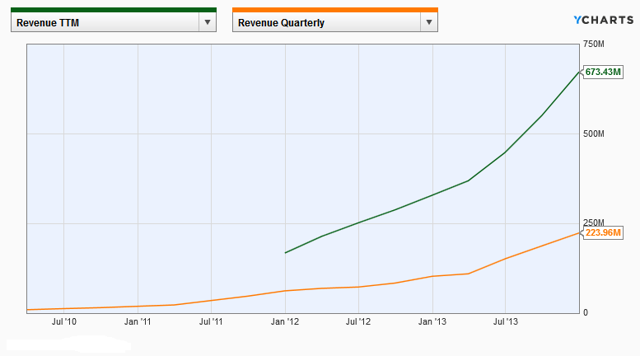 Company management and operations did pick up quite a bit more in short-term debt and costs, but that was to be expected with the increased cash flow availability from new revenues.
"Net cash generated from operations in the fourth quarter of 2013 was $76.8 million, compared to $53.1 million in the same period last year and $75.0 million in the prior quarter. Cash capital expenditures were $18.8 million. As of December 31, 2013, the Company had cash and cash equivalents of $1,013.5 million."
That said, the company's assets are rising just as fast, easily managing and maintaining the ability to pay down the additional liabilities as needed.
Many times companies looking to boost cash flow quickly for big investments start issuing more stock, diluting the interests of those already in play. That hasn't been the case for Qihoo. With 131 million shares outstanding, the company has stayed firm on current ownership share, meaning the gains will continue to directly benefit shareholders that exist.
In the last two years, there have been a number of recent insinuations about Qihoo's financials and the integrity of its accounting books. Despite these accusations, Qihoo has responded in detail and with very strong, quantitative reports, shutting down every criticism so far. The response has been so strong, it goes far beyond what has been the average due diligence provided by Chinese companies to American general public analysis.
Operations
Qihoo represents yet another strong leg of the Chinese technology market that U.S. companies have been frustratingly not been able to penetrate to full domination. While the names of Google (NASDAQ:GOOG), Apple (NASDAQ:AAPL), and Microsoft (NASDAQ:MSFT) are ubiquitous with daily computing in the U.S., in China names like Baidu (NASDAQ:BIDU), Qihoo and similar dominate the spectrum.
The company originally started as an anti-virus security software producer, but it soon realized that by providing these products for free, it could leverage a large audience for secondary advertising and marketing, producing a far more lucrative revenue stream from other companies wanting to pitch their goods to Chinese audiences. Ergo, the middleman effect became the cash cow for Qihoo very quickly.
To emphasize and channel the synergies of all of its own products as well as those marketed by clients, Qihoo continues to direct users through its 360 Browser products which, of course, are free and trigger all the other aspects of the company that actually generate revenue. That traffic is estimated to be well over 450 million subscribers and users as of the end of 2012.
Direction Possibilities
Qihoo generally sits in a very comfortable position of heavy cash flow, strong assets over liabilities, a household name recognition among Chinese consumers and audiences, and a strong customer basis, both in clients and subscribers for services. No surprise then, Qihoo's management could just sit back and let the company run on neutral, enjoying the profits and the gains in place. That's unlikely to be the case, however.
The company has been enjoying a rise of market share at Baidu's expense, but it still needs to be wary of Google looking for ways to expand its penetration into China. In that respect, Qihoo will likely continue to saddle on new products with a security focus to its customers through its conduit products (i.e. the 360 Browser and similar), taking advantage of its captive market for the recurring revenue streams. That strategy will likely continue to work in the short run.
Disclosure: I have no positions in any stocks mentioned, and no plans to initiate any positions within the next 72 hours. I wrote this article myself, and it expresses my own opinions. I am not receiving compensation for it (other than from Seeking Alpha). I have no business relationship with any company whose stock is mentioned in this article.