BreedIT Corporation (OTCQB:BRDT) is a listed company that owns a 66.67% stake in BreedIT, which is a software and hardware provider to breeders. The company has recently changed its name, ticker and core business from ProGaming Platforms Corporation with the ticker PPTF (please note I use the ticker BRDT ticker to refer to ProGaming Platforms Corporation in some parts of article, in order to secure a flow in the article), which was engaged in development of software to the gaming industry (which never got completed or sold to a customer….). I will analyze the history of the company, its executives and business associates as well as the likely future scenario for the company in this article.
The old company
The company was originally incorporated with the name ProGaming Platforms Corporations on May 26, 2010 in the state of Delaware. The company operated from Israel. The company's original core business was the development of an online gaming platform, which it tried to distribute through distribution agents, who first paid the company an up-front fee and afterwards a royalty on every sale. It entered into distribution agreements with two distribution agents; the Luxembourgian GT-SAT International (distribution to Luxembourg, Belgium and Holland; $90,000 up-front fee) and the Israeli company Yanir Levin Ltd. (distribution to Israel; $29,000 up-front fee). GT-SAT International ended their agreement without selling any product. It also seems like a rather odd partner, since the company sells digital TV receivers. The following is a screenshot from their website: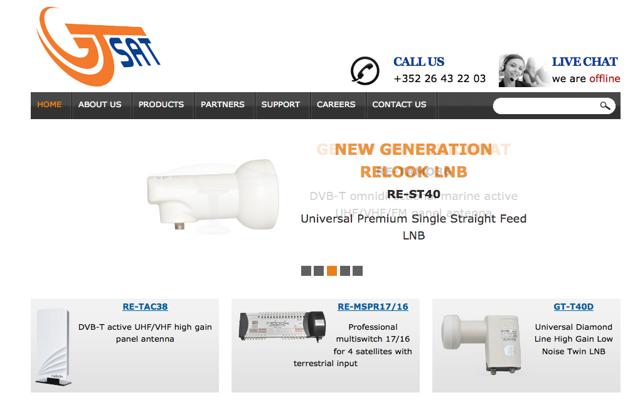 As far as I understand they never actually had any material revenue as set forth in the following screenshot from their recent 10-K: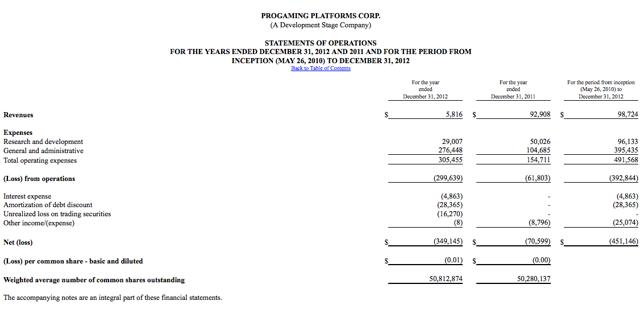 Keep in mind that $90,000 of the revenue in fiscal 2011 was from the up-front fee from the licensing agreement with GT-SAT International.
BRDT furthermore entered into a Joint Venture agreement with Zenetek LLC, which at the time of the JV was a wholly owned subsidiary of Anything Technologies Medias (OTCPK:EXMT) on February 18, 2013. The stated reason behind the JV was that Zenetek LLC should try to find JV opportunities that could generate revenue for BRDT's "state-of-the-art" multiplayer puzzle game platform in China, Singapore, Taiwan, Vietnam, Hong Kong and Indonesia for the initial 12 months. The JV with Zenetek LLC has ended.
It's highly relevant to perform due diligence on the company's previous business affiliates and joint ventures in order to detect if any wrongdoing is in the 'blood of the company'. I will start with evaluating its former JV partner Zenetek LLC. According to Zenetek LLC's webpage it's a developer of marijuana apps for iPhone, Android, Windows and Mac. The following is a screenshot from the company's webpage: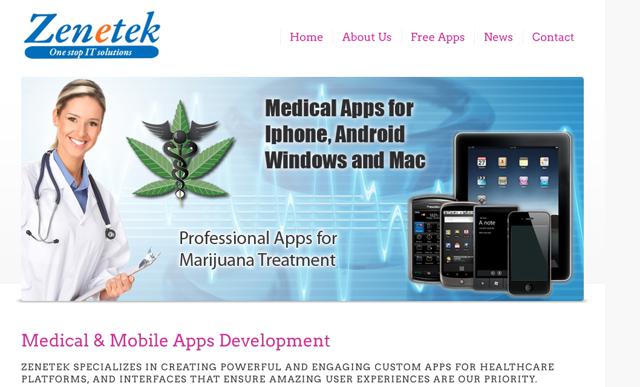 This seems rather strange, as how should a Marijuana app developer be able to distribute a mobile gaming development company's products in Asia?
It gets even stranger, as the parent company off Zenetek LLC was EXMT during the tenure of the JV. EXMT operated in the multimedia industry excluding the gaming part of the multimedia industry. EXMT has since the end of the JV pursued a business opportunity in the medical marijuana space, but with big losses.
ML Capital Group, Inc. (OTCPK:MLCG) tried to acquire 51% of Zenetek LLC .The parties have signed a letter of intent on September 9, 2013, but I haven't found any evidence of the transaction having closed. MLCG has since pursued another business opportunity by launching the "SuperStar Vapor Pens".
The new company
As the old game business didn't play out well for BRDT, it decided like its former business associates to pursue a new business opportunity in the medical marijuana space. It announced an 8-K filling describing a deal with another Israel based company called BreedIT Ltd on August 15, 2013. BRDT should invest between $245,000 and $1,000,000 in BreedIT Ltd for a 66.66% stake in the company. The company in later fillings then decided to change its name and ticker from ProGaming Platforms Corporation with the ticker PPTF, to BreedIT Corporation with the ticker BRDT. The following figure illustrates the current company structure:
Dr. Oded Sagee owns the remaining 33.33% of BreedIT LTD. The board and management have changed since BRDT bought a part BreedIT LTD. The following changes have occured:
Mr. Oded Gilboa, age 40, a licensed CPA in the United States and Israel, has been appointed CFO of the company. He has a background in public finance and accounting with over 16 years of experience in these areas. He has held several positions at big US listed companies before accepting the job at BRDT.
Mr. Yoel Yogev has been appointed CEO of the company on January 7, 2014. He has a sales and support background in companies such as Intel, Phillips and IDT. He later established El-Gev, one of Israel's most successful electronic components and sales/distribution organizations.
Mr. Itshack Itrem has been appointed chairman of the board of directors. He has served as Managing Director of Yaad Consulting 1995 Ltd., which was organized in 1995 and provides business development, marketing and investment banking services to a wide variety of Israeli companies.
The company agreed to invest between $245,000 and $1,000,000 although the company didn't have that in cash on hand. As such, the new management and board decided to dilute shareholders by issuing new equity at a low price to themselves and few new investors. This increased the share count significantly. The following table shows the unregistered sales of equity performed by the company, as per its publicly available SEC fillings: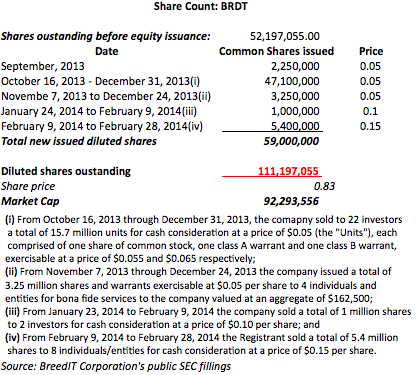 As the table above shows the company has increased its diluted share count, assuming that the company has paid back its convertible notes since the last 10-Q was filed, to 111,197,055 diluted shares outstanding (assuming that all warrants were converted. Note: they are all in the money). This is a considerably higher amount of shares outstanding than financial websites such as Yahoo Finance and Google Finance indicates, which indicates shares outstanding of 52.2 million and 52.3 million, respectively. The company's authorized shares are 500 million, so we might see management continue issuing stock to them in the future.
Valuation
As of the close of March 20, 2014 the company was trading with a market cap of $92.29 million. This valuation is a bit high when taking into account that the company bought its core asset for 1 million a few months ago. Last time the company filed a 10-Q was on November 8, 2013. The balance sheet from the filling is as follows: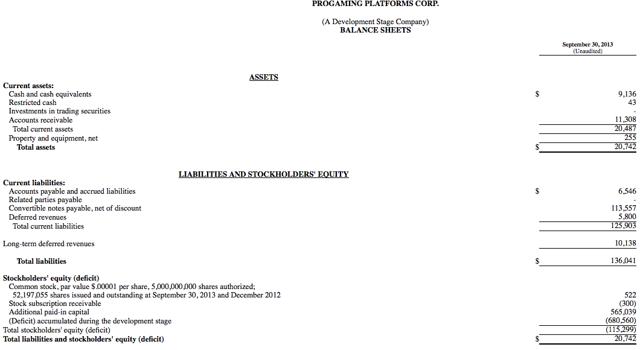 The balance sheet shows us that the company's cash and cash equivalents as of September 30, 2013 was $9.1 thousand dollars. This number is excluding the issuance of equity and warrants. The company has raised a total of $3,854,000 through issuing equity and warrants. This gives us a total of $3,863,000. We then subtract the run-rate deficit that the company is operating at, which is $29,000 a quarter times two and the $1 million investment in BreedIT Ltd resulting in an estimated cash balance of $2,805,000. The run-rate deficit I have used in this calculation is fairly low compared to the company's recent hires, so the cash-balance is likely lower.
So the company has cash of about $2.8 million and a $1 million investment in its subsidiary, totaling its assets at approximately $3.8 million, but is trading at a valuation of $92.29 million, approximately 24.3 times assets. This high valuation multiple presents a large downside if the company doesn't succeed with its business plan. But, let's now try to focus on the potential upside for the company.
Potential upside
First, I have to admit that the management team of the company and its subsidiary has impressive backgrounds with a variety of skills that supplement each other, which is a positive for the company. Second, it's important to thoroughly understand the product and business model of the company. The company provides a so-called "Intelligent Decision Support System" (IDSS) for breeders, which is basically software and hardware that help breeders through their entire process, from the lab to the field. As the company hasn't filed any 10-K filings since it changed its core business, we don't have a detailed explanation of the business and business model in any SEC filings. We will have to use the company's website and management interviews instead.
The company has uploaded a marketing video to the front page of their website, which describes its solution and shows pictures of the system.
According to the founder & CEO of BDRT's subsidiary BreedIT Ltd, Dr. Oded Sagee the company are still in the process of translating its software from Hebrew to multiple languages. The company will be ready start market and sell its product around the world once this translation is done, according to Dr. Oded Sagee. He told us that in a recent interview (link to the slides he uses in the interview) hosted by fellow Seeking Alpha contributor and founder of the cannabis stock investment community 420 Investor (for those of you interested in cannabis investing, Alan provides unmatched and unbiased research and education on the cannabis industry through his community at 420 Investor at a price every investor can afford.)
Dr. Oded Sagee provided us with some very useful information during the interview, which we can use to evaluate the business prospects of the company. He told us that they are in talks with a US group about entering into a potential JV agreement. They are furthermore in pre-mature talks with a Canadian company regarding the possibility of entering into a JV agreement. He also stated that the company is in talks with the biggest medical cannabis grower in Israel. These talks have the potential of turning into great news for the company; if it manages to convert talks to clever deals.
Dr. Oded Sagee furthermore provided us with sales projections, the sales price per solution and the market size. The sales price per solution is around $100,000 and the estimated size of the world market is 50,000 units, according to Dr. Oded Sagee.
The following is his sales projection: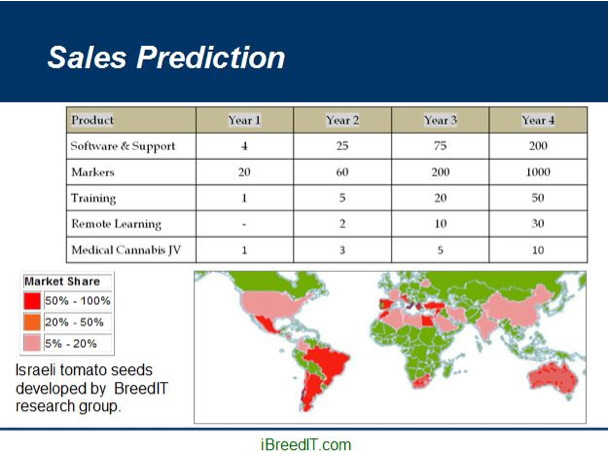 As we can see on the chart above, the company expects to sell 20 units in year 1, which corresponds to 2014 and 1000 units by 2018. This corresponds to a projected cumulative annual growth rate ("CAGR") of 268.4%, which seems a bit too optimistic, when taking the fact into account that the company's team is relatively small with only one guy responsible for sales. However, if the company manages to grow at that rate and charge $100K per unit with an estimated 20% net margin, the company's net income will be approximately $20 millions by 2018, which makes the stock look like a steal with a forward P/E ratio of 4.74.
However, there is a big uncertainty inherent in this projection, as the company is yet to build up an international sales and production organization. Investors should wait for the company to actually sell its products and see if the business model is sustainable, before investing. In other words, wait for proof of business concept before investing.
Conclusion
We have seen a 'Green Rush' so far in 2014, with the Marketfy 420 Investor Cannabis Stock Index rising by 405% in the first two months of the year. For long-term success in investing, investors have to compare the risk with the potential reward. The risk relative to the reward seems too high in BRDT as (1) the business model is unproven, (2) the company is trading at multiple of 23.7 times assets, (3) one of the first thing the new management did when they were hired was to issue stock at a low price to themselves, which has diluted shareholders and (4) a realistic scenario with the company's current organization doesn't warrant such a high price. It will be more prudent for investors to wait for the financials and wait for proof of business concept before investing.
Disclosure: I have no positions in any stocks mentioned, and no plans to initiate any positions within the next 72 hours. I wrote this article myself, and it expresses my own opinions. I am not receiving compensation for it (other than from Seeking Alpha). I have no business relationship with any company whose stock is mentioned in this article.
Editor's Note: This article covers a stock trading at less than $1 per share and/or has less than a $100 million market cap. Please be aware of the risks associated with these stocks.
Editor's Note: This article covers one or more stocks trading at less than $1 per share and/or with less than a $100 million market cap. Please be aware of the risks associated with these stocks.