Barrons recommended buying McDermott International (NYSE:MDR), but I would rather invest in a much stronger leader in the same engineering, procurement and construction "EPC" industry, Technip (OTCQX:TKPPY). While MDR reported declining profits and revenues, TKPPY has demonstrated its ability to consistently grow its EPS and dividend and remained as a global leader in the EPC industry.
Company Description
TKPPY is geographically diversified with revenues consisting of 32% in Americas, 23% in Europe/Russia/Central Asia, 18% in Asia Pacific, 16% in Africa, and 11% in Middle East. The following graph shows the unique multi-local footprint of TKPPY, which was founded in 1958.
Please note that TKPPY is an American Depositary Receipt "ADR," and most of the financial figures in this article are based in Euro instead of U.S. dollars.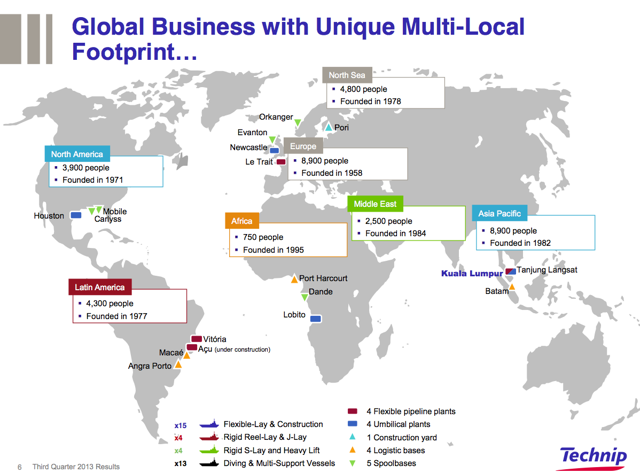 Source: Company Presentation
Another main character of TKPPY is its two complementary businesses, which are Subsea and Onshore/Offshore. Subsea is a capital-intensive business complementing Onshore/Offshore, which is negative capital employed and low fixed assets due to a high degree of outsourcing and sub-contracting. This helps to drive financial stability and higher financial performance for TKPPY.
For Offshore, not only does TKPPY have a broad range of solutions, but it is also a leader in both SPAR and FLNG.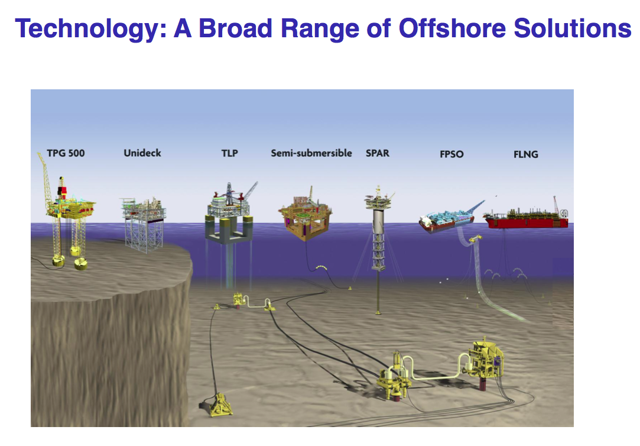 Source: Company Presentation
For Onshore, TKPPY has been a leading onshore LNG player since it built the first-ever LNG pant in Algeria 45 years ago. It has in-depth technical know-how in the EPC industry with achievements to deliver 30% of world LNG production capacity in the last 12 years.
For Subsea, TKPPY is vertically integrated with customer support from concept to execution. It has increased its plants from 5 in 2006 to 6 in 2013, with one plant under construction. Furthermore, it added 14 vessels to become 28 vessels in 2013, with 4 vessels currently under construction. Within the broad Subsea capacities, TKPPY is also a leader in the flexible pipe manufacturing with locations across the globe in France, Malaysia, and Brazil.
Stellar Financial Achievements
Fiscal Year
2003*
2004
2005
2006
2007
2008
2009
2010
2011
2012
2013
Net Income
94
111.8
93.3
200.1
126.3
448
170.4
417.6
507.3
539.7
563.1
* Please note that net income in 2013 was before Goodwill Amortization
Source: 10K
TKPPY established an amazing track record of 19.6% CAGR in net income for the past decade. In addition, TKPPY has consistently grown its dividend by +9% CAGR since 2008.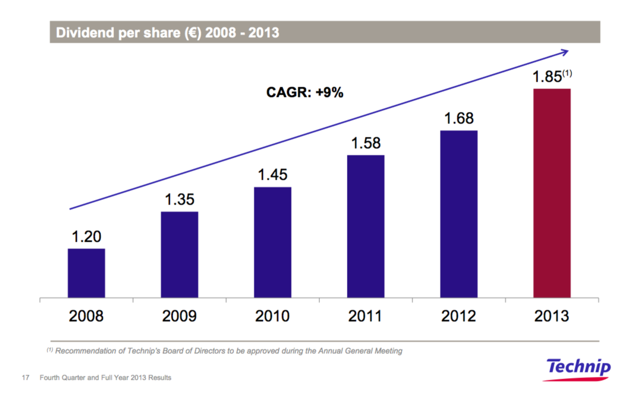 Source: Company Presentation on February 20, 2014
Relative to the stellar growth of TKPPY, MDR does not have consistency in its earnings. It lost $516.91 in 2013, together with the fact that MDR does not pay any dividends. For some believers in MDR, they might argue that 2014 will be a transition year, and MDR has sufficient financial flexibility to cover its financing for the next 12+ months. However, as a long-term investor, I do not want to take the risk in a possible turnaround story in MDR while I can invest in TKPPY with its proven financial achievements.
Valuations
Based on my sales growth assumption of 11% in 2014 and 2015, together with 6.75% net profit margins, net profit in 2015 will be €776 million. While applying 13x PE, TKPPY will trade at about €84 per share.
With the expected sales of €11,500 million in 2015, I will apply the historical average 12.8% EBITDA margin to come up with €1,472 million. While applying 6x EV/EBITDA, the Enterprise Value of TKPPY will increase from today's €7,693 million to €8,834 million.
Discounted Cash Flow "DCF" Model
Year 1
Year 2
Year 3
Year 4
Year 5
Year 6
Sales
$10,250
$11,480
$12,398
$13,142
$13,931
$14,488
EBITDA
$1,230
$1,378
$1,488
$1,577
$1,672
$1,637
EBIT
$974
$1,091
$1,178
$1,249
$1,323
$1,275
Net Income
$713
$799
$863
$915
$970
$935
EBIT x (1 - Tax Rate)
$706
$791
$854
$905
$959
$924
- Capital Expenditure
$615
$689
$744
$789
$836
$869
+ Depreciation & Amortization
$256
$287
$310
$329
$348
$362
- Change in Non-cash Working Capital
-$337
-$279
-$208
-$169
-$179
-$126
Adjusted Free Cash Flow
$685
$668
$628
$614
$651
$544
FREE CASH FLOW VALUATION MODEL
Present Value of Free Cash Flow
$2,542
Present Value of Terminal Value
$7,276
Value of Operating Assets
$9,818
Value of Cash, Marketable Securities & Non-operating assets
$2,175
Value of the Firm
$11,993
Value of Debt
$2,230
Value of Common Equity
$9,763
Value of Common Equity Per Share in Euro
$85.88
With the Weighted Average Cost of Capital "WACC" of 8.9%, I find the intrinsic value of TKPPY is €85.88 according to my DCF model.
The Bottom Line
With all the valuation methods pointing to my target price of €85, together with the future growth potential in EPS and dividends, I am confident that long-term investors should invest in TKPPY, a leader in the engineering, procurement and construction "EPC" industry, with 15% upside potential.
Disclosure: I am long TKPPY. I wrote this article myself, and it expresses my own opinions. I am not receiving compensation for it (other than from Seeking Alpha). I have no business relationship with any company whose stock is mentioned in this article.
Disclaimer: I am not a securities broker/dealer or an investment adviser. You are responsible for your own investment decisions. All information contained should be independently verified with the companies mentioned, and readers should always conduct their own research and due diligence and consider obtaining professional advice before making any investment decision.