BNSF Railway Company announced a $5 billion capital program for 2014 in February, an increase of $1 billion over 2013 capital outlays. BNSF operates 32,500 miles of railway and captured 50% of the 2013 growth in rail shipments.
In an interview with CNBC Sunday, CEO Carl Ice was positive about the outlook and made it clear that BNSF is taking steps to ensure the safe transport of crude oil including the purchase of more modern and safer rail cars.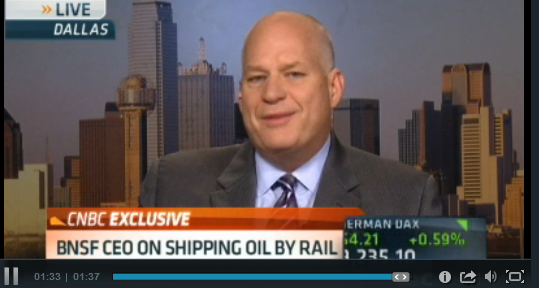 Source: CNBC
Canadian CN Rail expects to spend about $1.9 billion on capex in 2014, up slightly from $1.8 billion in 2013 for a total of $3.7 billion. CN operates 20,000 route miles of track or about 60% of BNSF.
Contrast the $9 billion BNSF and $3.7 billion these two railroads will have spent in 2013 and 2014 with capital spending by Canadian Pacific Railway or CP Rail (NYSE:CP) under the leadership of Hunter Harrison. CP Rail expects to spend $1.2 to $1.4 billion in 2014 after spending $1.2 billion in 2013. CP Rail operates over 15,000 miles of track.
By my arithmetic, BNSF is spending $154,000 per track mile to improve operations; CN is spending $183,000; and, CP Rail is spending $160,000 per track mile.
CP Rail just announced 5 million share stock buyback program to repurchase. With the stock at $175 a share, the buyback could cost $875 million and seems destructive to the balance sheet and disadvantageous to shareholders, unless anyone can come up with a valuation of the company which is higher than $175 a share, something I see as unlikely. Presumably the CP Rail board of directors and its CEO Hunter Harrison think shareholders are better served by buying back stock at a record high price rather than investing to improve the efficiency and safety of its rail transport operations. The buyback may help at least one shareholder - Pershing Square - as it seeks to find a market for its stock now that it is a seller.
Hunter Harrison proudly touts CP Rail's progress in improving operational efficiency and increasing net income over his tenure. It is interesting to review the achievements.
There is no dispute that CP showed dramatic improvements in reported sales and net income in the past two years with revenues rising almost $1 billion from 2011 and net income leaping from $570 million to $875 million.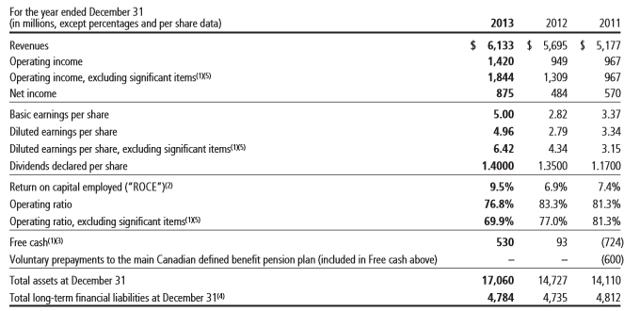 Source: CP 2013 annual report
However, after two years of intensive cost cutting CP's total costs do not seem to have changed much. If you back out the asset impairments and labor restructuring costs total operating costs in 2013 were about 2% higher than they were in 2011.

Source: CP 2013 Annual Report
While revenues grew, physical volume was pretty tame. Carloads shipped were up an unimpressive 91,000 or about 3.5% in 2013 over 2011. Growth yes, but nothing to write home about. The much vaunted cost efficiencies don't seem all that impressive when total costs grew almost 2% while carloads rose only 3.5%. Sure, there is some efficiency but it is not earth shattering given all the bluster.

Source: CP 2013 Annual Report
Revenue per carload rose as CP benefited from higher prices in a growing economy with historic demand for oil by rail contributing to tight markets for shippers. The 91,000 increase in the number of carloads shipped added $208 million to CP's revenues. The balance of the almost $1 billion improvement came from the higher prices. Given CP Rail competes with CN Rail and others, there is no reason to believe that higher prices resulted from skilled management rather than improved industry conditions.

Source: CP 2013 Annual Report
CP's reported improvements in costs have another contributor - pension matters. CP's balance sheet as at December 31, 2013 shows a pension "asset" of about $1 billion and a reduction of pension related liabilities of about $600 million from 2012. The $1.6 billion improvement does not flow directly through the income statement but is reported as "other comprehensive income" and a direct add to the equity accounts.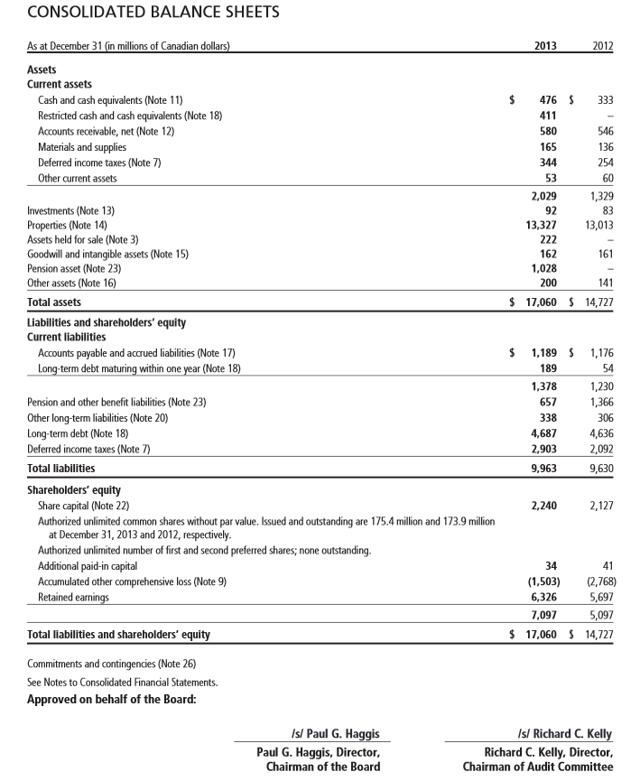 Source: CP 2013 Annual Report
While the accounting is a bit complex, the notes to CP's statements provide assistance. Some $227 million of the pension asset is offset by accounts payable and accrued liabilities of $9 million and pension and other benefit liabilities of $218 million. The balance of $801 million shown as "Total amount recognized" which together with the reduction in liabilities adjusted for income taxes resulted in a $1.3 billion addition to "other comprehensive income" added to equity on CP's balance sheet.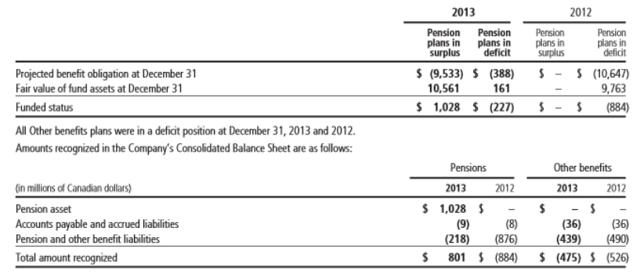 CP Rail took a strike to get the labor unions to cave in on its pension costs in 2012 and so far it has paid off for CP.
The other element of the improved pension picture was a tweak the discount rate used to calculate pension liabilities. Despite continued very low interest rates CP nudged that rate up to 4.9% from 4.28%.

That might not seem like much but it has a magnified effect on the liability. If the pension liabilities have an average 14-year duration my arithmetic suggests the change in discount rate reduced future liabilities by over $800 million, the balance of the recorded gain on pension obligations presumably coming from returns on investments. Surprisingly, the pension assumptions for return on fund assets, future salary rate increases or health care cost trend rates were unchanged. If you assume a higher discount rate without any offsetting rises in the forecast rate of cost escalation, you can conjure up some pretty fancy "gains" and justify paying less into the pension plan. For a while, anyway. In time reality catches up.
The marginal improvements in operating efficiencies that CP did achieve were pretty typical of an old school railroader. Just run longer trains and run them faster while employing fewer personnel.
Harrison makes no bones about his approach, touting it in his annual report with excerpts from white boards evangelically emphasizing speed and longer heavier trains.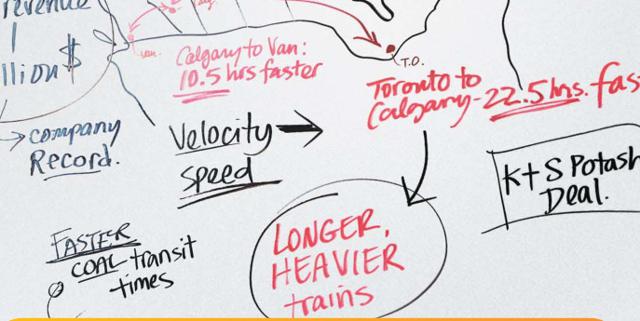 Source: CP Rail Annual Report
While that approach appears to have produced marginally better operating performance, it may also have contributed to the spate of derailments CP Rail has experienced which put those living close to rail lines at risk.
Industry pricing benefited from higher demand for oil shipments. The crude-by-rail growth may remain at high levels in the absence of pipeline capacity or fall off a cliff in pipeline capacity is put in place. The rubber hits the road next summer. If pipeline capacity remains strained, crude-by-rail could grow from about 300,000 barrels a day today to something double that amount. But if pipe is available, it will fall to the 100,000 barrels a day range.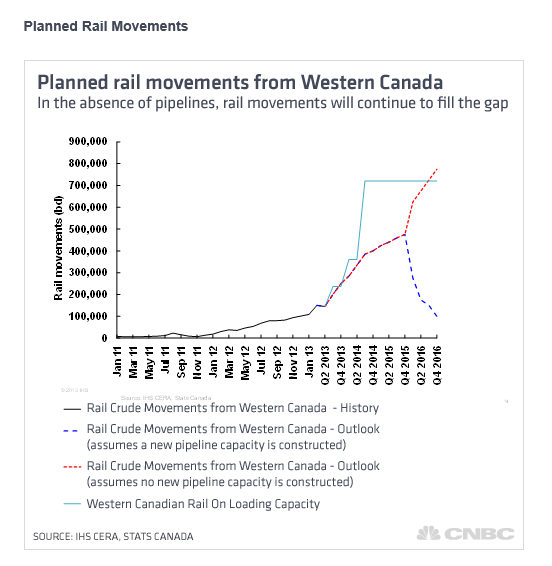 The capital allocation decision for oil shippers is whether to invest in the newer, safer rail cars needed to transport the oil; expand infrastructure to include more terminal capacity to load and unload the oil from the rail cars; and, bet that the spread between WTI and Alberta oil prices will be enough to make the investment pay. One way or another, the industry is looking to the oil companies to pay the freight.
I think the tailwind from crude-by-rail has almost run its course. Pipelines will ultimately be completed easing the demand for oil by rail and those who put up large amounts of capital to satisfy the short-term need may find themselves facing quite a pile of stranded capital when the demand falls away.
For CP, its other source of "cost improvements" in the form of lower pension expense may also be challenging. CP Rail may find market gains for pension funds will be less now that the stock markets and bond markets are at record highs. On pension issues, future labor negotiations could be a bit more militant if unions find it offensive that the benefits wrestled from them in the 2012 negotiation simply got turned into capital gains for Hunter Harrison and Bill Ackman while many of their members lost their jobs. And, the spike in prices could be temporary if the ultimate drop in crude-by-rail shipments leaves a hole in capacity a bit too big to be filled by growth in grain, coal or inter modal shipping.
Harrison came into to improve the company's financial performance and he has done that. The stock has had a massive run and now the $6 billion company is valued at 30 times earnings, an example of a stock market putting a least squares fit between two data points and being amazed at the high correlation, then predicting it will persist forever. It won't, is probably close to the end of the cycle now and will soon begin its trip south. I will be along for the ride.
If you need to own a rail road stock, choose the ones that are investing in their infrastructure rather than buying back the stock their major shareholder is selling. In the long run, the infrastructure earns the money.
I am short the stock.
Disclosure: I am short CP. I wrote this article myself, and it expresses my own opinions. I am not receiving compensation for it (other than from Seeking Alpha). I have no business relationship with any company whose stock is mentioned in this article.