North Atlantic Drilling (NYSE:NADL) is one of the most highly levered offshore drilling companies, as evidenced by comparing its market cap to its enterprise value. At the time of writing, North Atlantic Drilling had a market cap of $1.89 billion and an enterprise value of $4.29 billion. Please recall that a company's enterprise value is equal to its market cap plus total debt minus the cash that the company has in the bank. As of December 31, 2013, North Atlantic Drilling had total cash and cash equivalents of $84.1 million and an additional $25.3 million in restricted cash. Therefore, we can get a quick estimate of the company's debt load by adding that cash back into the enterprise value and then subtracting the company's market cap. However, I will perform a more in-depth look at the company's debt load in just a few moments. One concern, though, that potential investors may have is that the high debt load could be a potential risk factor. But, how much of one is it? This article will seek to answer that question.
As of December 31, 2013, North Atlantic Drilling had a total of $1.581 billion in long-term debt and an additional $166.7 million in long-term debt maturing within the next year. In addition, the company owes $713 million to related companies, $13 million of which is due within the next year. This compares to $857.5 million in shareholders' equity. This all gives the company a total debt-to-equity ratio of 2.87 which is certainly quite high when compared to companies such as Ensco (NYSE:ESV) and Noble (NYSE:NE). However, it is not so high that the company will struggle to afford it.
One reason for this is that the company's debt has a reasonable maturity schedule, at least in the short- to medium-term. As I stated in the last paragraph, only a relatively small portion of the company's debt matures this year. In fact, that is true for the next three years, with less than $200 million due in each 2014, 2015, and 2016. However, the company does have a much larger tranche of debt maturing in 2017. This amount totals just over $1 billion. The remainder of North Atlantic Drilling's debt matures in 2018 or later.
North Atlantic Drilling Debt Maturity Schedule (in millions)

Source: North Atlantic Drilling
This gives the company a few years of relief during which it can prepare for the bulk of its debt maturation. However, North Atlantic Drilling still has debt maturing in the next three years. So, how well can it afford these payments?
In 2013, North Atlantic Drilling had total cash flows from operations of $425 million. This is the amount of actual cash that the firm's ordinary operations, such as managing its rig fleet, brought into the company in 2013. If we assume that North Atlantic Drilling's operations will remain stable in 2014, which is a conservative and reasonable assumption, then the company is likely to conservatively generate similar operating cash flow in 2014 (it will actually be higher than this though for reasons that will be discussed later). Therefore, we can see that if North Atlantic Drilling devoted all of the cash that comes into the company to paying off its debt then it could pay off all of the debt that matures in 2014 and still have money to spare.
However, it is not quite that simple. North Atlantic Drilling has other financial commitments besides just paying off its debt. One of these commitments is covering the costs of its new rigs. These costs are stated in two different categories on the company's cash flow statement, Additions to newbuildings and Additions to rigs and equipment. In 2013, North Atlantic Drilling spent $101.1 million on these two items.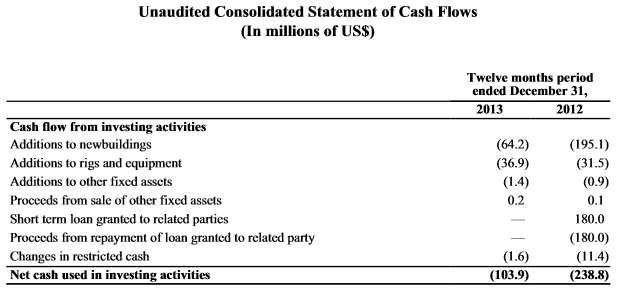 Source: North Atlantic Drilling
If North Atlantic Drilling spent the same amount on these two items in 2014 then it would still be able to pay off all of its maturing debt and cover the costs of these items just by using the cash that its operations generate. Unfortunately, these costs will not be the same. This is because of the way that North Atlantic Drilling financed the two rigs that were under construction at the end of December 2013. In 2014, North Atlantic Drilling has a total of $360 million in payments due because of these two rigs. An even larger payment of $454.4 million will come due in 2015 when the company takes delivery of its second new rig. Here is the maturity schedule for these payments:

Source: North Atlantic Drilling
Obviously, North Atlantic Drilling's operating cash flows are not sufficient to cover these costs and pay off the company's other maturing debts if they stay at the same level. Fortunately, North Atlantic Drilling will likely see its operating cash flow increase this year because it has a new rig, West Linus, that will begin operating in Norway in May. This rig carries a dayrate of $375,000. In a previous article, I stated that it costs approximately $82,000 per day to operate a harsh environment jack-up rig like the West Linus. Thus, we can expect this rig to add approximately $293,000 per day to North Atlantic Drilling's operating cash flow. However, even with this additional cash flow, it is difficult to see how North Atlantic Drilling can afford to outright pay off its debts that are maturing this year, especially if it wants to continue paying its other major financial commitment: its dividend.
In 2013, North Atlantic Drilling paid $205.4 million, or nearly half of its 2013 operating cash flow, out to shareholders in the form of dividends. However, North Atlantic Drilling will have even higher expenses due to its dividend commitment in 2014 because the company recently increased its dividend to $0.92 per share annually. As of December 31, 2013, North Atlantic Drilling had 227,629,137 shares of common stock outstanding. Thus, a $0.92 per share dividend would cost the company $209,418,806 in 2014. Thus, it does not appear likely that North Atlantic Drilling will generate sufficient cash flow to pay off all of its outstanding debt plus cover the payments due on its two rigs and pay its dividend.
The company has a variety of options to use to address this situation, including reducing the dividend or rolling over debt. The company has opted for the latter, announcing on January 20, 2014, that it is issuing $600 million in unsecured senior notes which will be used to "cover existing indebtedness," among other purposes. The company is thus borrowing $600 million from the capital markets in order to cover the costs of paying off its debt that matures this year along with the shipyard payments that are due this year. The company floated these bonds on January 31, 2014. This effectively extended the maturity dates of a large portion of the company's debts from 2014 until 2019. Following this debt issue, North Atlantic Drilling should be more than capable of covering its remaining financial commitments in 2014, including the dividend, solely from its operating cash flow. Unfortunately, it appears that North Atlantic Drilling will need to do another debt issue to cover its maturing debt and shipyard payments in 2015, but I have confidence that the company will be able to do this successfully.
There is one additional factor that should provide at least some confidence to investors that North Atlantic Drilling can continue to carry its debt load. This is that a good portion of the company's debt is owed to other companies that have very close ties to North Atlantic Drilling. As of December 31, 2013, North Atlantic Drilling had the following debt facilities: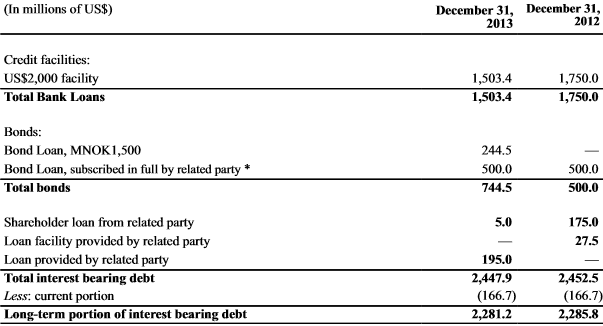 Source: North Atlantic Drilling
Please note the company's $500 million outstanding bond loan. Every single one of these bonds is owned by North Atlantic Drilling's majority shareholder, Seadrill (NYSE:SDRL). North Atlantic Drilling also has another $85 million outstanding credit facility from Seadrill but has only borrowed $5 million against this facility. Thus, North Atlantic Drilling can borrow another $80 million from Seadrill should it need further financing. Presumably, Seadrill will increase the size of this facility should North Atlantic Drilling run into financial trouble and need more money as this credit facility has been larger in the past. In addition, another related company, Ship Finance (NYSE:SFL), provided a loan of $600 million to North Atlantic Drilling against the West Linus rig, $195 million of which has already been paid to North Atlantic Drilling and the remainder is expected to be paid in the first quarter of 2014. However, this is not a typical loan. In effect, North Atlantic Drilling sold the rig to Ship Finance and is leasing the rig back from that company at a bareboat charter rate. North Atlantic Drilling has four options to purchase the rig back over the term of this arrangement and may be required to purchase it back in 2029 for $100 million. Presumably, North Atlantic Drilling could enter into similar arrangements for its other rigs should it require additional financing.
It is not in Seadrill's interest for North Atlantic Drilling to run into financial difficulties. Therefore, should the company run into difficulty paying its debt, Seadrill will presumably allow the company to postpone payments on that portion of debt that North Atlantic Drilling owes to Seadrill which would give North Atlantic Drilling time to shore up its finances. As this accounts for a large portion of the company's debt, the reduction of these payments would obviously reduce North Atlantic Drilling's burden significantly. North Atlantic Drilling could also reduce its dividend in order to pay down its debt should it need to. However, it does not appear that either of these options are necessary at this time as North Atlantic Drilling is not struggling to afford its debt.
Disclosure: I am long SDRL, NADL, SFL. I wrote this article myself, and it expresses my own opinions. I am not receiving compensation for it (other than from Seeking Alpha). I have no business relationship with any company whose stock is mentioned in this article.
Additional disclosure: My long position in NADL is in the Norwegian OTC shares, not the NYSE-traded shares. I am short covered calls in SDRL.