According to Forbes.com, Sam Zell believes that investors should always study a company's key assets, not just its financial statements. Accordingly, Zell insists that every investor "should dig deeper into a company before investing. It's not enough to know sales and profit margins". Forbes.com also explains that "Zell requires that companies he invests in have staying power - in other words, that there will be continuous future demand for their product".
That sounds familiar. Zell, who was educated at the University of Michigan and the University of Michigan Law School, has clearly studied the playbook of Warren Buffett. Both have built multi-billion dollar bank accounts and a common track record of finding "wide-moat" investments that have performed extraordinarily better by defending against competitive forces.
By investing in repeatable revenue streams, both Buffett and Zell have succeeded by investing in durable businesses that defend against principal losses, while also growing long-term competitive advantages. It's clear that Buffett and Zell both know the meaning of the word "fortress", which implies that they seek investments differentiated with long-term ownership characteristics; notably, companies that are built on solid foundations, with a record of profitable operations, and in strong financial condition.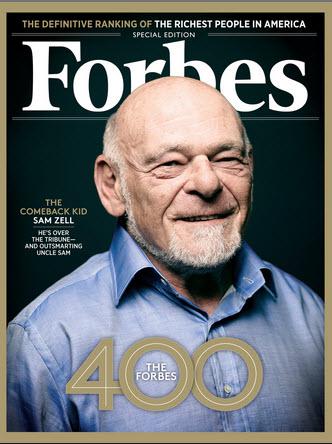 Equity Residential - A Monster REIT
Zell has created a number of public and private companies in various other industries, and one of his most famous was Equity Office Properties Trust. In 2007, Zell sold this REIT for $39 billion to The Blackstone Group (NYSE:BX) - see my recent article on Blackstone HERE - in a transaction that was the largest LBO in history, at the time. Last week, I wrote an article on Zell's manufactured housing REIT, Equity Lifestyle (NYSE:ELS) - see recent article HERE.
Zell's most significant REIT holding today is Equity Residential (NYSE:EQR), an apartment REIT founded in 1969 by the billionaire, who is also the current chairman. Zell owns over 3.6 million shares in EQR, valued at around $211 million (Source: Yahoo Finance).

EQR owns and operates the highest-quality, best-located portfolio of apartment assets in the REIT sector, with a focus on gateway markets such as Boston, New York, Washington, DC, Southern California, Sa Francisco, and Seattle, as well as South Florida and Denver. EQR is the largest apartment REIT, with a market capitalization of $20.65 billion.

EQR is a member of the S&P 500, based in Chicago, and the company owns or has an interest in more than 390 properties consisting of 109,855 apartment units in 13 states and the District of Columbia. The company also has condominium and corporate housing business lines.
EQR invests in a handful of gateway cities that offer a high quality of life and where there is a "knowledge-based economy" that will continue to grow and create well-paying jobs attracting large segments of the population opting for high quality.
Equity Residential - Fortress Demographics
One of the defining attributes of the EQR brand is the portfolio that is concentrated in high-barrier, high-growth markets. More than 1 million households are formed on average each year in the US, and nearly four million people are turning 20 each year. People aged 20 to 34 are the prime cohort to form new households, and have a 60% to 70% propensity to rent.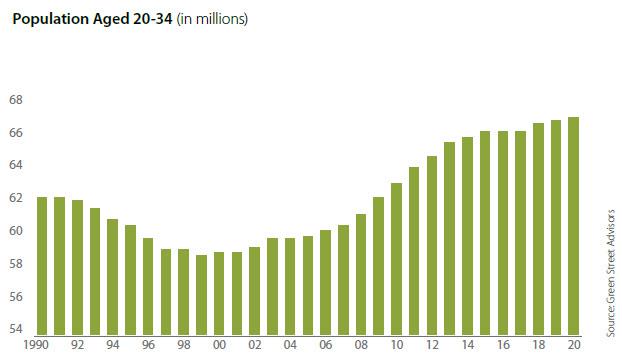 These favorable demographics will continue to create ample demand to absorb the new supply of apartment rental units. After several years of undersupply, the construction of new apartments has increased, but the number of new units being completed is still well below historical levels.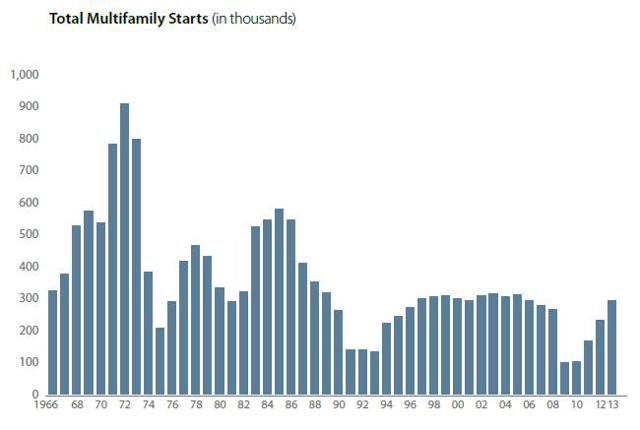 With apartment rentals capturing 20% to 30% of new household formations, vacancy rates will continue to stay very low.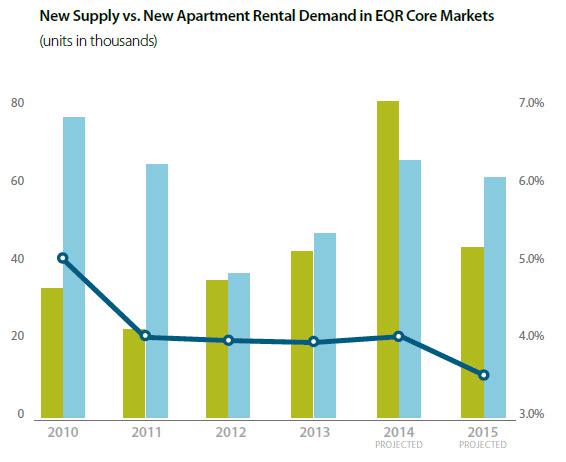 College-educated, young people make up a key customer demographic. The recession has been over for this group for a while - they are highly employable and forming renter households at a high rate.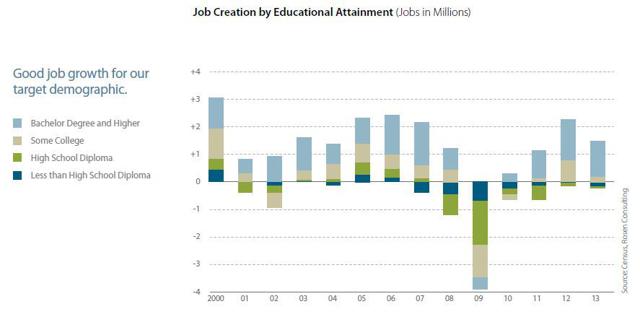 Accordingly, lifestyle choices will keep people renting longer, as people are marrying and having children later in life.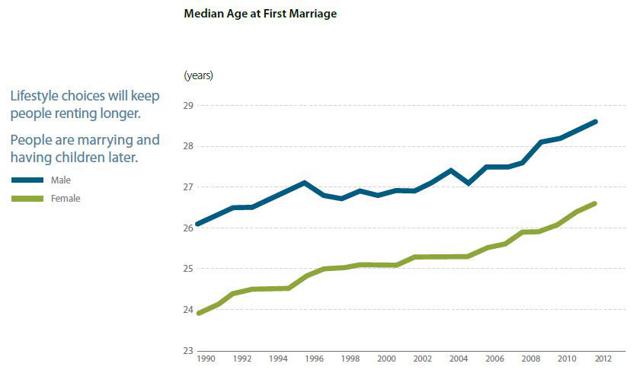 EQR has focused its investment model in markets that feature highly educated workforces, diversified economies, a high quality of life and high cost of home ownership. EQR invests in high-density assets near public transportation, job centers and entertainment venues in core markets. More than 47% of the company's apartment units are occupied by a single occupant. Statistically, this is a group that is less likely to buy a home.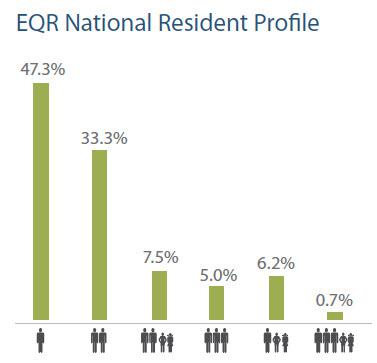 Because EQR is focused on a high-barrier-to-entry model (near coastal markets), the home prices in these areas are more expensive than the national average. When comparing the cost to own versus the cost to rent in these markets, the focus is too often on monthly rents versus monthly P&I payments. Little attention has been paid to fundamental issues like the ability to come up with a down payment, and home repair and maintenance costs and recurring property taxes.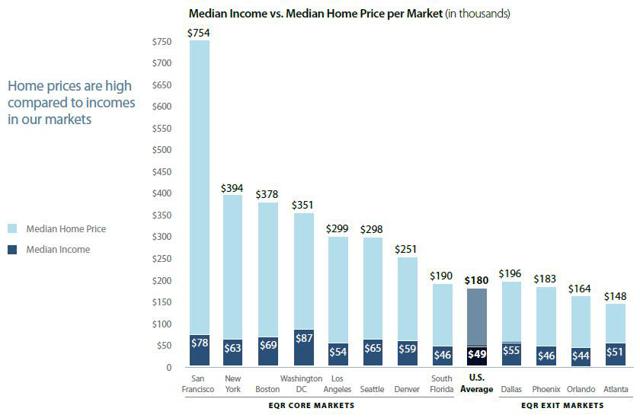 EQR is focused on "fortress demographics". See below: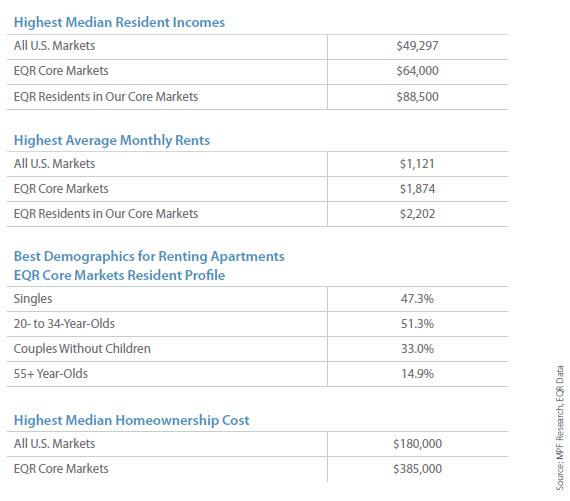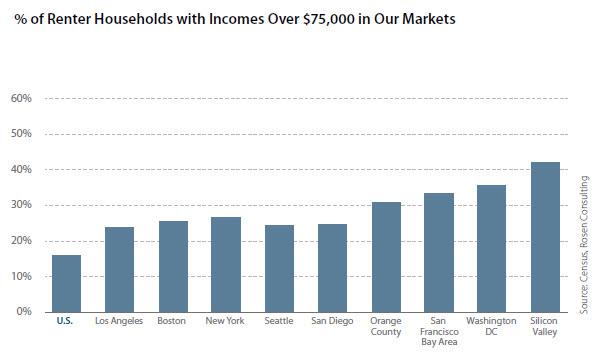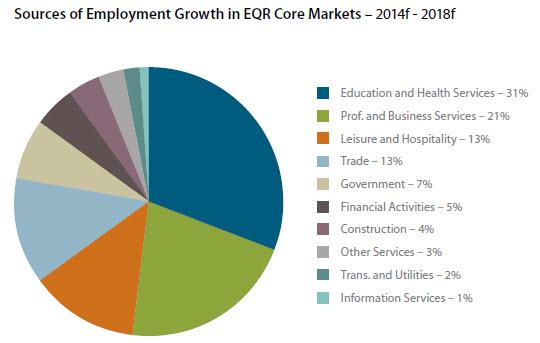 On February 27, 2013, EQR closed a $9 billion deal to acquire Archstone from Lehman Brothers, and the current portfolio stands at 390 properties with 109,855 units. The average cost per unit is $2,110.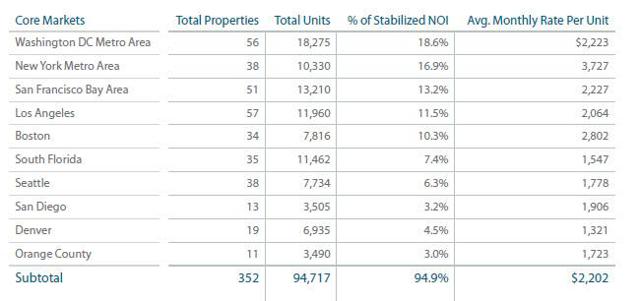 In Boston, EQR owns 34 properties with 7,816 units. The Boston portfolio generates 10.3% of NOI, and the portfolio is 95% occupied.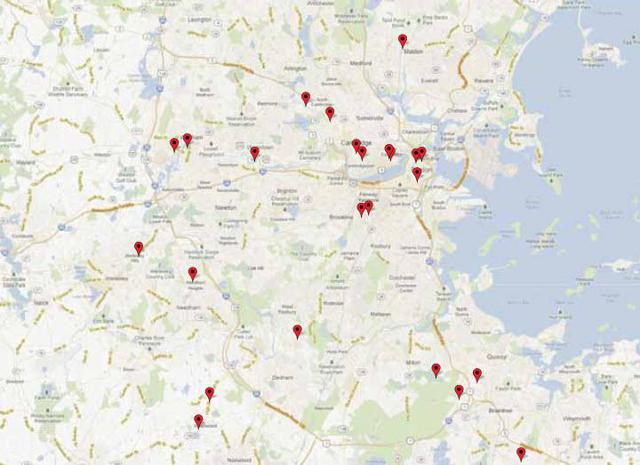 In New York, EQR owns 38 properties with 10,330 units. The New York portfolio generates 16.9% of NOI, and the portfolio is 95.7% occupied.

In Washington, EQR owns 58 properties with 18,275 units. The Washington portfolio generates 18.6% of NOI, and the portfolio is 94.8% occupied.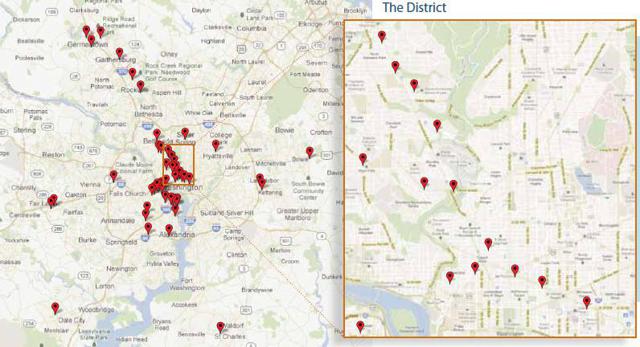 In Seattle, EQR owns 38 properties with 7,734 units. The Seattle portfolio generates 6.3% of NOI, and the portfolio is 95% occupied.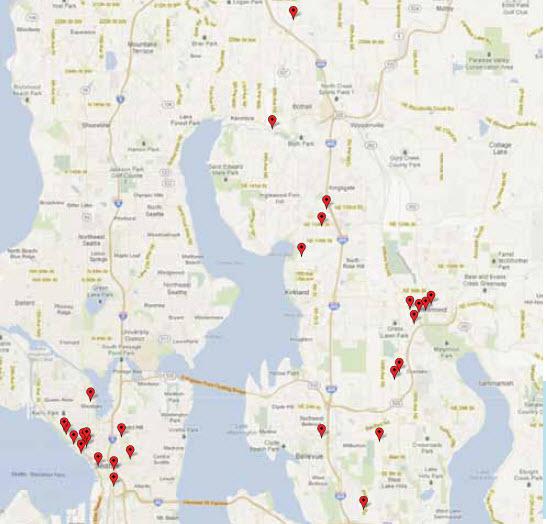 In San Francisco, EQR owns 51 properties with 13,210 units. The San Francisco portfolio generates 13.2% of NOI, and the portfolio is 94.6% occupied.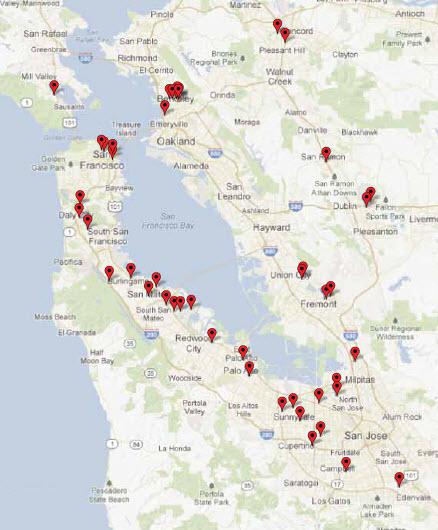 In Los Angeles, EQR owns 57 properties with 11,960 units. The Los Angeles portfolio generates 11.5% of NOI, and the portfolio is 95.4% occupied.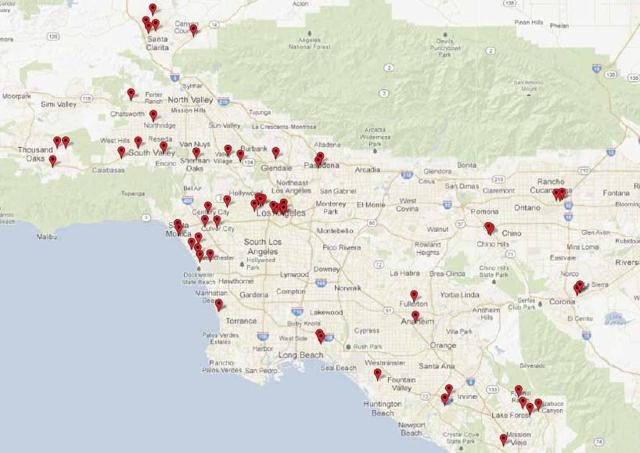 Equity Residential's Fortress Balance Sheet
EQR maintains a conservative balance sheet with access to many sources of capital and ample liquidity. The company maintains access to multiple sources of capital, including equity (common and preferred), unsecured debt, secured debt (both through Fannie Mae and Freddie Mac and through life companies), equity-linked debt and bank debt. EQR is one of three apartment REITs with a BBB+ (S&P) or higher rating.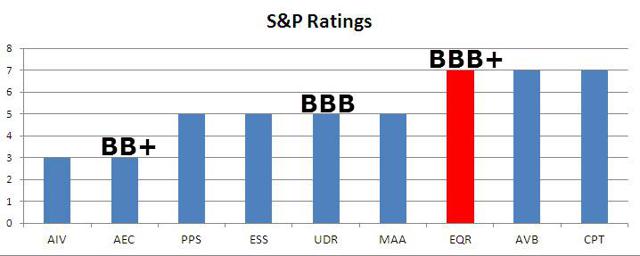 In October 2013, EQR closed on an $800 million secured loan from a large insurance company at a fixed rate of 4.21% (matures in 2023). The company has a net debt to EBITDA ratio of 6.9x and a fixed charge coverage of 3.1x. Debt maturities are modest, about $550 million, and are mostly back-end loaded. EQR has around $400 million in hedges that lock in an approximate 10-year treasury rate of 2.5%.

EQR expects to have about $53 million in capitalized interest in 2014, and the company plans to maintain an average balance on its revolving line of credit of about $600 million balance. This will leave the company with $1.9 billion of capacity on the revolver that does not mature until 2018, and that will help the company maintain its target of having floating rate debt exposure of between 15% and 20% of total debt.
Equity Residential's Fortress Results
EQR posted Q4-13 same-store NOI of 4.3% YOY, on a 4% increase in revenues and a 3.5% increase in expenses. The company expects same-store growth at around 3% to 4% in 2014. As evidenced by the FAST Graph below, EQR has maintained a relatively stable earnings history, and the integration of the Archstone portfolio appears to be seamless.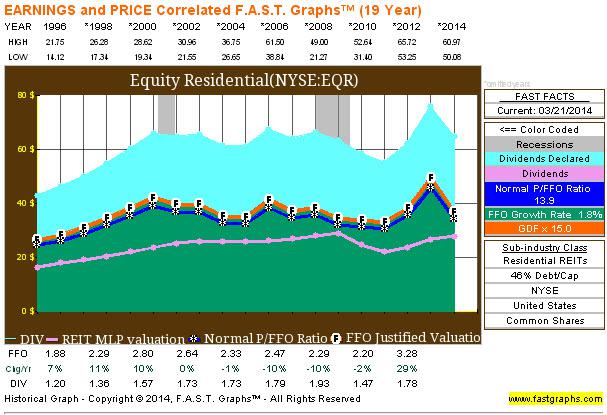 EQR has utilized a superior state-of-the-art operating platform that gives the company visibility into its core markets. That allows the company to react quickly to changing market conditions and optimize rental revenues. Here is a snapshot that illustrates EQR's revenue maximization model: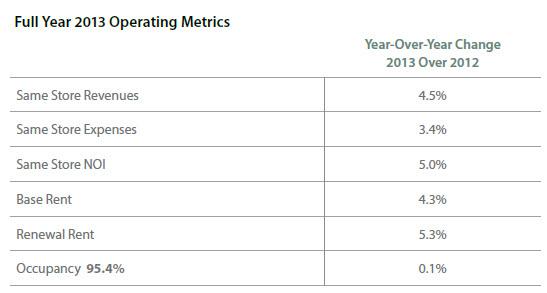 This translates into EQR's second consecutive year of 5%+ revenue growth.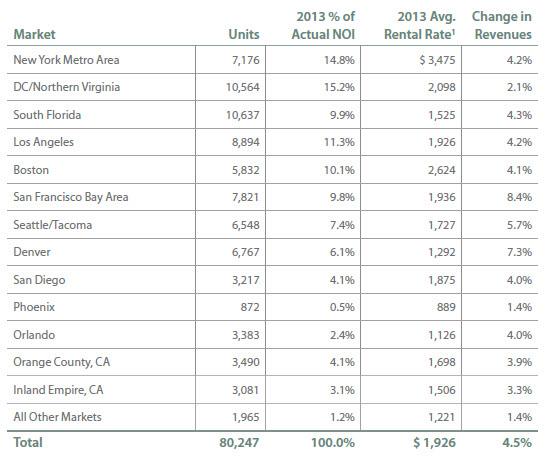 EQR has been publicly traded, and has paid a cash dividend to shareholders every year since 1993; however, the company was forced to cut its dividend yield in 2010.

The share price fell to around $17.50 in March 2009. However, since that time, the dividend has grown to a high (annualized) payout of $2.00. The dividend was increased by 32% in 2013 and by 12% so far in 2014. Here is a snapshot of EQR's dividend history and a few close peers.

EQR's current dividend yield is 3.50%.

Should I Buy This Fortress REIT?
I have to agree with Sam Zell in that any investor "should dig deeper into a company before investing", and based upon my research and analysis, I do not see a "margin of safety" in Equity Residential. Notably, multifamily fundamentals are amplified by high occupancy and negligible future supply, and although I admire the high-quality real estate (owned by EQR), I don't consider the risk worth taking.
EQR is currently trading at a Price to Funds from Operations (P/FFO) multiple of 18.5x, and that puts the value in the "nose bleed" category. I believe there more favorable opportunities in the mid-cap sector (where I recommended Home Properties back in December 2013 and the shares are up over 15%).

As evidenced by the FAST Graph below, EQR is expensive, and although Mr. Zell should be pleased with the operations and success of the management team, I would not be able to "sleep well at night" worrying about risks related to a weakened economy. I would like to own EQR; however, I believe I'll wait on a better price (My recommended BUY price is $50.00).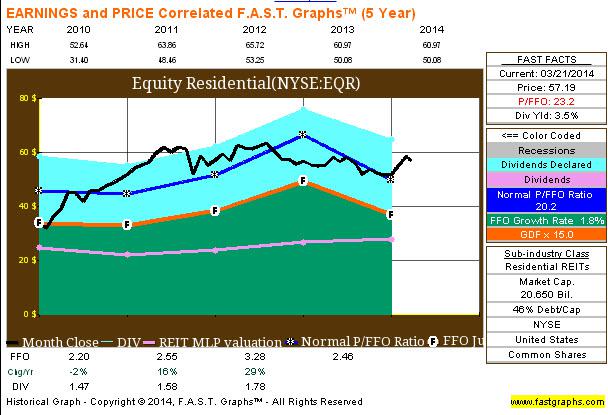 Sam Zell has made billions investing in real estate, and although he is responsible for much of the success of Equity Residential, I may not be able to own this "fortress" REIT any time soon. Instead, I must follow the lessons of the legendary value investor Ben Graham, and always look for stocks that are cheap. As Graham taught, finding attractive dividend-paying stocks is just one piece of the puzzle. Buying them is another piece. Therefore, as a value investor, my primary goal is to preserve capital, and I'll wait on a better day to own EQR.
REIT Newsletter: The author is also the Editor of a monthly newsletter called The Intelligent REIT Investor. For more information or to subscribe click HERE.
Sources: SNL Financial, FAST Graphs, and EQR Investor Presentation.
REITs mentioned: (NYSE:PPS), (NYSE:ESS), (NYSE:AIV), (NYSE:AVB), (NYSE:UDR), (NYSE:CPT), (NYSE:MAA), (NYSE:AEC), and (NYSE:HME).
Disclaimer: This article is intended to provide information to interested parties. As I have no knowledge of individual investor circumstances, goals, and/or portfolio concentration or diversification, readers are expected to complete their own due diligence before purchasing any stocks mentioned or recommended.
Disclosure: I am long O, DLR, VTR, HTA, STAG, UMH, CSG, GPT, ARCP, ROIC, MPW, HCN, OHI, LXP, KIM, BX. I wrote this article myself, and it expresses my own opinions. I am not receiving compensation for it (other than from Seeking Alpha). I have no business relationship with any company whose stock is mentioned in this article.