Can a financial crisis happen again? Absolutely. Will a financial crisis happen again? Once again: Absolutely. Capital markets swing from one excess to another, and investors usually suffer from memory loss fairly quickly. Even the ones who bought at the top and sold at the bottom more often than not cast their investing experiences aside and are likely to be a part of the next exuberance phase. Herding behavior at its best.
That being said, I think equity markets have another two to three years of upside potential and I don't see an asset bubble forming in either equities, credit, real estate or commodities. I also believe we are about midway through the expansionary phase of the business cycle, which suggests that cyclical companies, such as financial firms and basic materials companies are representing the best exposure to accelerating EPS growth.
I am a fan of large-cap banking franchises for a long time. The financial crisis has offered massive bargains, and irrational market prices persisted for way too long. While share prices of banks have rebounded substantially, I believe Bank of America (NYSE:BAC) and Citigroup (NYSE:C) are still comparatively cheap compared to their earnings prospects in the expansionary phase and compared to their discounts to book value.
Dick Bove, renowned bank analyst at Rafferty Capital Markets, has been a staunch supporter of financial firms all along, too, and also recommended that investors buy financial stocks aggressively.
On August 13, 2013, Dick Bove appeared on CNBC and argued that 'financials' are the place to be:
"What you're beginning to see is that all of this negativity-which has been pounding at these stocks for three to four years-is starting to lift because people are starting to realize that if you get through all the negative statements about the industry, the industry is making a staggering amount of money."

Bove listed several reasons for his bullishness on the sector: The U.S. banking industry is on pace for record profits in 2013, with low loan-to-deposit ratios, reduced loan-loss ratios, fewer bad loans, rising earnings quarter-over-quarter and "massive" historic over-capitalization.

"They are so liquid that their earnings are being negatively impacted by it," he said. "The only thing that can harm the banks right here is some weakness in the economy. Lacking that, bank stocks are very, very cheap."

He also said that going by historical valuation, "it is not very difficult for a bank stock in normal times to sell at two times book value. There are virtually no banks in the United States selling at two times book value."

Bove predicted that both Citigroup and Bank of America "will at least get 100 percent higher than they are right now… Now that's not going to happen in the next 12 months; it may not happen in the next 18 months, but it is going to happen."
On August 13, 2013, Bank of America closed at $14.51 and Citigroup at $51.77. While Citigroup has lost 3% since his recommendation in August, the stock of Bank of America increased in value by 21%.
Now, in fairness, much can happen in seven months, and a short performance measurement period almost never indicates who will be right or wrong in the long term. However, I have repeatedly argued that financial companies are still fantastic bargains, as evidenced by their discount to book value and outstanding EPS growth prospects in an environment of higher economic growth.
Two times book value?
Bank of America's tangible book value stood at $13.79 per share in the fourth quarter of 2013 and its total book value at $20.71 per share. If Bank of America indeed managed to trade at two times book value now, we would be looking at a share price of $27.58 on a tangible book value basis and at $41.42 on a total book value basis.
This might sound unrealistic, but mind you that market exuberance can quickly assign optimistic valuation multiples to companies that do well in a certain economic climate.
With a current market price of $17.56, Bank of America retains a lot of upside potential: 57% on a basis of two times tangible book value per share and 136% on the basis of two times total book value per share. In addition, we are making the implicit assumptions that book value isn't going to grow and that the market values Bank of America at two times (tangible) book value now.
I think it will take a couple of years until the market is ready to value banks with higher book multiples. At the same time, Bank of America is on a good way to grow earnings and book value per share.
Dick Bove recently appeared again on CNBC on March 20, 2014, making another strong case for bank holding companies and Bank of America in particular:
"If you take a look at things like their loan-to-deposit ratios, they're also at 40-year lows, which means if you would think of a bank balance sheet as a factory, this factory is running at around 65 to 70 percent of capacity, which means that the ability to show significant increase in earnings from this level is enormous because the money is there to do it. The economy apparently is going to do relatively well this year, which means that the loan volume will pick up."

Bove's top pick in the sector was Bank of America.

"I still think the stock is going to go to $30," he said.

Valuations were also key. "The stocks are selling at premiums to book value, which are so low relative to history, that there is significant opportunity for at least them to double from this level," Bove said.
I like that Bove approaches his investments with a strong contrarian, value-driven mindset. He has been recommending bank stocks for a long time, even though mainstream sentiment was clearly opposed to such investments.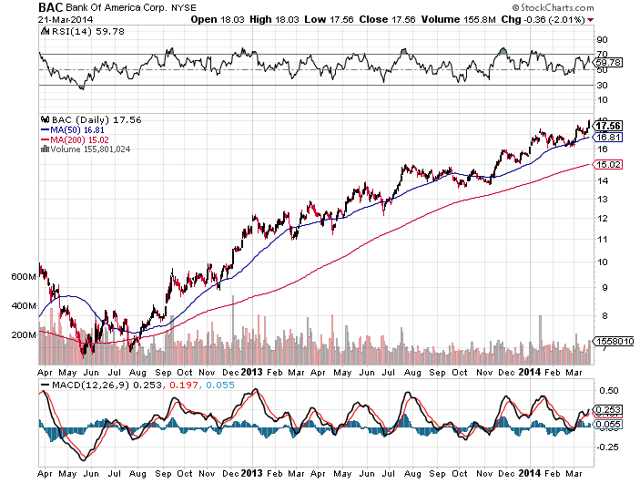 Click to enlarge
(Source: StockCharts.com)
Conclusion
Bank of America is still an extraordinary bargain, and I wouldn't really be surprised if the banking giant manages to command multiples of two times book value down the road when the economy runs on full steam with higher interest rates, lower unemployment and a healthy housing market. In the meantime, Bank of America can grow earnings and book value and increase its valuation base. If the US financial sector rebounds strongly with a booming housing market and a buoyant mergers and acquisitions business, I think Bank of America could trade at $40 per share -- especially when the mainstream loves financial stocks again.
Disclosure: I am long BAC, C. I wrote this article myself, and it expresses my own opinions. I am not receiving compensation for it (other than from Seeking Alpha). I have no business relationship with any company whose stock is mentioned in this article.