JA Solar Holdings (NASDAQ:JASO) is experiencing strength on multiple fronts. The fourth-quarter report was positive as the company achieved profitability with an EPS of $0.16 vs. an estimate of $0.01. The fourth quarter was a turning point for JA Solar as it was operating in the red in prior quarters. I think that the improvements in the solar market and the company's own fundamentals will drive the stock higher over the next few years.
Solar Market is Showing Improvements
The solar market itself has been improving. There has been an improvement in the supply/demand balance which is more favorable for solar companies. Prices in the solar industry have stabilized, thus contributing to an increase in JA Solar's gross margin, which rose to 15.5% in Q4 as compared to 11.3% in the prior quarter. Installation activities have increased recently, which has led to increased demand for JA Solar's crystalline silicone technologies. JASO had Q4 shipments of 665.5 megawatts (MW), which surpassed original estimates of 550 MW. This shows that JA Solar is benefitting significantly from the improving solar market. The company is expecting shipments for Q1 2014 to be between 580 MW and 610 MW. This would be 31% to 38% higher than shipments in Q1 2013. Shipments are expected to be between 2.7 GW and 2.9 GW for all of 2014. The results for the full year of 2014 are expected to be 30% to 40% higher than total 2013 shipments of 2.07 MW. Revenues for 2014 should be 30% to 40% higher than last year if these shipment expectations are achieved.
In addition to revenue growth, JA Solar has reduced costs to increase its gross margin. Total operating expenses were reduced by 34% from $68.9 million in Q4 2012 to $45.6 million for Q4 2013. The continued combination of strong revenue growth combined with gross margin improvement should translate into a 140% increase in earnings for 2014. EPS for 2014 is estimated to be $0.71 vs. a loss of $1.64 for last year.
Valuation
JA Solar is trading at 13.5 times expected 2015 EPS of $0.82. What makes the stock more of a bargain is the low PEG ratio of 0.31. With earnings expected to grow at a higher rate than the PE ratio, JA Solar is trading at an attractive undervaluation. Further reinforcing this is the low price to sales ratio of 0.44 and the low price to book ratio of 0.69. The price to sales ratio shows that the stock is priced attractively relative to its strong revenue. With the price to book ratio at 0.69, the stock is discounted by 31% relative to its book value per share. If JASO was trading at its book value per share, the stock price would be $17, or 55% higher than its current price.
Here's how JA Solar compares to its competitors:
| | | | | |
| --- | --- | --- | --- | --- |
| | JA Solar | Yingli Green Energy (NYSE:YGE) | Trina Solar (NYSE:TSL) | JinkoSolar (NYSE:JKS) |
| Price to Sales | 0.44 | 0.37 | 0.66 | 0.79 |
| Price to Book | 0.69 | 9.73 | 1.44 | 2.79 |
| EV/EBITDA | 8.16 | 221 | 26 | 10.6 |
JA Solar is the only solar company trading below its book value per share among these competitors. JASO also has the lowest EV/EBITDA, giving the company the best chance of being taken over if consolidation were to occur in the industry. Consolidation in the solar industry is likely as larger players such as First Solar (NASDAQ:FSLR) look to make strategic acquisitions to grow revenue. Overall, JA Solar is attractively undervalued for investors and for larger companies to acquire.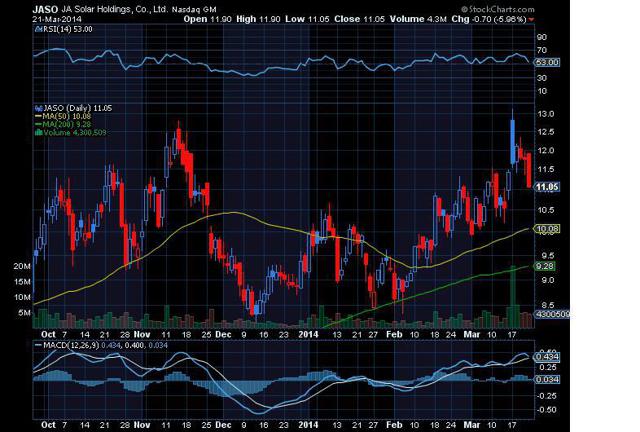 Click to enlarge
The Risks
Fifty-three percent of JA Solar's Q4 shipments were sold in China while 32% of shipment were sold in the Asia Pacific region. Therefore, if these regions were to experience an economic downturn or a reduction in solar investments, JA Solar's business would likely suffer.
Conclusion
The improvements in the solar industry are driving revenue growth for JA Solar. The stock is attractively valued and poised to move higher on more earnings growth. JA Solar turned a profit for Q4 2013 and is expected to continue its profitability for at least the next two years. Based on the undervaluation and high expected earnings growth, I think that JA Solar will significantly outperform the S&P 500 over the next two years.
Disclosure: I have no positions in any stocks mentioned, and no plans to initiate any positions within the next 72 hours. I wrote this article myself, and it expresses my own opinions. I am not receiving compensation for it (other than from Seeking Alpha). I have no business relationship with any company whose stock is mentioned in this article.