Shares of ExOne (NASDAQ:XONE) went down 10% after the company announced Q4 earnings and revenue that failed to meet analyst estimates, and the slide worsened the next day, as all 3D printing stocks went down. The company guided 2014 revenue below Wall Street consensus, which is particularly disappointing, since the company already preannounced that delays in deliveries would result in weaker than expected Q4 revenue. Although ExOne is more than 50% off its all-time high, the worst might still not be over, and the stock could still go down significantly as the negative momentum surrounding 3D printing stocks worsens. I would not be a buyer at current levels as the downward momentum could drive the share price further down, and create a much better buying opportunity.
Q4 highlights
ExOne's Q4 revenue fell 16% Y/Y to $10.7 million. The company sold twelve 3D printing machines compared to eight in Q4 2012, but the product mix has shifted to the less expensive machines. Materials revenue was down 3% Y/Y, "due to capacity utilized in the fourth quarter to support two casting projects deliverable in the first half of 2014." However, full-year trends are more encouraging. Total revenue rose 37.6% to $39.5 million. Strong revenue growth can be attributed to printer sales, which rose 58.6% over 2012, while materials revenue was up just 12.3% to $14.6 million. ExOne trails its peers, 3D Systems (NYSE:DDD) and Stratasys (NASDAQ:SSYS), as both reported stronger materials revenue growth in 2013. 3D Systems' materials revenue grew 39% in Q4 after rising 30% in Q3, while Stratasys' services revenue rose 37% in Q4.
In ExOne's defense, the company is in an earlier stage of growth, and has just started expanding, and we should see better results in 2014. The company guided for 40% to 50% revenue growth in 2014, and we shall see if they are underpromising, or overpromising, as was the case since the company went public, since ExOne missed analyst estimates in all four quarters as a public company and failed to meet its own full-year guidance.
Growth initiatives for better results going forward
ExOne's CEO Kent Rockwell stated that the company "invested in a variety of sales-related initiatives and technological advancements." The company is expanding its manufacturing capacity and has increased its headcount by 45%. Customers are reportedly responding favorably to ExOne's ExCast process, which encompasses the entire pre-print through post-print cycle. ExCast is a full service PSC (production service center) and has the ability to take the machines and put it into a process for customer applications to deliver high quality parts in a very rapid fashion. The company is also establishing sales centers in Europe, Asia and South America, which should yield results in the following years, and ease concerns about the slow growth of services revenue in 2013. Services revenue should boost the company's growth prospects in the following years, and I expect growth to pick up in 2014, as we see more results from the recent expansion efforts.
Is all the bad news priced in?
With shares trading more than 50% off its all-time high and with accelerating negative momentum of 3D printing stocks, the worst might still not be over. If the strong selling momentum takes the stock down further, I expect ExOne to stabilize between $25 and $30. I believe that management will do a much better job in 2014, and that the execution issues will be resolved favorably in the following quarters. However, ExOne will be dependent on the overall sentiment surrounding 3D printing stocks. The negativity might have been enhanced by HP's (NYSE:HPQ) announcement that it will make a big technology announcement in June. HP's CEO Meg Whitman said that current 3D printers suffer from speed and substrate quality shortcomings and noted that HP has "solved both these problems". If that is the case, HP will seriously disrupt the 3D printing industry, and become a serious competitor to 3D Systems and Stratasys. HP certainly has more resources than any of the publicly traded 3D printing companies, and they might find it hard to compete, especially if HP delivers a superior technology. The market seems to have started to calculate these possibilities, as HP is making new 52-week highs, while 3D Systems, Stratasys and ExOne are accelerating their downward movement.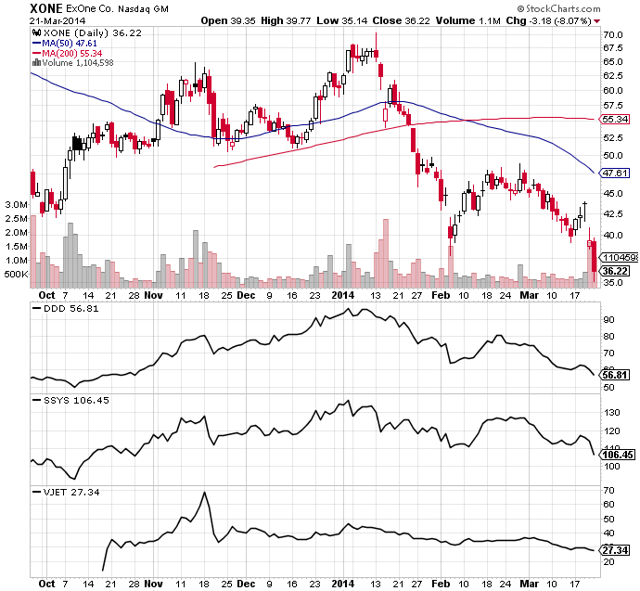 Source: Stockcharts.com
Valuations are still an issue
ExOne's trailing and forward metrics are still higher than 3D Systems' and Stratasys', but this is natural since ExOne's growth rates are expected to be higher. Voxeljet (NYSE:VJET) is the most expensive stock in the group. However, the valuations are still high, and they all need to deliver above expectations in order to support their current valuations, and we can see from their price performance in recent months how disappointments can affect high growth stocks. ExOne particularly need to address its execution issues, as it missed its own full-year revenue guidance, and missed on both earnings and revenue estimates in all four quarters since going public. I believe that investors will not be pleased if the company continues to promise what it cannot deliver, and I think that management might be looking to gain more credibility this year.

Source: Yahoo! Finance
Conclusion
The worst might still not be over. ExOne's share price might continue to struggle in the following weeks, as the negative momentum in 3D printing stocks accelerates to the downside. ExOne should continue to be largely dependent on the overall trend of the 3D printing group, and we should look at 3D Systems and Stratasys to lead their movement. ExOne's management might look to gain some credibility this year after the company delivered four straight quarters under analyst expectations and the company's own guidance.
Disclosure: I have no positions in any stocks mentioned, and no plans to initiate any positions within the next 72 hours. I wrote this article myself, and it expresses my own opinions. I am not receiving compensation for it (other than from Seeking Alpha). I have no business relationship with any company whose stock is mentioned in this article.