Bovie Medical Corporation (NYSEMKT:BVX) has two major sources of value: its existing business and a product pipeline containing breakthrough medical device technologies that address very large markets. Most of these new medical device technologies are either ready for market entry right now (e.g., J-Plasma) or are very close to being ready (e.g., Seal-N-Cut vessel sealing technology).
In this, the author's third article in this series on Bovie Medical (note: prior to this series, the author wrote five Seeking Alpha articles on Bovie - this series updates the earlier work and adds much additional information), we examine the value of the company's business and its share price and find that the share price reflects the value of the existing business with effectively no allowance made for the value of the company's product pipeline. What this means is that by purchasing Bovie shares, one can effectively buy Bovie's existing business and get a multi-billion dollar product pipeline for free.
Of course, realizing value from the product pipeline requires successful execution by management of some type of monetization strategy, such as selling or licensing the intellectual property, manufacturing the products on an OEM basis for a medical device company with a larger market presence, obtaining an agreement to sell through distributors who will assist in marketing the products, etc.
Topics covered by this article include: Bovie's existing core business and its valuation based on industry norms; the market size addressed by key products in the pipeline; an overview of the key products in the pipeline; economic drivers that may impact market success of the products; and a short discussion on the effect of recent management changes on the company's ability to execute.
Establishing a Valuation Method
There are various methods of valuing publicly traded companies. Depending on the method, a range of parameters may be used, such as net asset backing, sales, profit, growth rate, P/E ratio, etc.
A straightforward way to value companies is to use a simplified version of enterprise value. In this, we will take the value of a company as being its market capitalization plus its total liabilities. In effect this is a measure of how much it would cost to purchase the entire company free and clear based on its current share price. Such a purchase would involve purchasing all the company's shares (its market capitalization) and then paying off all the company's debts. (The term "debt" as used here refers to total liabilities; this includes for example invoices for goods and services not yet paid and not just borrowings such as bonds and use of lines of credit.) Although this method (unlike enterprise value) doesn't include some items such as minority interest, preferred equity, unfunded pension liabilities, and cash and cash equivalents, it is close enough for our purposes.
Once the value of a company has been estimated in this way, its value can be divided by its sales to obtain a value-to-sales ratio.
Table 1 below lists a number of large, well-known companies in the medical industry, along with their sales, debt, and market capitalization values. From these values, the company value (Debt + Market Capitalization) and value-to-sales ratio are computed. It can be seen that value-to-sales ratios are quite similar across the companies. Of the 15 companies, 12 have value-to-sales ratios between 3.5 and 4.6. CareFusion is only company with a ratio below this (3.3) and neither CareFusion nor Hologic (5.1) are really all that far outside of the 3.5 to 4.6 range. The one big outlier is Intuitive Surgical with a value-to-sales ratio of nearly 7.7; most likely this reflects Intuitive's history of rapid growth and a market expectation that over time Intuitive will continue to outpace the market, even if this year is a bit rough. The average value to sales ratio is 4.34. If we drop Intuitive, the one big outlier, the average becomes 4.1.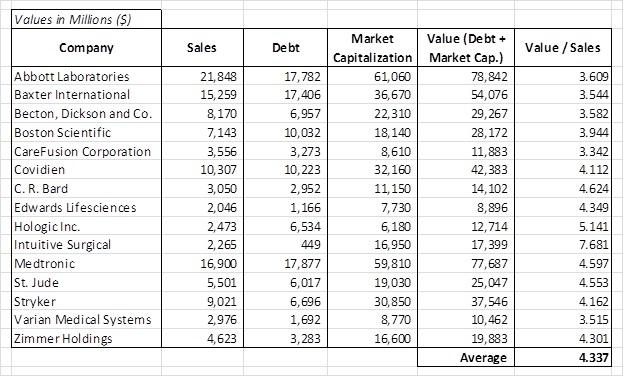 Table 1: Computation of value-to-sales ratios for 15 large US medical device companies.
Valuing Bovie Medical's Existing Business
During the first three quarters of 2013 (Q4 has not yet been released), Bovie's sales totaled $17.5 million, corresponding to an annual run rate of $23.4 million. If we value Bovie's business using the average value-to-sales ratio of 4.1, we get a figure of $95.9 million. Subtracting $6.3 million in total liabilities gives us an estimate of $89.6 million for a market capitalization that would reflect the business value. This figure is helped by Bovie's low debt levels; the large majority of the medical device companies listed in Table 1 have debt levels that are on the order of sales and a few have debt levels that are far in excess of their annual sales.
As of the end of Q3 2013, Bovie had 17.7 million shares outstanding. If Bovie is valued using the average value-to-sales ratio of the medical device companies listed earlier, the shares are fairly valued at $5.06 each. With the share price currently around $3, this means that shares can effectively be purchased for less than the value of Bovie's existing business, in which case the value represented by Bovie's product pipeline (including J-Plasma, which has begun to be sold on a limited basis) is obtained for free.
It is true that Bovie's balance sheet has been affected by the recent settlements of what had been longstanding legal issues (although the settlements included approximately one-and-half million dollars in costs, they also brought valuable intellectual property back into the Bovie fold), the raising of $7 million through a 3.5 million preferred share issue, and other events. The company has also benefited by the addition of an aggressive new CEO who recently ran a $1.6 billion division of Covidien.
It is also true that Bovie's profit levels have been inconsistent and have included losses at times (such as in recent quarters). It should be remembered that this has mostly been due to legal issues (these have been settled and should not recur) and to large R&D and marketing costs for new products in Bovie's product pipeline that are outside of Bovie's core product area, meaning such expenditures have not been a part of sustaining its core business. In turn this means that Bovie's core business has been more profitable than its profit-and-loss figures would initially suggest.
Room for Growth in Core Business
The primary constituents of Bovie Medical's core business are standard electrosurgical generators and battery operated cauteries. Bovie also manufactures and sells a range of battery operated surgical medical lights and a nerve locator stimulator. Figure 1 shows some examples of Bovie's electrosurgical generators, while Figure 2 shows some of the company's high and low temperature cauteries.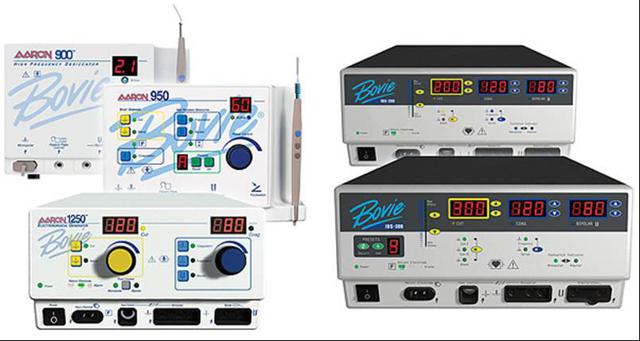 Click to enlarge
Figure 1: Standard electrosurgical generators from Bovie Medical.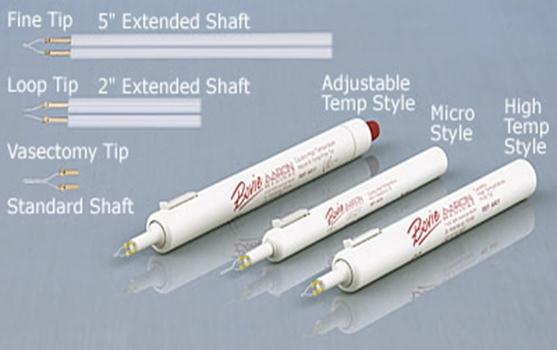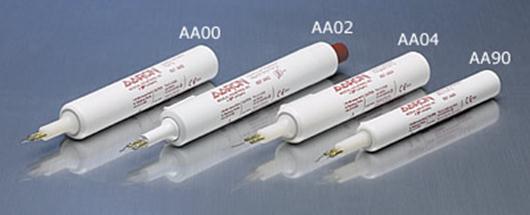 Figure 2: Bovie Medical high and low temperature cauteries (note: the Aaron brand belongs to Bovie.)
Figures 3 and 4 depict Bovie's market share in standard electrosurgical generators and battery operated cauteries. The market for standard electrosurgical generators is approximately eight times larger than the battery operated cauteries market and - as the figure shows - is also the market where Bovie has the most room for growth.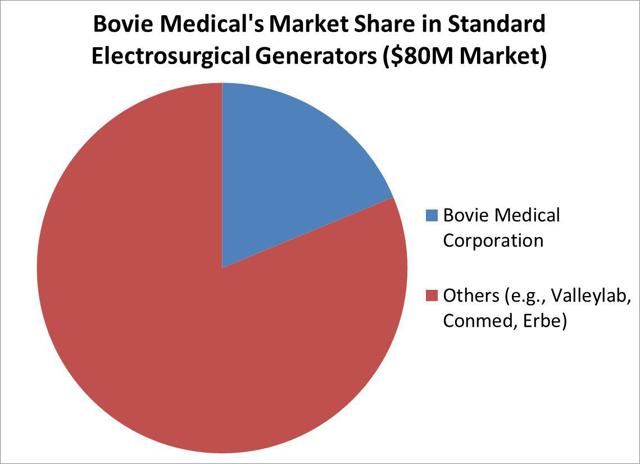 Click to enlarge
Figure 3: Bovie Medical's market share in standard electrosurgical generators.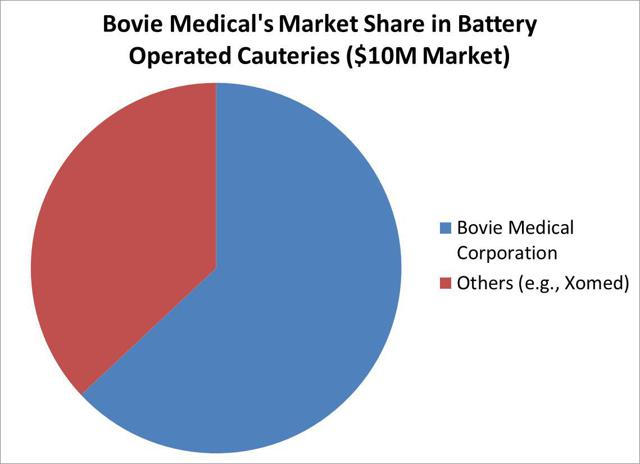 Click to enlarge
Figure 4: Bovie Medical's market share in battery operated cauteries.
Robert (Rob) Gershon recently assumed the position of CEO at Bovie Medical, replacing Andrew Markrides who became Executive Chairman of the Board. Mr. Gershon previously held simultaneous positions as Vice President for Marketing in the Medical Division and Vice President for Sales and Marketing in the Dialysis Division at Henry Schein, Inc. (NASDAQ:HSIC), these two divisions representing $1.5 billion in annual sales. Prior to joining Henry Schein, Mr. Gershon was a Vice President for Sales and Marketing at Covidien (COV), where he had profit-and-loss (P&L) responsibility for Covidien's $1 billion surgical device business. He was promoted into that position from a previous job as a Vice President for Marketing in which he led a U.S. Regional marketing team with annual sales of $640 million.
Although Mr. Gershon's statements indicate he is especially excited about Bovie's product pipeline and medical device technologies currently emerging from it (e.g., J-Plasma), all available evidence suggests Mr. Gershon has the skills and experience to help Bovie grow in its existing markets. Bovie has a lot of room for growth in standard electrosurgical generators and Mr. Gershon's leadership skills (including leadership in sales and marketing) and industry connections (e.g., with Henry Schein) can be brought to bear in this area and in Bovie's smaller lines by sales, such as surgical lighting.
Why the Product Pipeline is Free
Bovie's room for growth in its core business and the recent addition of a CEO who can drive that growth support the ideas that a value-to-sales ratio of 4.1 (in line with industry averages) is an entirely reasonable way to value the company. This being the case, Bovie Medical's market capitalization is less than what it ought to be based on sales of the company's existing product line. What this means in effect is that shares can be purchased at a discount to the value of Bovie's existing business and the company's product pipeline of advanced medical device technologies comes along free.
Product Pipeline Market Size
Table 2 below lists major constituents of Bovie Medical's product pipeline and their estimated market size, along with any other particularly pertinent information.
| | | | | |
| --- | --- | --- | --- | --- |
| | | | | |
| | Product | Market Size | Comments | |
| | J-Plasma | >$2 billion | Market size from investor page on Bovie website. | |
| | Vessel Sealing (Seal-N-Cut) | $1 billion | Market size from investor page on Bovie website. 10-15% annual growth rate with very high margins (2009 presentation). | |
| | BOSS | $500 million | BOSS and SEER total $500 million (2008 presentation) with 5% growth/year (2009 presentation). | |
| | SEER | | | |
| | MEG | $500 million | $200 million arthroscopy and $300 million laparoscopy (2008 presentation). | |
| | | | | |
Table 2: Important products in the Bovie Medical product pipeline, with market size for each.
In addition to being the largest of the group at over $2 billion, J-Plasma has the greatest likelihood of producing a surprise to the upside due to likely efficacy against antibiotic-resistant bacteria and preferential destruction of diseased cells (e.g., cancer cells) rather than healthy cells, as described in a previous Seeking Alpha article on Bovie ("Bovie's J-Plasma May Slay The MRSA Dragon (And Other Nasties)").
J-Plasma Overview
Often referred to as a fourth state of matter, plasma is formed when gas molecules have some of their electrons stripped off the molecules. The electrons and ionized gas molecules interact with materials they encounter and also emit UV photons. Plasmas can span a range of temperatures from hot (millions of degrees) to thermal / cold (e.g., room temperature). Historically, plasmas were normally quite hot; only recently have cold plasmas become viable on a large scale, enabling their application to medicine.
Due to their unique properties, plasmas are attracting considerable interest for medical use. Some examples of medical applications under exploration (and in a couple of cases active use) include anti-bacterial effects - plasmas can destroy bacteria by making their cell walls explode without damaging the body's cells; improved wound healing; coagulation of bleeding lesions; dentistry; skin resurfacing; and leukemia treatment; among others. Two scientific journals have been launched; Clinical Plasma Medicine in June of this year and Plasma Medicine in 2011, which has been published intermittently (another issue is due out soon). The International Society for Plasma Medicine has been founded. The 4th International Conference on Plasma Medicine was held in Orleans, France in June 2012 and the 5th International Conference on Plasma Medicine is scheduled for this May in Nara, Japan. Although in its early stages, plasma medicine is growing rapidly.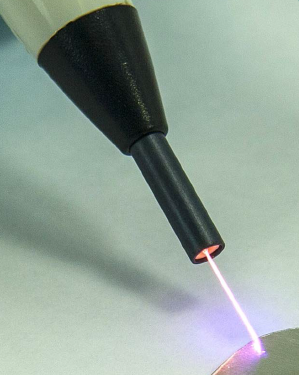 Figure 5: Photo of the J-Plasma taken from a fairly recent (October 2012) Bovie investor presentation.
Bovie's J-Plasma system has important advantages over most other medical plasma systems, whether commercially available or at the level of a lab demonstration by researchers. Most existing systems use argon plasma, which - although easier to produce - is harder to control, less tunable, and not as gentle on the body (in low power modes) than the helium used in Bovie's J-Plasma. Further information on J-Plasma can be found in a previous Seeking Alpha article by this author entitled "Bovie Medical and the Point of Value Recognition," the Bovie Medical blog, a series of Bovie e-books, and the J-Plasma website.
Due to J-Plasma's unique properties and wide range of medical applications, Bovie Medical currently estimates the market size addressed by J-Plasma as in excess of $2 billion.
Seal-N-Cut Overview
Of the markets listed on the Bovie Medical website, the second largest, $1 billion, is ascribed to vessel sealing instruments; Bovie has frequently referred to these as "Seal-N-Cut" or "Seal and Cut." The purpose of these instruments is to allow a surgeon to cut through blood vessels and seal both sides in a single step, minimizing or preventing blood loss. Prior to this type of instrument, cutting through blood vessels almost inevitably led to significant bleeding. Although other companies have introduced similar devices, the Bovie design has a number of advantages over most similar products:
The grasping, coagulation, and cutting length is extended.
Tissue bulging is eliminated, improving overall tissue coagulation.
Operation of the jaws is smooth and tactilely responsive due to minimal internal friction that allows the surgeon to feel the engagement of the jaws with the tissue.
Completion of the electric circuit between the blade and the jaws means current is applied to the tissue in a bi-polar fashion, providing a more effective, even application of the electric current to the tissue. (Since the current flows through each jaw, this could be referred to as "tri-polar.")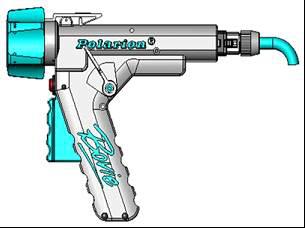 Figure 6: CAD drawing of a Seal-N-Cut vessel sealing instrument (taken from the 2008 presentation).
BOSS and SEER Overview
In the past, Bovie Medical also listed the BOSS (Bipolar Orthopedic Surgical Sealer), SEER (Saline Enhanced Electrosurgical Resection), and Laparoscopic SEER as the basis of product lines for development, each of which addresses a very sizable market (hundreds of millions of dollars annually; see Table 2 above). These technologies and their markets are discussed in some detail in a Seeking Alpha article by Mr. Mike Bolser.
For quite some time these were dropped from Bovie's list of future product lines (e.g., on their website and in company presentations) due to being caught up in the Livneh litigation and awarded to Mr. Livneh. After the most recent lawsuit (also the final lawsuit between Bovie Medical and Mr. Livneh, at least so far), Mr. Livneh's rights to Bovie-related technology have been pared down to an exclusive license for Bovie's Seal-N-Cut technology in China and a non-exclusive license for the rest of the world (both subject to royalty payments to Bovie), with BOSS and SEER both owned free-and-clear by Bovie.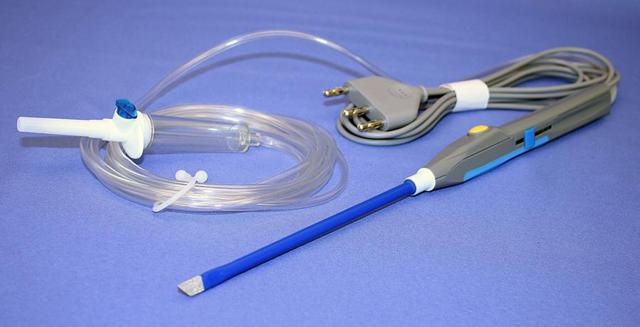 Click to enlarge
Figure 7: SEER tissue resection device (2008 presentation).
MEG Overview
The Modular Ergonomic Grip (NYSE:MEG) is another technology that after becoming entangled in the Livneh litigation has now been returned to Bovie. The arthroscopic version of the MEG will compete in an area where there has been little innovation from the top companies in the space for the past couple of decades. It will be inexpensive compared to the competition, reducing end-user cost; come equipped with a flushing port for cleaning; and its one tip design can replace multiple instruments. The laparoscopic version of the MEG will accept inserts from 2 to 12mm; feature a cancelable ratchet that be operated by both the right and left-handed; reduce user fatigue while creating more leverage via an ergonomic handle; reduce cost via a modular design; and have an electrically isolated metallic handle that enhances instrument life. MEG photographs are shown in Figure 8.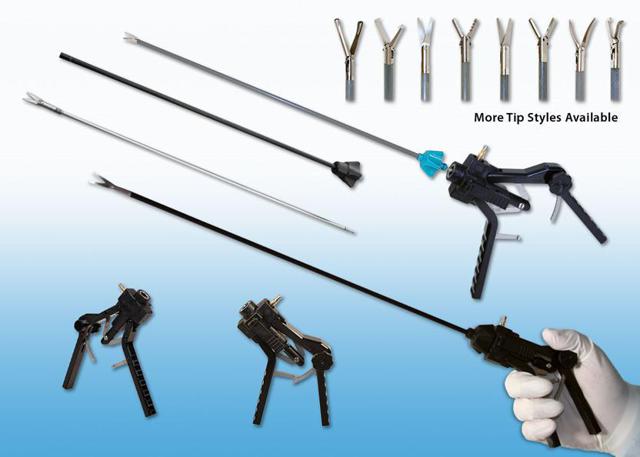 Click to enlarge
Figure 8: Examples of the MEG and MEG accessories (taken from the same presentation as Figure 7).
Other Products in the Pipeline
Bovie also has other medical technologies in its product pipeline. An example is given in US Patent Application 20090105706 Apparatus and Method for Skin Tightening and Corrective Forming. While the previous products are mostly either ready or nearly to transition to commercial production and sales, many of the other products in Bovie's pipeline are of uncertain status in that regard. On the other hand, their market potential is not included in the estimates listed in Table 2, meaning they can be expected to create additional value for the company once brought to fruition.
Economic Drivers
Bovie Medical's medical devices and product pipeline position the company to benefit from both current and possible future changes in the medical industry. These include:
A greater emphasis on cost vs. outcome.
Political and economic considerations associated with increased government involvement in healthcare (e.g., the Affordable Care Act, commonly known as "ObamaCare").
A shift towards "you broke it, you pay for it," something that is the case in most other industries other than healthcare. This could be forced by the danger of lawsuits once a MRSA protective technology (e.g., J-Plasma) clearly emerges.
In the past, it was not uncommon to spend large sums of money to achieve only very modest improvements in patient outcomes. Already the United States spends a larger percentage of its national income on healthcare than virtually every other developed country in the world yet has little to show for it; on average, health and life expectancy are not any better in the US than in other such countries. For many years, health care spending has grown at a much faster rate than GDP. In the long run this trend is unsustainable; people need food, housing, clothing and transportation and these things cost money. Health care will eventually reach a point at which it simply can't continue to consume an ever-increasing share of our national income. Consider the graph below (Figure 9) from the Council of Economic Advisors; although it is a few years out of date, it makes the point well.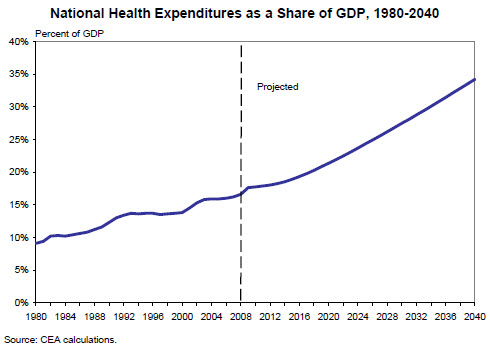 Figure 9: Estimated US healthcare expenditures as a percentage of GDP. A rise to 35% by 2040 seems doubtful to this author.
Can the United States really afford to spend 35% of its GDP on healthcare? Consumer spending is approximately 70% of GDP. Expending 35% of national GDP on healthcare would mean it would consume half the income of an average person. This just doesn't seem like a sustainable or even a tolerable situation for most people. It is entirely reasonable to expect that rising healthcare costs will only encounter more and more resistance over time.
Many of Bovie's technologies, such as J-Plasma and Seal-N-Cut, are comparatively inexpensive to produce in volume (thus giving high profit margins) and either replace existing, more expensive products (while also providing better performance) or hold considerable promise for augmenting existing products by considerably improving their performance. From a strategic standpoint, these are very valuable characteristics; for example, they are conducive to both rapid sales growth even in a low-growth industry and improved profitability even in the face of flat sales (assuming replacement of lower margin products).
Although the US government has been deeply involved in the healthcare sector for many years, the Affordable Care Act - most commonly known by its nickname "ObamaCare" - is adding new depth to that relationship. ObamaCare has suffered a series of embarrassing setbacks (e.g., an initially non-functional registration website, expensive coverage, persons who signed up and paid for coverage later finding out they weren't actually covered). Although in the short run ObamaCare may slow the adoption of new medical technologies (e.g., due to questions of what will be covered and how much will be paid for what), in the longer term the US government has a greater stake both in seeing that costs are controlled and that patient outcomes improve if no other reason than to avoid further embarrassment to the Executive Branch. These political considerations are also favorable for Bovie's technology.
Healthcare is an unusual industry for a number of reasons, one of which is that the principle of "you broke it, you pay for it" does not usually apply. A patient may enter a hospital for relatively minor surgery, contract MRSA due to exposure by hospital personnel, and end up spending weeks in the hospital at death's door only to be hit by an enormous bill once he or she recovers enough to be released.
As discussed in detail in a previous article by this author ("Bovie Medical and the Point of Value Recognition," referenced above), Bovie's J-Plasma can likely kill MRSA bacteria without damaging healthy human cells. If an affordable MRSA protective surgical technology (e.g., J-Plasma) clearly emerges and becomes well-known in field, any hospitals or other facilities that perform surgery without the benefit of MRSA-protective technology will leave themselves open to very expensive lawsuits by MRSA-afflicted individuals or their surviving families. One implication is that when a certain critical mass of market penetration of J-Plasma has occurred, the market penetration of J-Plasma should then expand rapidly as the potential economic consequences of a facility that performs surgery failing to adopt J-Plasma quickly become very serious.
Other Bovie medical device technologies can improve both patient outcomes and the level of difficulty a procedure represents to a surgeon or other medical practitioner. These factors are favorable for the market success of these other Bovie products as well.
Execution: The Key to Unlocking Value
Bovie Medical has repeatedly signaled in past press releases that it has been involved in discussions and negotiations with other medical device companies regarding OEM, distribution, and / or other agreements. Statements of this nature have been going on long enough (several years or more) that some skepticism on the part of shareholders is not at all surprising.
Bovie's apparent difficulty in closing a major deal may have been a key factor in bringing on Mr. Robert (Rob) Gershon as CEO this past December. Mr. Gershon has past experience running billion dollar operations at Covidien and Henry Schein . He has the knowledge, experience, and contacts to help move discussions and negotiations to the point of signed agreements. In addition to successfully transitioning products from the product pipeline to full commercialization (with attendant sales revenue), it is quite likely that he can also catalyze significant growth in Bovie's existing core business.
In an e-mail sent on Thursday, March 20 to shareholders on the Bovie Investor Relations' distribution list, Mr. Gershon introduced himself as the new CEO, stated that the upcoming Q4 and 2013 earnings announcement and investor conference call will be held on Monday, March 31, and commented positively on company's future prospects. In particular after briefly describing his past history at Covidien and Henry Schein, he stated that:
"It is this extensive background that I bring to Bovie at this inflection point in the Company's history.

"All of our stakeholders will be seeing positive change at Bovie over the next months."
After a history of talk without obvious corresponding results by the company (and frustration by shareholders), it appears that Bovie shareholders have a good likelihood of seeing strong forward progress in the months ahead. If and when a product moves into the market and out of the product pipeline and begins producing substantial revenue, it will better position Bovie for commercial success with its next product. Similarly, an OEM, product distribution, or other agreement by Bovie with a major player in the medical devices market will strengthen Bovie's hand, making the next agreement easier to negotiate and likely improving the terms of such an agreement. In this way, once products begin to move from the product pipeline to the marketplace, the pace of commercial transition of other Bovie products should increase. This would augur well for future share price performance.
A final word of caution: Bovie Medical experienced a lot of volatility in its share price between 2006 and 2010. Its share price has been much steadier since then. Nevertheless, being a small company with a low market cap, anyone investing in Bovie should be mentally prepared for potentially large swings in the share price. Also as a consequence of its small size and comparatively narrow product range, Bovie has a higher than average risk of being overtaken by competitors or events such as sudden product obsolescence in face of new technology. Exercise care.
Disclosure: I am long BVX. I wrote this article myself, and it expresses my own opinions. I am not receiving compensation for it. I have no business relationship with any company whose stock is mentioned in this article.
Editor's Note: This article covers a stock trading at less than $1 per share and/or has less than a $100 million market cap. Please be aware of the risks associated with these stocks.
Editor's Note: This article covers one or more stocks trading at less than $1 per share and/or with less than a $100 million market cap. Please be aware of the risks associated with these stocks.