Since my previous mention of 3D System Corp. (NYSE:DDD) in a piece entitled "3D Systems Corp.: A Strong Sell", published just weeks ago, shares have fallen by more than 24%.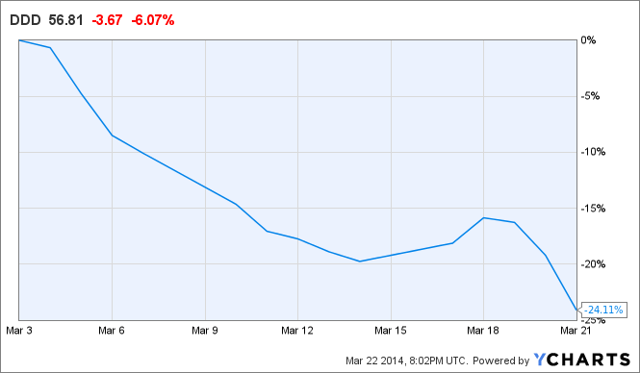 Hewlett-Packard To Enter 3D Printing Market
News that Hewlett-Packard (NYSE:HPQ) will enter the 3D printing market in June sent shares of 3D printing stocks sharply lower. DDD shares tumbled, along with peers such as Stratasys (NASDAQ:SSYS), Exone Co. (NASDAQ:XONE), and Voxeljet (NYSE:VJET). HP's decision to enter the 3D printing market is a negative for these companies for a number of reasons. Firstly, and perhaps most importantly, HPQ's move indicates that it is unlikely to make a major acquisition in the 3D printing space. Instead, HPQ is unrolling its own technology. Additionally, HPQ will almost certainly prove a most capable rival for the companies currently in the 3D printing business. Despite this, some, such as RBC analyst Amit Daryanani, have argued that HPQ entering the 3D printing space in some way validates the market for 3D printing and could help support stocks, such as DDD. I disagree with this notion. The sky-high valuations of 3D printing companies show that the market has already anticipated a bright future for the industry. Certainly, investors do not need HP to tell them that the future for 3D printing is bright.
HP Confirms My Thesis
In my previous piece, one of the reasons why I was bearish on DDD was the possibility of increasing competition in the 3D printing space. 3D printing stocks, such as DDD, Exone, and Stratasys are being valued as if they will dominate the industry in the coming years. However, this is no guarantee. Furthermore, HPQ's move to seriously enter the 3D printing market makes it less likely that any of these firms will dominate the industry.
The Next Shoe To Drop: Downgrades
I believe the next part of the DDD story to play out is likely to be a rush by analysts to downgrade the stock. Currently, ratings on DDD are mostly bullish. According to Nasdaq, DDD has 8 buy ratings, 2 hold ratings, 1 underperform rating, and 1 sell rating. We have yet to see a significant number of analyst downgrades in reaction to recent developments, and most importantly, recent weakness in the stock price. Downgrades will lead to continued pressure in DDD shares as momentum continues to the downside. Simply put, I am still a bear on DDD.
How To Play 3D Printing Conservatively
While I am not a huge bull on HPQ because of its exposure to old, mature, businesses such as 2D printing and PC manufacturing, I believe HPQ is a conservative way to bet on 3D printing and a far better stock to be long than DDD. Importantly, HPQ trades at a reasonable valuation, less than 10 times forward earnings and 2.15 times sales. Comparably, DDD trades at more than 45 times forward earnings and more than 12 times revenue. If the 3D printing business disappoints in the coming years, DDD shares have considerable downside. HPQ does not face the same risks due to its lower valuation and diverse business mix. Finally, if 3D printing takes off in the coming years, I believe HPQ is more likely to be the industry leader than DDD.
Disclosure: I have no positions in any stocks mentioned, and no plans to initiate any positions within the next 72 hours. I wrote this article myself, and it expresses my own opinions. I am not receiving compensation for it (other than from Seeking Alpha). I have no business relationship with any company whose stock is mentioned in this article.