Kforce, Inc. (NASDAQ:KFRC) demonstrated moderately positive share price performance during the past three months, from a quote of $20.19 on December 16, 2013 (the first report I issued) and ending Friday at $21.39, for a gain of 6%. The price performance over this three month period was volatile, but not out of the ordinary for a company of this size.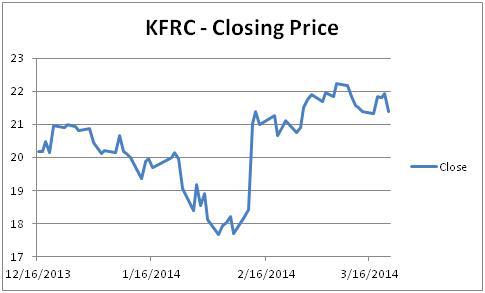 Credit Suisse maintains an Outperform rating, while Schwab rates the company as Underperform "D" primarily arising from its cash flow weakness, earnings trends and institutional sentiment. As expected, the Directors approved a $0.10 cash dividend based on a 3/14/14 date, implying a 1.88% annual dividend yield.
Based on the most recent information, I am have mixed views on the firm, with a negative bias. In general, I believe that staffing companies can perform well in returning dividends and that price appreciation will slightly outpace the market. In the case of KForce, I view the decline in EBITDA as indicative of organizational change. Furthermore, I believe that the recent debt financing will reduce the free cash flow that would otherwise be available for corporate investments or dividends. In short, I have placed KForce "on watch" and would like to see their ability to execute on growing EBITDA and managing their AR collections.
On the positive side, I view the company as a takeover target, which will be supportive of its share price (assuming the deal is friendly). However, I believe that the relative valuation is too rich for a takeover to be financially successful at current prices.
Positive
Revenues increased 6% while SGA expenses rose 0.5%, that's a good sign, because runaway SGA spells gloom and doom for staffing companies.
The Board of Directors seems focused on paying dividends and reducing outstanding shares, which will support its EPS and share price (with some caveats).
The firm's primary revenues, technology staffers, continued to post a strong gross margin of 29.7%, remaining stable.
Negative
The firm's cash flow management practices seem to be in flux, with Accounts Receivable increasing 18% - three times the rate of the sales increase.
Red Flags
Cash from Operations plummeted 99% from $56 million to $465K
The bad weather from winter 2014 will be reflected in the upcoming earnings. When temporary workers can't get to work, Kforce (usually) cannot bill their (complete) time to clients.
Commentary
KForce is a staffing company, otherwise known as a technology "body shop" that provides technical engineers on a contractual basis to corporations. The staffing industry has been characterized by Credit Suisse as being in a "super cycle" of growth due to many factors, including large companies emerging from the Great Recession with a renewed desire to maintain labor force flexibility. The validity of this view will be borne out over time. As an investor in small technology companies, I have seen first-hand the growth of this industry, and I agree that the prospects continue to be bright. In my view, the staffing industry is looking up; I'm not as optimistic about the specific case of KForce.
To dig into KFRC, I will attempt to evaluate their human resource capabilities, their client growth, their cash flow management activities, and their EBITDA.
Human Resources
The HR environment is not usually reported in public filings, and companies routinely choose to highlight only their strengths in press releases and corporate materials. As a result, one source for employee-based satisfaction is glassdoor.com. The caveat is that unhappy employees are more likely to vent their frustrations on these websites than happy employees are to shout from the rooftops. So, these reviews must be taken with "a grain of salt".
Overall Score: 2.9 / 5 "OK"
47% of employees recommend this company to a friend
Pros:
"They were also very good to me for as far as a work/life balance" in 8 reviews
"Good pay (while on project), medical benefits" in 8 reviews
Cons:
"Inexperienced account managers and recruiters" in 9 reviews
"The management is not open to creative ideas and the physical environment is that of a call center" in 5 reviews
Source: www.glassdoor.com/Reviews/Kforce-Reviews...
In terms of corporate material, there is some background in Edgar filings. In late 2013, the company embarked upon an effort to streamline its mid-management ranks. The notes read as follows:
During October 2013, the Firm commenced a plan to streamline its leadership and support-related structure to better align a higher percentage of personnel in roles that are closest to the customer through an organizational realignment. The new organizational design is intended to provide improved accountability and deliver better results for our clients, consultants and core personnel. As a result of the organizational realignment, Kforce incurred severance and termination-related expenses of $7,097 during the three months ended December 31, 2013, which is recorded within selling, general and administrative expenses in the consolidated statement of operations and comprehensive income (loss).

The severance and termination-related expenses included the acceleration of previously unrecorded stock compensation expense of $1,078. Additionally, in connection with the realignment and succession planning, the Compensation Committee approved discretionary bonuses of $3,606 paid to a broad group of senior management during the fourth quarter of 2013. As of December 31, 2013, Kforce accrued approximately $1,416 of severance and termination-related expenses, which is expected to be paid during the first quarter of 2014 and is recorded in accounts payable and other accrued liabilities on the Consolidated Balance Sheet. There were no realignment charges incurred during the years ended December 31, 2012 or 2011.
Note 15 - 10-K, Source edgar.gov
The effectiveness of this management change will be seen over the next 6-12 months. If it is done well, then the company's prospects will brighten. If not, then performance will suffer. In other words, the pressure is on, and management should be "feeling the heat." I view the realignment as a positive sign, and management's ability to execute on this change is a potential upside catalyst.
Sometimes one evaluates insider investment and sales activities to get an idea of the degree to which the current management continues to believe that the investment prospects of their firm outpace those available in other assets. While the validity of insider analysis can be debated in terms of its effectiveness, the following table illustrates the current mode of investment by KForce management - sell, sell, sell…
KFRC - Insider Purchases / Sales
Trading Period

Insider Buying

Insider Sales

Option Exercises

year-month

Shares

Value

Shares

Value

Shares

Value

2014-02

0

$0

20,454

$430,741

7,768

$112,247

2013-12

0

$0

128,569

$1,384,777

5,000

$44,800

2013-11

0

$0

126,858

$2,550,602

0

$0

2013-10

0

$0

2,443

$46,294

0

$0

2013-09

0

$0

51,446

$886,287

9,464

$84,797

2013-08

0

$0

76,997

$1,307,269

0

$0

2013-07

0

$0

27,000

$450,474

0

$0

2013-05

0

$0

5,000

$70,470

5,000

$21,825

2013-03

0

$0

120,000

$1,912,917

10,000

$90,866

2013-02

0

$0

132,223

$1,965,300

10,000

$90,450

2012-12

0

$0

42,000

$587,280

40,000

$406,000

2012-11

263,000

$0

377,991

$4,725,014

0

$0
Source: www.insider-monitor.com/trading/cik93042...
Client Growth
Client growth seems to be positive within the book of business, but relatively static in terms of new clients. There is scant mention of significant client "wins" in the annual report. From a growth perspective, it would be encouraging to see increased AR arising from a large new client. New client additions will positively impact revenues but squeeze cash flows for the first 60 days, because new collections lag payroll expenses. However, the annual report merely points to timing of collections as the reason behind increased AR, and the revenue growth of 9% is indicative of growing the book of business within existing clients rather than new, "greenfield" client wins.
Cash flow management activities
KFRC has put in place a standard trade accounts financing credit line to complement their equity presence in the capital markets. As a result, one will expect that their liquidity is acceptable.
Note 10. - Credit Facility - Excerpts
... The maximum borrowings available to Kforce under the Credit Facility are limited to: (a)a revolving credit facility of up to $135 million (the "Revolving Loan Amount")
… Kforce had availability under the Credit Facility of $43.2 million as of December 31, 2013
As expected, there seems to be ample liquidity. The red flag that one should consider with respect to cash flows is related to the dramatic increase in Accounts Receivable relative to sales increases. Given the organizational realignment that is taking place, and given the increased debt, there is little room for error in cash flow management and receivable performance. One should closely monitor the balances going forward to evaluate the potential for collections or cash flow issues.
EBITDA
The firm's EBITDA decreased from 4.7% to 4.2% in 2013. While the results are uninspiring, the firm demonstrates an earnings capacity to service its debts and to pay dividends. However, from a valuation perspective, the cocktail napkin of 8X EBITDA implies a valuation of $386 million, and the current market capitalization is $726 million. In other words, the company is expensive, and this will serve as the counterpoint to my suggestions that the firm can be considered a takeover target.
Conclusion
I believe that the staffing industry can provide stable and growing cash flows for investors if the companies are managed efficiently. Therefore, KForce is positioned well within an industry that should continue to grow and offer increased business opportunities. Nonetheless, I am rating the stock as "neutral" with a mid-term tendency to sell above $22, and to trade the range of $18-$22 opportunistically. The next 2 quarters will be critical in demonstrating whether the company can execute on its realignment strategy.
Disclosure: I have no positions in any stocks mentioned, and no plans to initiate any positions within the next 72 hours. I wrote this article myself, and it expresses my own opinions. I am not receiving compensation for it (other than from Seeking Alpha). I have no business relationship with any company whose stock is mentioned in this article.